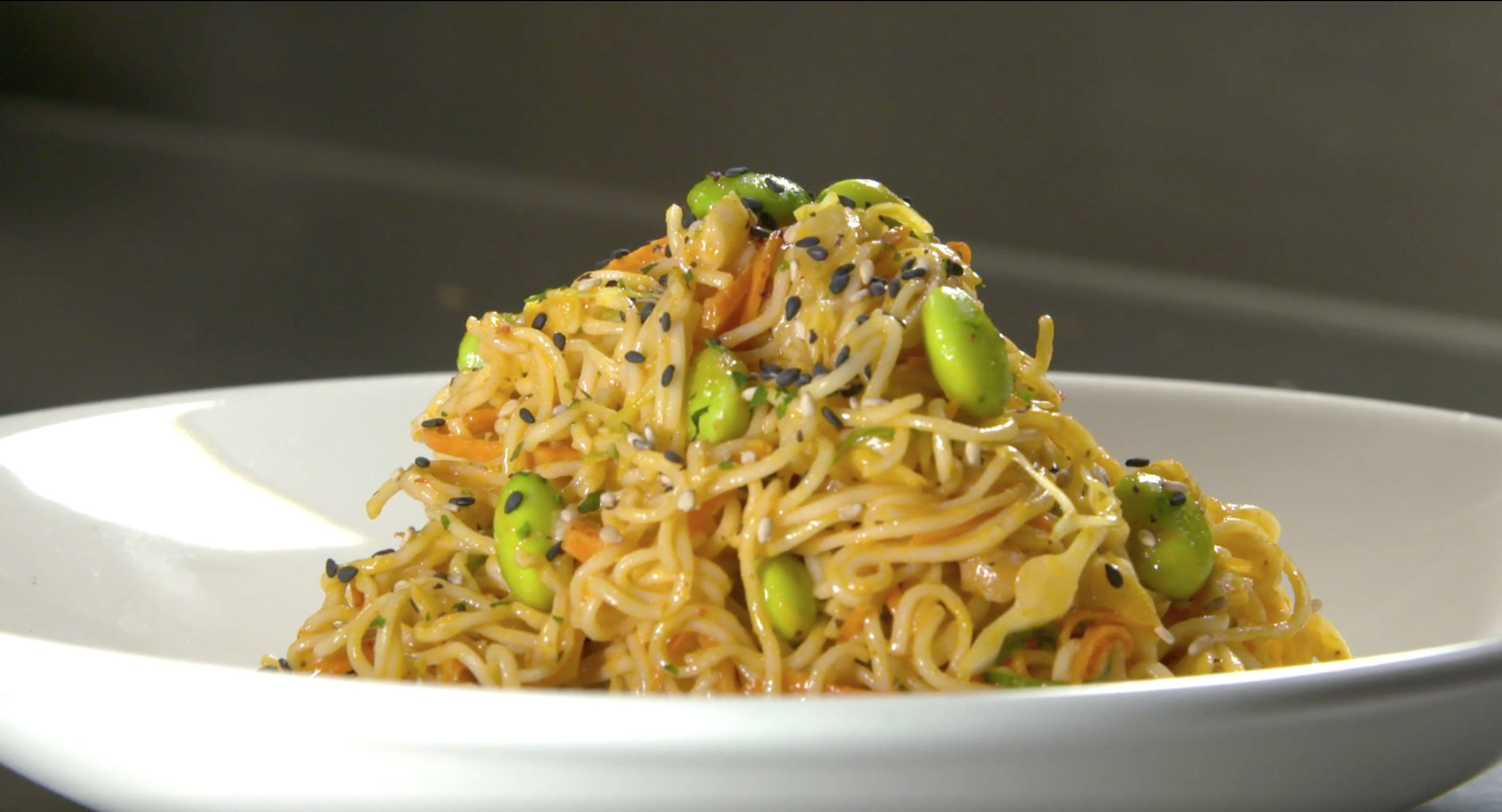 RAMEN NOODLE SALAD – AS SEEN ON RESTAURANT: IMPOSSIBLE REVISITED
From the Revisited episode, "Family Matters"
SERVES 4
YOU'LL NEED
1 tbsp sesame seeds
1 cup carrots, peeled and shredded
2 tbsp edamame, peeled
1 tbsp sesame vinaigrette -see recipe below
2 lbs fresh or frozen ramen noodles
2 tbsp scallions, thin sliced
3 cups napa cabbage, fine shredded
1 tbsp peanuts, toasted and chopped
3 tbsp cilantro, chopped
FOR THE SESAME VINAIGRETTE
1/2 cup rice wine vinegar
2 tbsp dijon mustard
1 tsp smoked paprika
1/4 cup honey
1 tbsp togarashi (Japanese seasoning mix)
1 tbsp sesame oil
1 cup grape seed oil
1 thumb ginger, minced
3 cloves of garlic, minced
1/4 cup scallions, thin sliced
MAKE IT
SESAME VINAIGRETTE
1) In a food processor add rice wine vinegar, smoked paprika, honey, Dijon mustard, togarashi, and slowly incorporate grape seed oil, sesame oil
2) Place in a mixing bowl, then incorporate minced garlic, ginger, and sliced scallions
RAMEN NOODLE SALAD
1) Heat a pot filled with water (seasoned with a little salt) and bring to a boil.
2) Place ramen noodles into the boiling water and allow to cook for 3 minutes until the noodles are al dente, then chill the noodles by placing in ice water for 1 minute and then drain the noodles.
3) In a mixing bowl, add shredded carrots, edamame, shredded cabbage, and sliced scallions, add chilled ramen noodles and sesame vinaigrette.
4) Season the salad with salt and pepper to taste.
5) Serve the ramen noodle salad in a bowl and garnish with the chopped peanuts and the chopped cilantro.