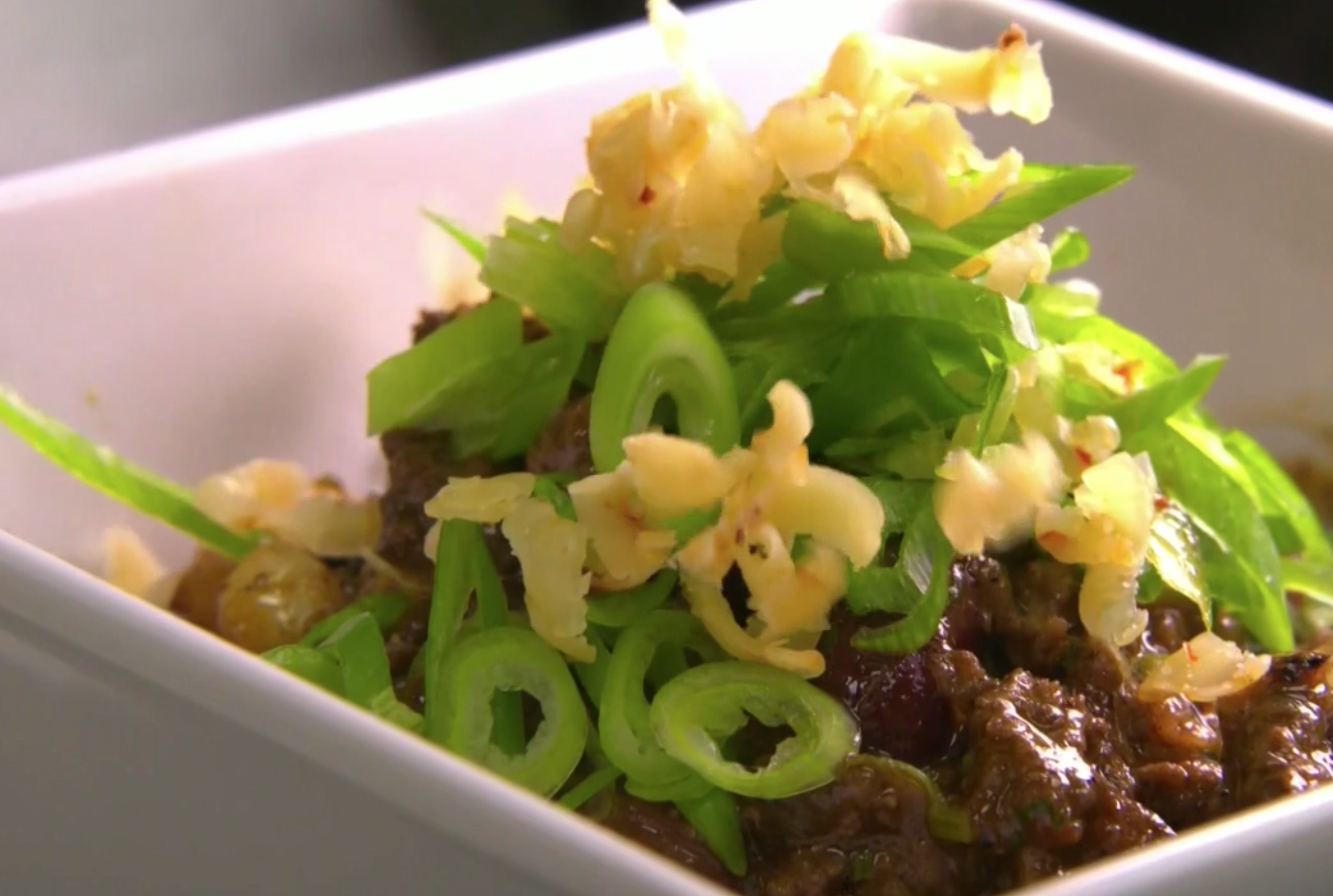 SMOKE BOMB CHILI – AS SEEN ON RESTAURANT: IMPOSSIBLE REVISITED
From the Revisited episode, "For the Troops"
SERVES 12
YOU'LL NEED
2 lbs. ground beef
2 lbs. ground chorizo sausage
1 each onion, diced
2 oz. garlic cloves, minced
1 each jalapeno pepper, seeded and minced
3 cups chicken broth
3 cups canned crushed tomatoes
2 cups canned kidney beans, drained
2 cups canned dark red beans, drained
2 cups canned hominy, drained
Salt and pepper, to taste
1 tsp. chili powder
.5 tsp. cayenne pepper
1 tsp. cumin powder
1 tsp. ground paprika
2 tsp. mustard powder
1 cup cheddar cheese, shredded – garnish
2 tbs. scallions, thin sliced – garnish
MAKE IT
1) In a large pot or roasting pan over medium heat, add ground beef and ground chorizo sausage.
2) Stir the meat as it cooks, breaking the meat apart.
3) After meat is fully cooked, strain off excess fat from the cooked meat.
4) Next add the onion, garlic, jalapeno and continue to cook for 6 minutes.
5) Add chicken stock, crushed tomatoes, kidney beans, dark red beans, hominy and stir well.
6) Then add salt, pepper and all of the spices.
7) Bring to a slow simmer, turn to low heat and allow to slowly simmer for 45 minutes to an hour.
8) Serve the chili in bowls with sliced scallions and shredded cheddar cheese as garnishes on top of the chili.