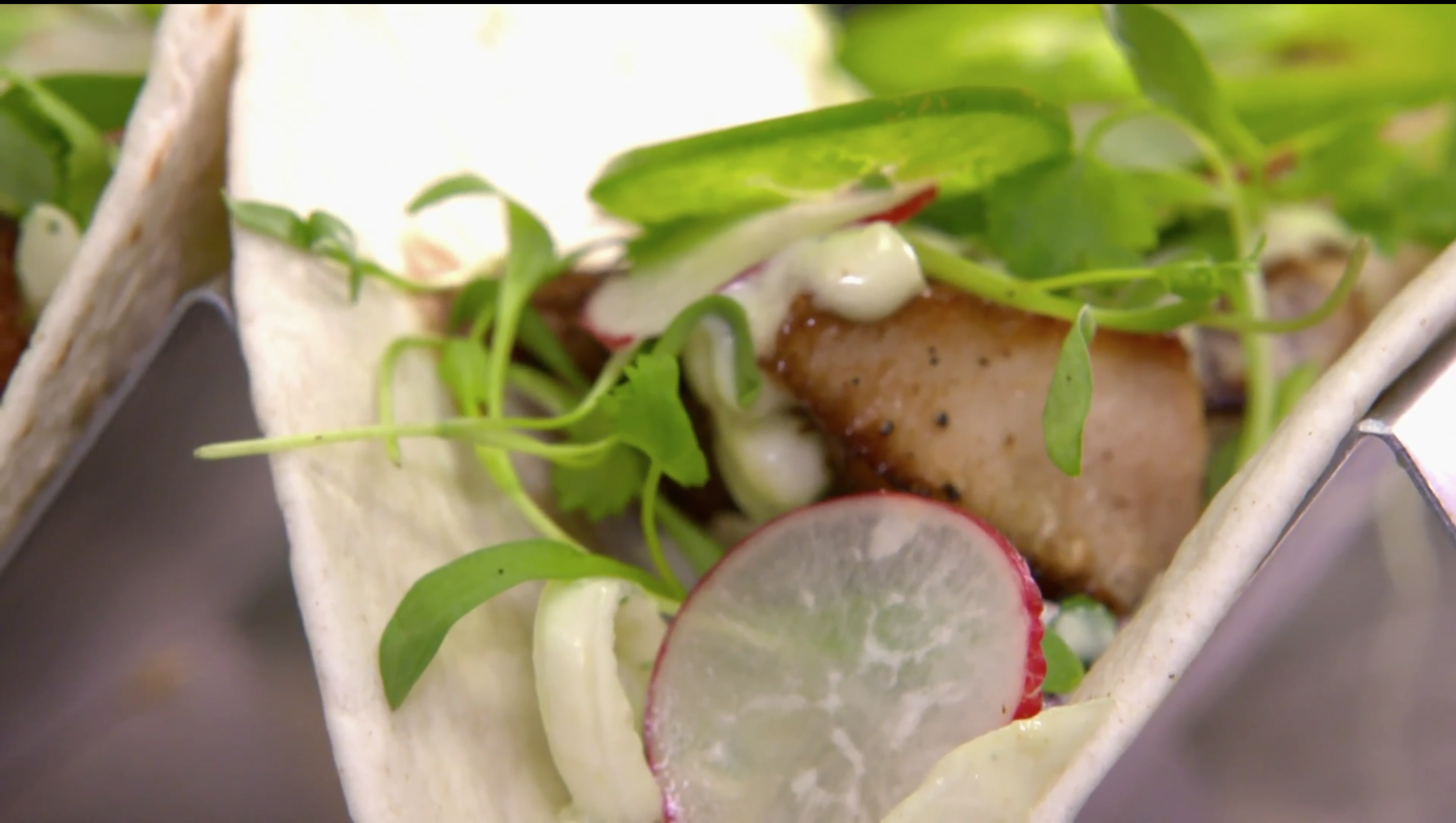 ADOBO SPICED MAHI MAHI TACOS – AS SEEN ON RESTAURANT: IMPOSSIBLE REVISITED
From the Revisited episode, "For the Troops"
SERVES 4
YOU'LL NEED
8 each 3 oz. mahi mahi fillets
Salt and Pepper – to taste
1 tsp. paprika ground
1 tsp. cayenne pepper
1 tsp. cumin
1 tsp. chili powder
1 tbsp. grape seed oil
8 each 5" flour tortilla
4 cups Cabbage Slaw – see recipe below
(Optional – microgreens, sliced radish, lime juice)
FOR THE CABBAGE SLAW
2 cups cabbage, fine shredded
1 cup carrots, fine shredded
1/4 cup green onions, thin sliced
1/2 cup mayonnaise
2 each avocado, smashed
3 tbs. rice wine vinegar
1 tbs. granulated sugar
MAKE IT
CABBAGE SLAW
1) Combine cabbage, green onions, and carrots in a mixing bowl.
2) Combine sugar, mayonnaise, salt, pepper, vinegar, and smashed avocado
3) Combine mixed cabbage, and mayonnaise mixture, mix until coated season with salt and pepper.
ADOBO SPICED MAHI MAHI TACOS
1) Combine paprika, cayenne pepper, cumin, and chili powder.
2) Season mahi mahi fillets with salt, pepper, and seasoning spice mixture.
3) Sear mahi mahi fillets in a sauté pan over high heat for 3 minutes on each side until fish is cooked through and 160 degrees.
4) In a separate sauté pan over medium heat add the flour tortilla shells and toast for 15 seconds on each side.
5) Place 1/4 cup of slaw on each tortilla, top slaw with the cooked adobo spiced mahi mahi fillets, top with micro-greens, radish, and lime if desired and serve immediately.