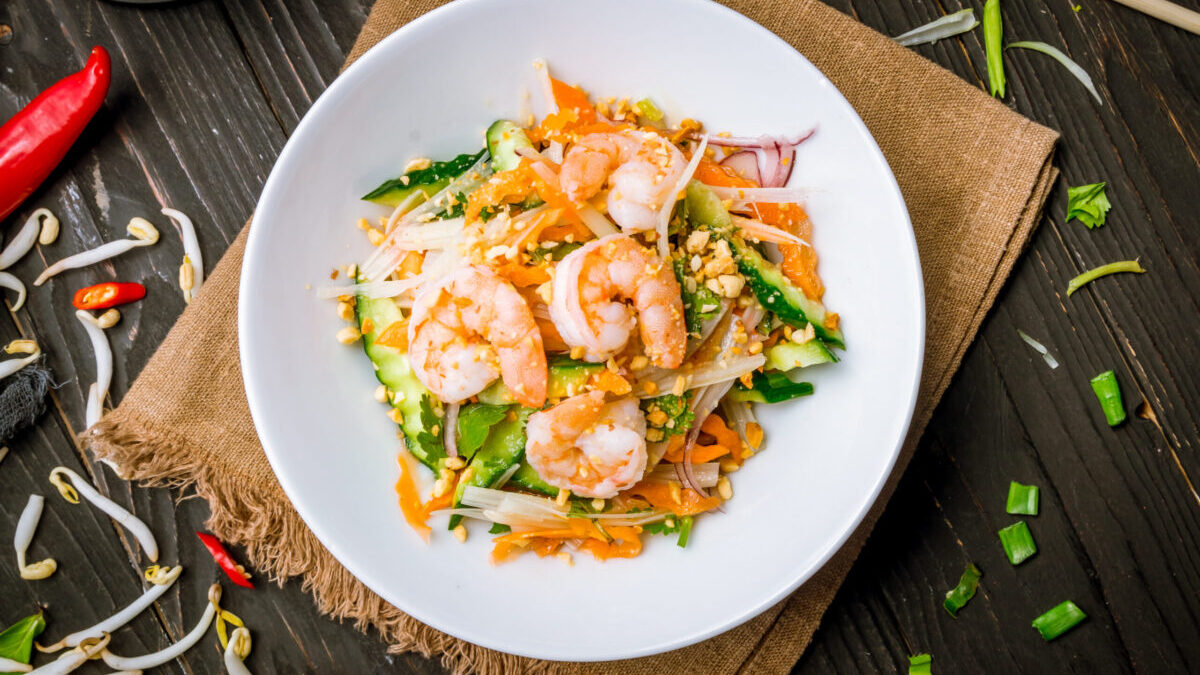 Shrimp Noodle Salad with Lime Vinaigrette – As Seen on Restaurant: Impossible
SERVES 4
YOU'LL NEED
FOR THE LIME VINAIGRETTE
1 cup rice wine vinegar
1/3 cup fish sauce
½ cup fresh lime juice
¾ cup sweet chili sauce, store bought
½ cup sugar
16 oz grapeseed oil
½ bunch fresh cilantro, chopped
Salt and pepper to taste
FOR THE SHRIMP NOODLE SALAD
1 lb 21-25 raw peeled and deveined shrimp, sliced in half lengthwise
1 tbsp grapeseed oil
Salt and pepper to taste (for the shrimp)
12 oz rice vermicelli noodles
1 head romaine lettuce, ¼" julienned
1 cup red radishes, sliced thin
1 cup carrots, sliced thin
1 cup celery, sliced thin
½ bunch fresh cilantro, chopped
1 small bunch fresh mint, chopped
¼ cup toasted cashews, chopped
MAKE IT
LIME VINAIGRETTE
1) Using a whisk, add the rice wine vinegar, fish sauce, lime juice, and sweet chili sauce in a mixing bowl.
2) Whisk in the sugar and grapeseed oil.
3) Finish with cilantro, salt, and pepper
SHRIMP NOODLE SALAD
1) Fill a mixing bowl with cold water and add the rice noodles. Allow the noodles to rehydrate, bloom and become tender. This should take approximately 12 to 15 minutes.
2) Remove the soaked tender noodles from the bowl and set them aside. They are now ready to be dressed.
3) Season the cooked shrimp with salt and pepper. In a skillet over high heat add grape seed oil and sear shrimp on both sides for 1 minutes until cooked through.
4) In a mixing bowl, add the noodles, romaine lettuce, radishes, carrots, celery, cilantro, and dress with the lime vinaigrette.
PLATING
1) Place the dressed salad in a bowl. Top with the sautéed shrimp, mint, and toasted cashews.