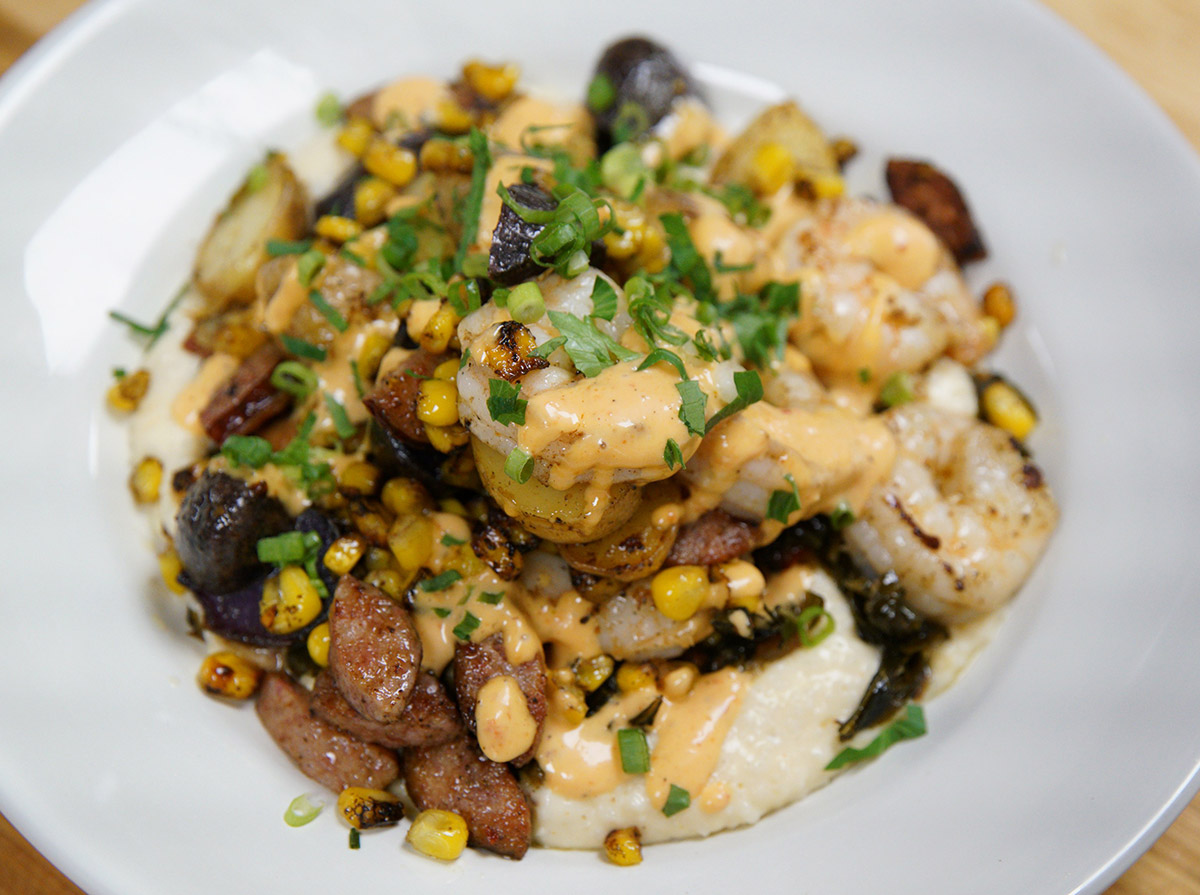 Shrimp Boil – As Seen on Restaurant: Impossible
From the episode, "Roux the Day"
SERVES 4
YOU'LL NEED
FOR THE COLLARD GREENS
1 tbsp grapeseed oil
½ cup diced raw bacon
1 lb fresh collard greens, chopped into large ribbons
2 cups chicken stock
2 tbsp apple cider vinegar
2 tbsp sugar
Kosher salt & ground black pepper, to taste
FOR THE CHEDDAR POLENTA
2 cups water
2 cups heavy cream
1 cup polenta
3 tbsp cream cheese
1 cup shredded cheddar cheese
FOR THE CREOLE REMOULADE
1 cup mayonnaise
1 tbsp Worcestershire sauce
Juice of 1 lemon
2 tbsp Cajun spice
FOR THE BOIL
3 tbsp grapeseed oil
8 fingerling potatoes, quartered
12 shrimp (U 16-20), peeled and deveined
2 cups andouille sausage, diced
1 small white onion, diced
4 ribs celery, diced
1 red pepper, diced
3 cloves garlic, sliced
1 bunch chives, sliced
MAKE IT
COLLARD GREENS
1) In a large sauce pot over medium heat, add grapeseed oil and bacon. Allow bacon to render for about 5 minutes or until crispy.
2) Add collard greens and stir. Cook for 5 minutes.
3) Add chicken stock, vinegar, and sugar. Bring to a simmer. Turn heat to low and cover. Continue to cook collard greens for 25 to 30 minutes until tender. Season with salt and pepper to taste.
POLENTA
1) In a medium sauce pot add water and heavy cream. Bring to a boil.
2) Using a whisk, slowly incorporate polenta.
3) Cook polenta over medium heat for about 12 minutes, stirring occasionally.
4) Remove the polenta from the heat and incorporate cream cheese and shredded cheddar.
CREOLE REMOULADE
1) In a food processor add all ingredients and puree until smooth.
PLATING
1) In sauté pan over medium-high heat add grapeseed oil. Add potatoes and allow to cook for approximately 5 minutes.
2) Add shrimp and andouille sausage. Allow to cook for about 2 minutes on each side.
3) Add onion, celery, red pepper, and sliced garlic. Cook for another 3 minutes.
4) Place a large scoop of polenta into the bottom of the bowl.
5) Top the polenta with collard greens.
6) Top the collard greens with the sausage, potato, and shrimp mixture.
7) Finish with a drizzle of remoulade sauce and chives on top.