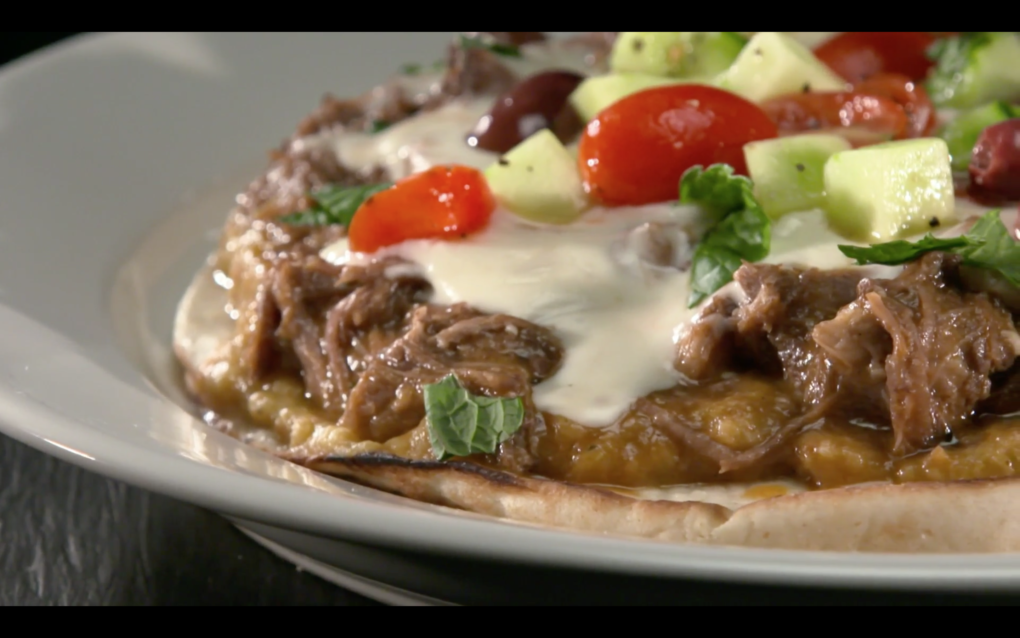 Shredded Lamb Moussaka Pita – As Seen on Restaurant: Impossible
From the episode, "Greek Tragedy"
SERVES 8
YOU'LL NEED
4 pita bread rounds
8 oz Eggplant Puree (see sub-recipe below)
8 oz Mornay Sauce (see sub-recipe below)
2 lbs roasted leg of lamb, shredded
4 oz canned tomato sauce
10 cherry tomatoes, quartered
1 English cucumber, small diced
4 cloves garlic, sliced
1 onion, small diced
3 tbsp extra virgin olive oil
1 lemon, zested and juiced
Salt and pepper, to taste
1 tbsp fresh parsley, chopped
1 tbsp fresh basil, torn
EGGPLANT PUREE
YOU'LL NEED
1 eggplant (roasted whole at 350-degrees for 45 minutes)
2 cups extra virgin olive oil
2 cloves garlic
1 lemon, zested and juiced
MAKE IT
In a food processor add cooked eggplant, olive oil, garlic, lemon zest, and juice. Puree until smooth.
MORNAY SAUCE
YOU'LL NEED
1 cup milk
½ lb all-purpose flour
½ lb butter
1 cup shredded white cheddar cheese
Salt and pepper, to taste
MAKE IT
1) In a sauce pot add butter and flour. Create a roux, cooking for 5 minutes over low heat. Roux should be a light brown color.
2) Whisk milk into roux making sure there are no lumps.
3) Add shredded cheese and cook for another 5 minutes. Season with salt and pepper to taste.
MAIN DISH: Making the Shredded Lamb Moussaka Pita
1) Place pita on a medium-high heat grill. Grill on both sides; the pita should be light brown in color and have some grill marks on it.
2) Place pita on a cutting board. Build pita just like building a pizza; add eggplant puree to each pita, then add shredded lamb meat, then top with the tomato sauce and the Mornay sauce.
3) In a mixing bowl add the tomatoes, cucumber, sliced garlic, onion, 3 tbsp extra virgin olive oil, and lemon juice and zest, and season with salt and pepper to taste.
4) Top of the pitas with chopped parsley, torn basil, and the tomato, cucumber, and garlic mix.