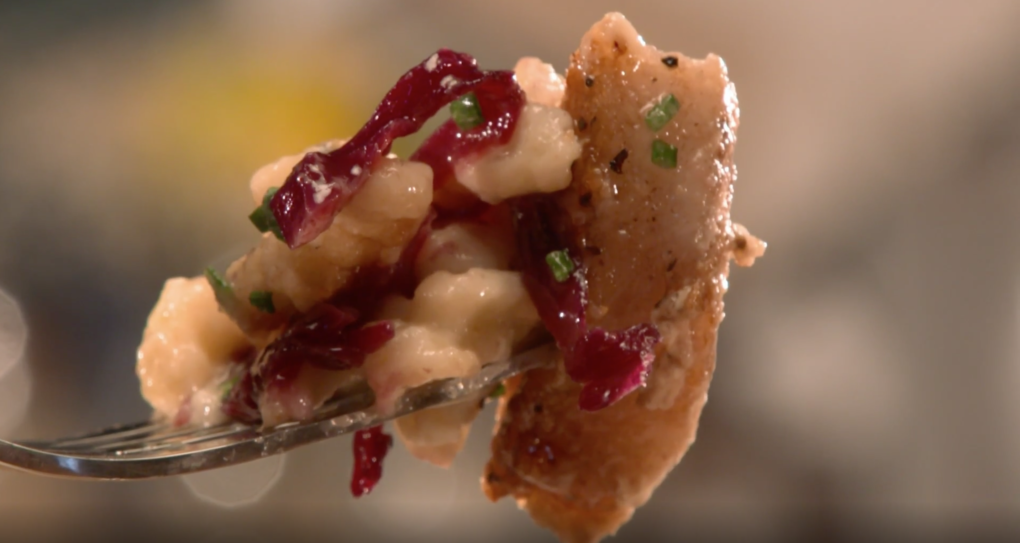 Seared Pork Chop with Sweet and Sour Cabbage — As seen on Restaurant: Impossible
SERVES 4
PORK CHOPS & CABBAGE
8 bone-in pork chops (4 oz each)
1 tsp grapeseed oil
1 head red cabbage, shredded
1 green apple, shredded
1 red onion, sliced
1 cup red wine vinegar
1 stick butter (¼ lb)
½ cup sugar
ONION SOUBISE
2 Spanish white onions (sliced)
1 lb butter
¼ cup rice wine vinegar
SPAETZLE
4 eggs
1/3 cup milk
2 tsp salt
2 cup AP (all purpose) flour
2 tbs butter
1 tsp chopped parsley
MAKE IT
PORK CHOP & CABBAGE
1) In a medium sauté pan over high heat add grape seed oil and pork chop. Allow to cook for 4 minutes or until golden brown on each side.
2) In a medium rondo style pot over medium heat, add butter, apples, and sliced cabbage. Season with salt and pepper. Cover and allow to cook for 15 minutes.
3) Add vinegar and sugar. Bring to a boil, and then lower to simmer for approximately 20 minutes.
ONION SOUBISE
1) In a medium to large rondo style pot add butter and Spanish onions.
2) Season with salt and pepper. Cover. Allow to sweat over low to medium heat for approximately 30 minutes.
3) Make sure to stir periodically. You do not want to get any color on the onions.
4) Finish with rice wine vinegar. Place in a blender and puree until the mixture is smooth.
SPAETZLE
1) In a stand up mixer add eggs, milk, salt, and pepper.
2) Using the paddle attachment mix on medium speed for 5 minutes.
3) Lower speed and incorporate flour, forming a semi- loose dough.
4) Using a perforated pan, pass spaetzle batter through the pan into seasoned boiling water. Allow to cook for 5 minutes. (You can see how to do this HERE)
5) Chill spaetzle.
6) Place in a sauté pan over high heat with butter.
7) Allow spaetzle to get color. Finish with salt, pepper, and chopped parsley.
8) Plate with soubise, spaetzle, sweet and sour cabbage, and seared pork chop.