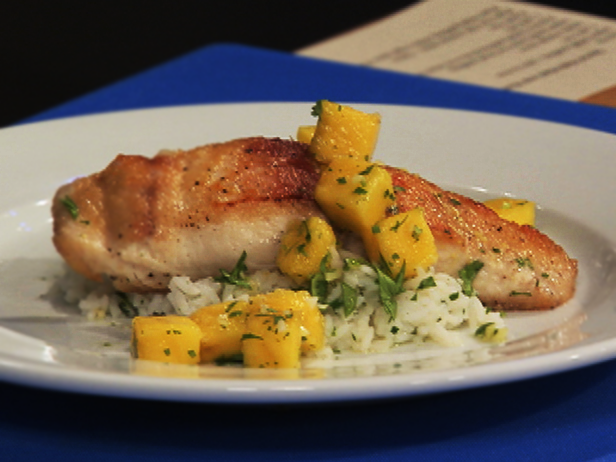 Seared Mahi-Mahi with Mango Sauce and Fragrant Rice
Cook Time: 30 min
Yield: 4 servings
Ingredients
Rice:
1 cup jasmine rice
2 cups water
2 tablespoons chopped fresh cilantro leaves
2 scallions, green parts only, chopped
Salt
Mango Sauce:
1 mango
1 teaspoon rice wine vinegar
1/4 cup grapeseed oil
1 lime, juiced
Salt and freshly ground black pepper
1 tablespoon chopped fresh cilantro leaves
1 clove garlic, quartered
1 teaspoon chopped fresh ginger
Fish:
4 mahi-mahi fillets
1/4 cup grapeseed oil
Salt and freshly ground black pepper
2 scallions, chopped, for garnish
Directions
For the rice:
Combine the rice and water together in a large saucepan. Place the pan over medium heat and bring to a boil. Reduce the heat to low and cover the pot. Cook the rice for 20 minutes.

For the sauce:
Peel the mango and slice the flesh off the pit. Dice the mango flesh.

In a large bowl, whisk together the vinegar, oil, and lime juice. Season with salt and pepper. Stir in the mango, cilantro, garlic, and ginger. Set aside.

Heat a large, nonstick saute pan over medium-high heat.

Rub the fish fillets with the oil, salt, and pepper. Place in the hot pan and sear until golden on 1 side, 3 to 4 minutes.

Turn the fish over and cook until cooked through, another 3 to 4 minutes. Be careful not to overcook the fish. You'll know the fish is done when the flesh springs back. Remove the fish to a plate.

When the rice is cooked, fluff it with a fork and gently stir in the cilantro and scallions. Season with salt, to taste.

Place a mound of rice on each plate. Top with mahi-mahi. Spoon the mango sauce over each fillet and top with chopped scallions. Drizzle the liquid from the mango sauce around the rice.