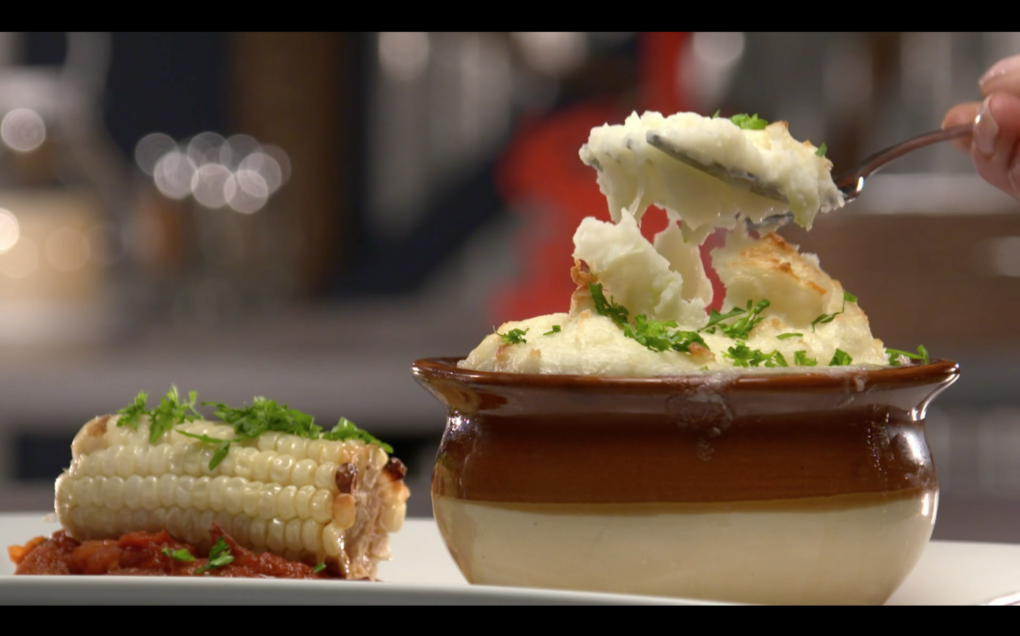 Seafood Shepherd's Pie – As Seen on Restaurant: Impossible
From the episode: Saving a Family's Legacy (Al's Seafood)
Serves 8
YOU'LL NEED
Mashed Potatoes
4 Russet potatoes, peeled and medium dicd
1 stick butter
1 pint heavy cream
Seafood Pie
1 leek, thinly sliced
1 Spanish onion, medium diced
2 ribs celery, medium diced
1 fennel bulb, medium diced
½ lb butter
¼ lb all-purpose flour
1 pint fish stock
24 peeled and deveined shrimp
2 lbs fresh cod, cut into 3-oz filets
2 lbs calamari, cut into ¼-inch rings
MAKE IT
Mashed Potatoes
1) In a medium sauce pot, add potatoes and seasoned water. Bring to a boil.
2) Allow potatoes to boil for about 10 minutes.
3) Drop temperature to medium. Simmer and allow to cook for 15 more minutes. When potatoes are done, strain into a colander.
4) Allow potatoes to steam in the colander for 4 minutes. allowing to dry out.
5) If you have a ricer, pass potatoes through that. Alternatively, you can place in a stand up mixer with a paddle attachment. You can also whisk by hand.
6) In a small pot, add heavy cream and butter and bring to a simmer, allowing butter to melt into cream.
7) Slowly incorporate butter and cream mixture into potatoes and season with salt and white pepper.
Seafood Pie
1) In a large Dutch oven, add butter and leeks and allow to cook for approximately 8 minutes, over medium heat, with the cover on the pot.
2) Add flour and cook for another 5 minutes, stirring occasionally.
3) Add celery, fennel, and onions, and continue to cook for another 5 minutes, continuing to stir.
4) In a separate pot, bring fish stock to a boil.
5) Add hot fish stock to the Dutch oven using a whisk to avoid lumps. Add heavy cream and season with salt and pepper.
6) Add fish, calamari, and shrimp, and cover with mashed potatoes. Place in a 350 degree oven for 8 minutes; the potatoes should be a nice golden brown before serving.