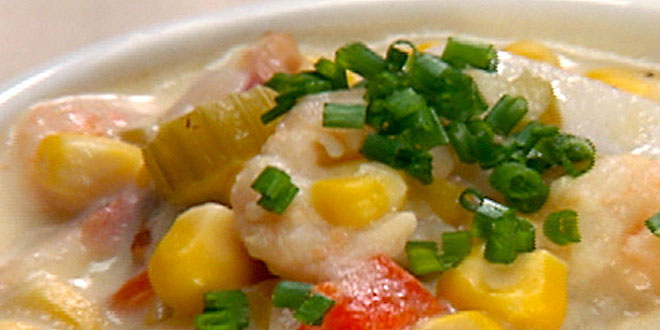 Roasted Corn Chowder with Lime Cured Shrimp
Total Time: 2 hr 10 min
Yield: 8 servings
Ingredients
1 lime
1 pound baby shrimp, shelled and deveined
2 cups fresh corn kernels (from about 4 ears) or thawed frozen corn kernels (do not use canned corn)
1/4 cup vegetable oil
1/2 cup chopped raw bacon
1 red onion, diced
1/2 cup celery, finely diced
1 green bell pepper, diced
1 red bell pepper, diced
6 cloves garlic, minced
1/2 cup all-purpose flour
2 cups (1 pint) heavy cream
6 cups chicken stock
1/2 pound red bliss potatoes, diced
3 tablespoons freshly squeezed lime juice
2 tablespoons chopped fresh parsley leaves
1/4 teaspoon cayenne pepper
1 bunch scallions, chopped
Oyster crackers, as an accompaniment
Directions
Squeeze lime juice over shrimp placed in a bowl. Add lime skin to bowl, stir to coat, cover and refrigerate for up to 1 hour.
Preheat oven to 375 degrees F. On a baking sheet, coat corn kernels with oil and roast for about 5 to 10 minutes.
Heat oil in a heavy bottomed pan over low heat, and cook bacon until crisp. Add onions and celery and cook for 5 minutes without browning. Add green bell pepper, red bell pepper, garlic and roasted corn and cook for another 5 minutes. Stir in flour to thicken and cook for 6 to 8 minutes, keeping heat low.
Add cream, chicken stock and potatoes and let cook until potatoes are soft, about 20 minutes, stirring occasionally to prevent anything from sticking to the bottom of the pot.
Remove shrimp from marinade and discard liquid. When potatoes are soft, stir in shrimp, lime juice, fresh chopped parsley, and cayenne pepper and cook until shrimp are pink and just cooked through. Spoon into soup bowls and top with scallions. Serve with oyster crackers.