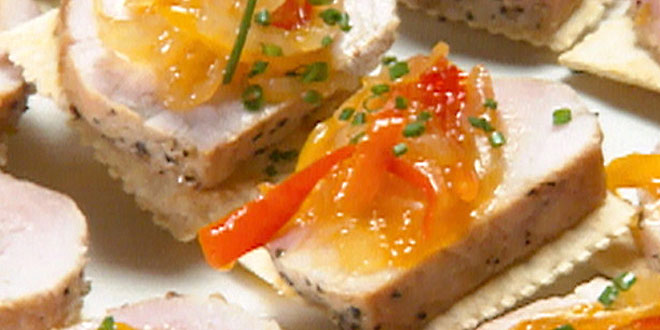 Pork Tenderloin with Bell Pepper Marmalade
Total Time: 1 hr 40 min
Yield: 12 to 18 appetizers
Ingredients
For the pork:
1 (3-pound) pork tenderloin
2 tablespoons grapeseed oil
1/4 to 1/2 cup Irvine Spices Roasted Garlic Pepper
For the marmalade:
1 red onion, diced
1 red bell pepper, diced
1 orange bell pepper, diced
1/2 cup honey
1/4 cup red wine vinegar
1/2 cup red wine
2 tablespoons hot sauce (recommended: Tabasco)
1/2 cup cranberry sauce
For the garlic bread:
4 tablespoons butter
2 ounces extra-virgin olive oil
4 cloves garlic, minced or 1 teaspoon garlic powder
1 long baguette, sliced into 1/2-inch slices
Directions
Preheat oven to 350 degrees F.
In a large saute pan, heat the 2 tablespoons of the grapeseed oil and sear the pork loin on all sides. Transfer pork to a roasting pan and rub with roasted garlic pepper seasoning. Slowly roast in the oven until fork tender, 45 minutes to 1 hour. Allow pork loin to rest for 8 to 10 minutes before slicing.
While the pork is in the oven, begin the marmalade. In a hot skillet, heat the onions, red peppers and orange peppers (heat them dry with no oil) for about 3 minutes. The idea is to remove the liquid from the onions, by "sweating them down." Add the honey, vinegar, wine, hot sauce and cranberry sauce, and stir well. Reduce over medium-low heat until there is no liquid left in the pan and marmalade mixture is tacky.
To make the garlic bread, melt the butter in the extra-virgin olive oil over low heat. Add garlic and gently cook until it begins to soften. Assemble slices of bread on a baking sheet and spoon even amounts of the garlic-oil-butter mixture on each slice. After you have removed the pork from the oven to rest, toast the garlic bread briefly in the oven. Slice down the pork tenderloin, and assemble the appetizer by layering a medallion of pork and a small amount of the marmalade on each piece of garlic toast.