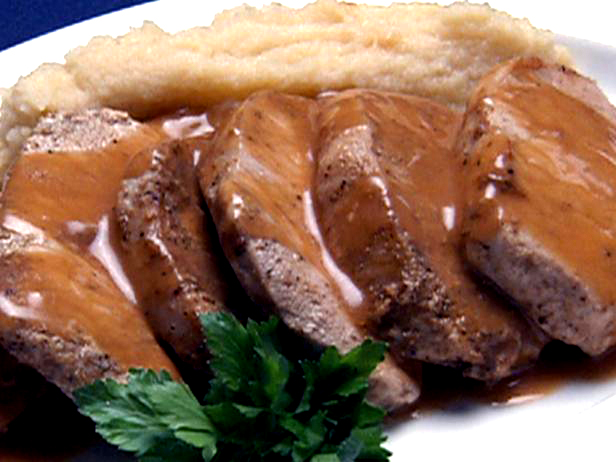 Pork Chops with Apple Compote
Total Time:
2 hr 35 min
Prep:
15 min
Inactive:
2 hr
Cook:
20 min
Yield:4 servings, 2 chops each

Ingredients
8 (1/2-inch) thick pork loin chops
2 tablespoons Rotisserie seasoning
2 tablespoons Garlic Pepper seasoning
1 teaspoon salt
1 tablespoon butter
1 tablespoon olive oil
4 Granny Smith apples, peeled and cored, thinly sliced and tossed with juice from 1 lemon
1 lemon, zest grated and reserved for garnish

Directions
Rinse pork chops to remove any residue and pat dry with paper towels. Combine the Rotisserie seasoning, the Garlic Pepper, and the salt to make a rub. Rub the seasoning into all surfaces of the pork chops and allow to sit covered for 2 hours. (The seasoning will actually begin to "cure" the meat.)

Melt butter and oil over medium heat in a large saute pan. Saute the chops for 3 to 5 minutes each side (to your desired doneness), remove to a platter and keep warm.

To the same pan, add the apples and saute until tender. Puree the apples and pan juices in a blender (or you can use an immersion blender if the pot is deep enough).

Spoon pureed apple over chops and garnish with lemon zest.


Recommended
[product sku="HSN_BLEND"]