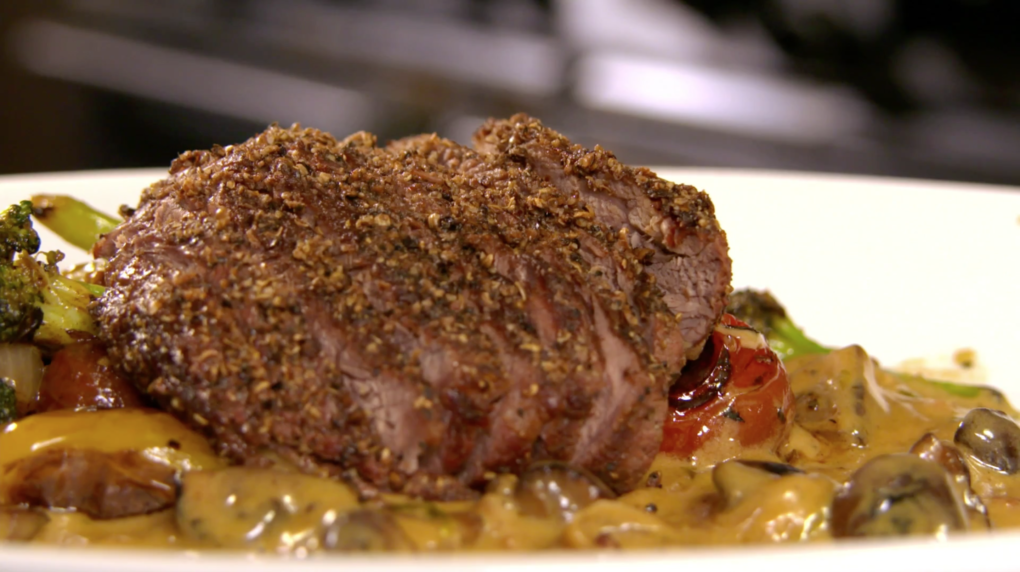 Porcini-Crusted Sirloin Steak – As Seen on Restaurant: Impossible Revisited
From the episode, "Ruffled Feathers"
SERVES 4
YOU'LL NEED
FOR THE MUSHROOM BOURSIN SAUCE
2 tbsp grapeseed oil
2 oz shiitake mushrooms, sliced
¼ cup white onion, diced medium
3 cloves garlic, sliced
3 sprigs fresh thyme
¼ cup white wine
3 cups beef stock
4 tbsp butter, chilled
2 oz boursin cheese
¼ cup heavy cream
Salt and pepper, to taste
FOR THE STEAK
1 tbsp porcini mushroom powder
1 tbsp kosher salt
1 tbsp crushed black pepper
2 tbsp brown sugar
1 tsp ground coriander seeds
2 tbsp grapeseed oil
4 center cut top sirloin steaks (8 oz each)
2 tbsp butter
MAKE IT
MUSHROOM BOURSIN SAUCE
1) In a large saucepan over high heat, add grapeseed oil, and sliced mushrooms. Allow to cook for about 4 minutes. Mushrooms should get a light brown color.
2) Add onions, garlic, and sprigs of thyme and continue to cook for another 4 minutes.
3) Add white wine and beef stock and stir.
4) Bring mixture to a boil, drop to a simmer and allow to simmer for 30 minutes. Mixture should reduce by about half and should start to thicken.
5) Remove thyme sprigs from sauce.
6) Using a whisk slowly incorporate chilled butter, Boursin cheese, and heavy cream and continue to cook the sauce for 2 minutes.
7) Season with salt and pepper to taste.
STEAK
1) In a large mixing bowl, add porcini mushroom powder, kosher salt, black pepper, brown sugar, and coriander.
2) In a large sauté pan, add grapeseed oil over high heat.
3) Season the steaks lightly with salt and pepper and cook over high heat for about 8 minutes on each side, then place steaks in a 400-degree oven for 5 minutes until desired temperature is reached.
4) Add butter to the pan and allow steaks to rest, the steaks will continue to cook and should reach an internal temperature of 140 degrees.
5) Pull steaks from sauté pan and place on a baking sheet.
6) Coat each steak in 1 tsp of porcini dust on each side of the steak.
7) Serve steak with pan roasted broccoli and mushroom Boursin sauce.