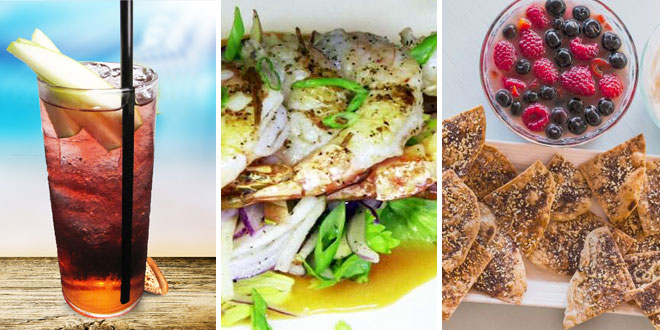 Here's an idea for a picnic meal including fun drinks to stay cool, an easy entrée, and delicious dessert.
Pomegranate Iced Tea
Time: 15 min
Yield:1 gallon
Ingredients
Juice of 2 lemons
Juice of 2 limes
2 tablespoons brown sugar
Sprigs of fresh mint, for muddle and garnish
8 cups sweet tea
4 cups pomegranate juice
1 cup cranberry juice
Ice, for glasses
Directions
In a mixing bowl, crush or muddle the lemon and lime juices with the brown sugar, blending the juices and sugar together. Next, thin slice a few mint leaves and add to the juices. Then add the sweet tea, pomegranate juice and cranberry juice and mix well. After mixing, serve over ice and garnish with fresh mint or sliced fruit.
Sauteed Shrimp, Spicy BBQ, Apple Slaw
Time: 30 min
Yield: 4 Servings
Ingredients
Slaw:
2 tablespoons grapeseed oil
1/4 cup julienned red onion
1 large apple, peeled and julienned
1/4 cup bias-cut green onions, loosely packed
2 tablespoons lemon juice
1 teaspoon salt and white pepper blend
Sauce:
1/4 cup unsweetened applesauce
2 tablespoons ketchup
2 tablespoons pork rendering
1 tablespoon hot sauce
Shrimp:
2 tablespoons grapeseed oil
24 shrimp (21/25 count), peeled and deveined
1 tablespoon salt
1 teaspoon ground pepper
Directions
For the slaw: In a bowl, blend the grapeseed oil, red onions and apples. Then add the green onions, lemon juice and salt and pepper blend. Mix well.
For the sauce: In a bowl, combine the applesauce, ketchup, pork rendering and hot sauce, blending well. Save to sauce the shrimp.
For the shrimp: In a saute pan over high heat, add the grapeseed oil and warm for 1 minute. Then add the shrimp, salt and pepper, and reduce the heat to medium. Cook the shrimp for 3 minutes, stirring throughout the process. Once cooked, add the prepared sauce and stir to blend.
To plate, place slaw on a plate, top with shrimp, spoon excess sauce over shrimp and serve.
Dessert Nachos
Time: 1 hour
Yield: 4 servings
Ingredients
4 cups store-bought flour tortilla chips, unsalted
1 tablespoon ground cinnamon
1 tablespoon granulated sugar
1 cup grated semisweet chocolate
1 cup grated white chocolate
1 cup Creme Fraiche, recipe follows
1 cup Warm Berry Salsa, recipe follows
Creme Fraiche:
1 cup sour cream
1/2 cup heavy cream
1/4 cup confectioners' sugar
2 tablespoons orange-flavored liqueur, such as triple sec
Warm Berry Salsa:
1/2 cup granulated sugar
1 tablespoon liqueur of choice, such as orange-flavored cognac
1 tablespoon butter, at room temperature
1 tablespoon white wine vinegar
1/4 cup blueberries
1/4 cup raspberries
Hot sauce, chile-garlic sauce, diced peppers or chile seeds (optional)
Directions
In a mixing bowl, crush or muddle the lemon and lime juices with the brown sugar, blending the juices and sugar together. Next, thin slice a few mint leaves and Preheat the oven to 350 degrees F.
In a bowl, toss the chips with the cinnamon and sugar, spreading the sugar evenly. Next, stack or mound the nachos on a large plate or serving dish. Top with the chocolate and bake until the chocolate is melted, 8 to 10 minutes. Remove from the oven and serve with Creme Fraiche and Warm Berry Salsa.
Creme Fraiche:
Whisk the sour cream, heavy cream, confectioners' sugar and liqueur thoroughly. Refrigerate for 20 to 30 minutes or up to overnight.
Warm Berry Salsa:
In saucepan over high heat, bring 1/2 cup water to a boil. Reduce the heat and add the sugar and liqueur. Continue to cook until the sugar begins to brown, 6 to 8 minutes. Remove from the heat, add the vinegar and butter and place in the refrigerator until chilled, about 10 minutes.
Once the sauce has cooled, add the berries and mix thoroughly. Finish with splash of spice if desired.
Once mixed, reheat the salsa over low heat in a saucepan for 2 to 3 minutes or in the microwave for 45 seconds. Serve warm.