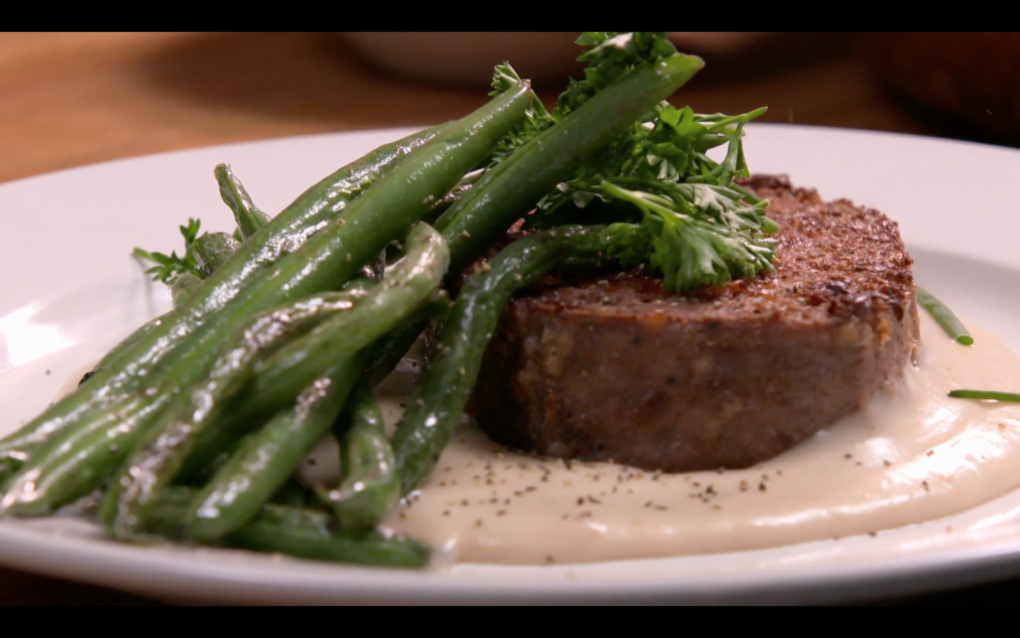 Pastrami Stuffed Meat Loaf – As Seen on Restaurant: Impossible
From the episode "Lakefront Disaster" (Besse's on Clear Lake)
Serves 6
YOU'LL NEED
FOR THE MEATLOAF
1 lb 80/20 ground beef
3 oz heavy cream
3 whole eggs
4 oz grated parmesan cheese
10 oz panko bread crumbs
2 tbs harissa paste
4 oz pastrami, shredded
1 lb green beans, blanched
1 tsp minced garlic
1 tbsp parsley
1 tbsp fresh lemon juice
FOR THE PARSNIP PUREE
1 large Spanish onion, diced
5 parsnips, peeled and chopped
1 cup chicken stock
1 stick butter
MAKE IT
MEATLOAF
1) In a large mixing bowl, add eggs, Parmesan cheese, heavy cream, and harissa paste. Mix.
2) Add ground beef and season with salt and pepper.
3) Place meatloaf mixture on a piece of parchment or plastic wrap. Spread out the mixture to ½ inch in thickness. Place the shredded pastrami in the center of ground beef.
4) Roll the loaf around the pastrami and place in a greased loaf pan.
5) Place in a 325° oven and cook for 1 hour.
6) Slice meatloaf into six pieces. Sear in a sauté pan over high heat, allowing to brown. Flip over and place in a 350° oven.
7) In a separate sauté pan, add butter and green beans. Heat. Finish with salt, pepper, and lemon juice.
PARSNIP PUREE
1) In a large rondo style pot place sliced onions. Add butter. Allow to sweat for 5 minutes or until onions are translucent.
2) Add parsnips and cook for another 5 minutes.
3) Add chicken stock and cream and bring to a boil.
4) Season with salt and pepper.
5) Puree until smooth.
Plate by adding a large dollop of parsnip puree to the center of the plate. Top with meatloaf and green beans.