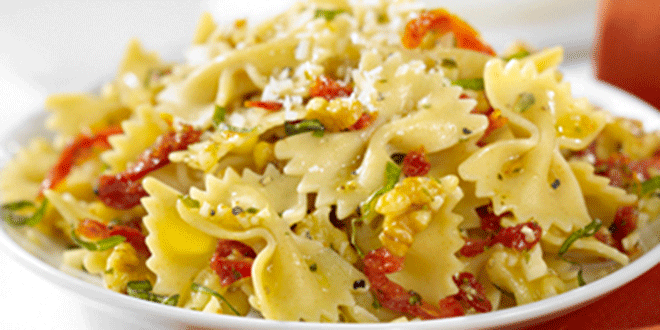 Total Time: 50 min
Yield: 8 servings
Ingredients
For the Salad:
1 pound farfalle pasta
Freshly ground black pepper
1 tablespoon olive oil
1 yellow squash, sliced into 1/4-inch thick discs
1 zucchini squash, sliced into 1/4-inch thick discs
1 cup diced sun-dried tomatoes
1 cup packed fresh basil leaves
1/2 cup fresh packed parsley leaves

For the Dressing:
2 tablespoons apple cider vinegar
2 garlic cloves, lightly crushed with the side of a knife blade, and quartered
1 teaspoon stone ground mustard
1 teaspoon dried oregano
1 teaspoon dried basil
1/2 teaspoon salt
1/8 teaspoon ground black pepper
1/2 cup extra-virgin olive oil
Directions
Boil the pasta in salted water until al dente and drain well.
Toss with ground black pepper and olive oil.

For the dressing, add the vinegar to a blender and replace the lid.
Turn on the blender add, 1 at a time through the feed opening, garlic, mustard, oregano, basil, salt, and black pepper.
Leaving the blender running, add the olive oil in a slow thin stream.

Toss together the pasta, yellow squash, zucchini, sun-dried tomatoes, basil and parsley with enough of the dressing to coat.
Serve any additional dressing on the side.