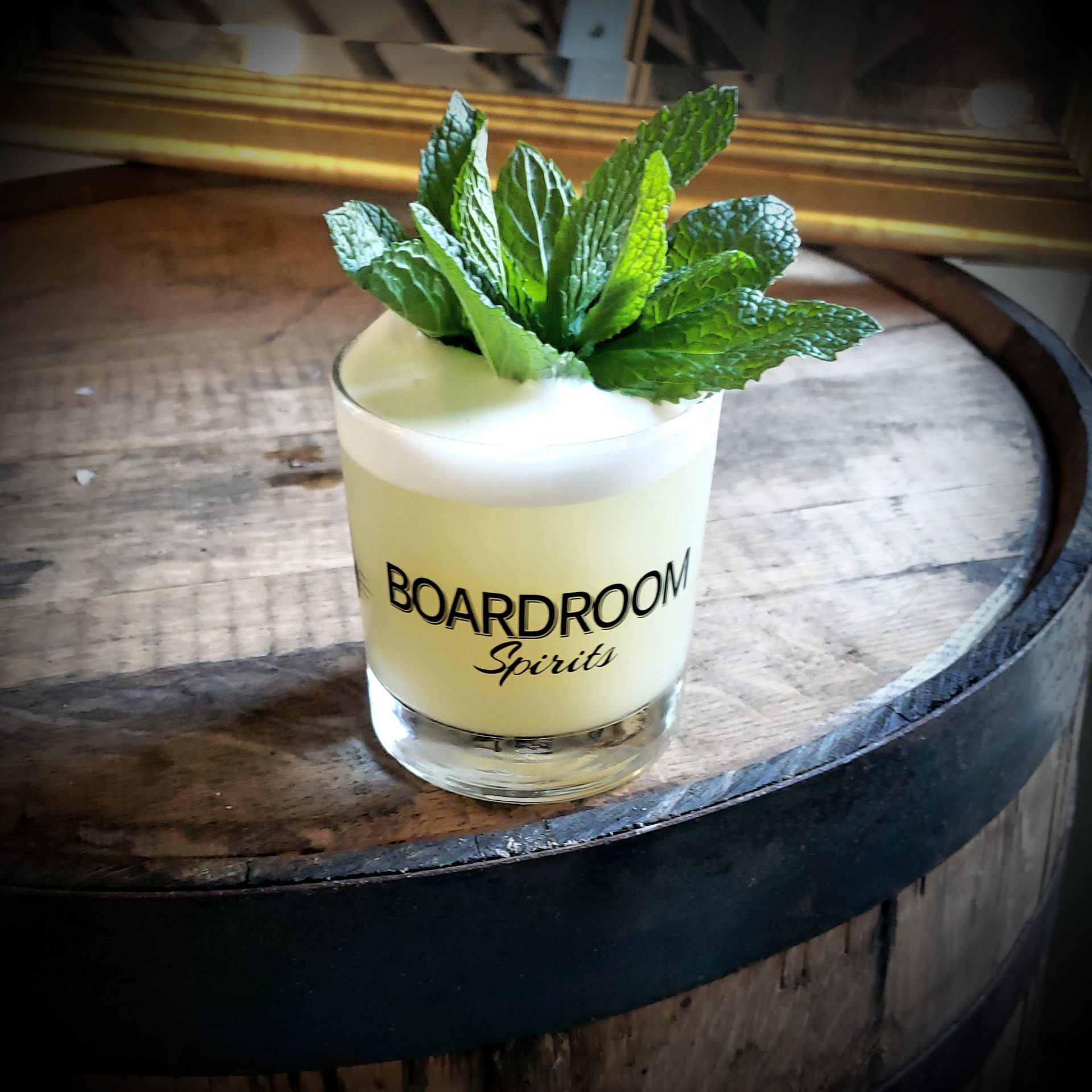 MIXOLOGY: The Shamrock Shake-Up
An elevated St. Patrick's Day cocktail—because anyone can put green food coloring in a pitcher of beer. 
BY JAMES CLELAND, Mixologist for Irvine Spirits
At Boardroom Spirits, our philosophy is simple. We precision-craft the highest quality spirits using real ingredients with zero shortcuts. This means no artificial flavors, colors, sweeteners, juices, extracts, oils, or concentrates.
When I make cocktails, I adhere to the same philosophy. Use high quality spirits, real ingredients (fresh juices and home-made syrups), and classic technique to create an elevated and memorable cocktail experience.
For St. Paddy's Day, I present the Shamrock Shake Up. I personally love the traditional whiskey sour; The egg white adds a smooth, velvety texture. To elevate this classic for the holiday, I've added a few twists, most notably crème de menthe and a sprig of mint, which acts as the sugar component.
The richness of the wood from an Irish whiskey can give a warm backbone to the freshness of the mint in this cocktail. If you plan to use another type of whiskey, I suggest avoiding something peaty (like an Islay Scotch) or spicy (like a Rye). Also, instead of a store-bought sour mix—which would cause the drink to be overly sweet and bland—I recommend fresh squeezed lemon juice to create a brighter cocktail.
If you are wary of raw egg in your drinks or are making cocktails for a vegan friend, then consider aquafaba (a fancy word for chickpea water) to add a similar, silky texture to the cocktail. Simply strain off the liquid of a chickpea can, making sure to use a tight mesh strainer to catch any particulates. A large egg is generally ¾ oz. of egg white but aquafaba doesn't have the same amount of proteins, so you generally need to increase the amount used to 1 oz. to get a similar effect.
SHAMROCK SHAKE-UP
RECIPE
YOU'LL NEED
2 oz Tyrconnel Single Malt (try Power's Irish Whiskey if you're making for a large group, or Redbreast 12 year if you want to treat yourself)
1 oz crème de menthe
¾ oz fresh squeezed lemon juice
1 egg white (or aquafaba)
club soda
1 sprig mint, to garnish
MAKE IT
Combine whiskey, crème de menthe, lemon juice and egg white in a cocktail shaker tin and shake vigorously without ice. Add ice after fully incorporated and frothy, then shake again to chill and dilute the drink. Double strain into a Collins glass filled with ice and top with club soda. Garnish with a mint sprig and enjoy!
James Cleland is a mixologist "responsible for customer delight" at the Boardroom Spirits distillery in Lansdale, PA, where Robert is an owner and where Irvine Spirits are proudly produced. Boardroom Spirits is devoted to making high-quality hand-crafted spirits in a sustainable manner. To learn more, click HERE.