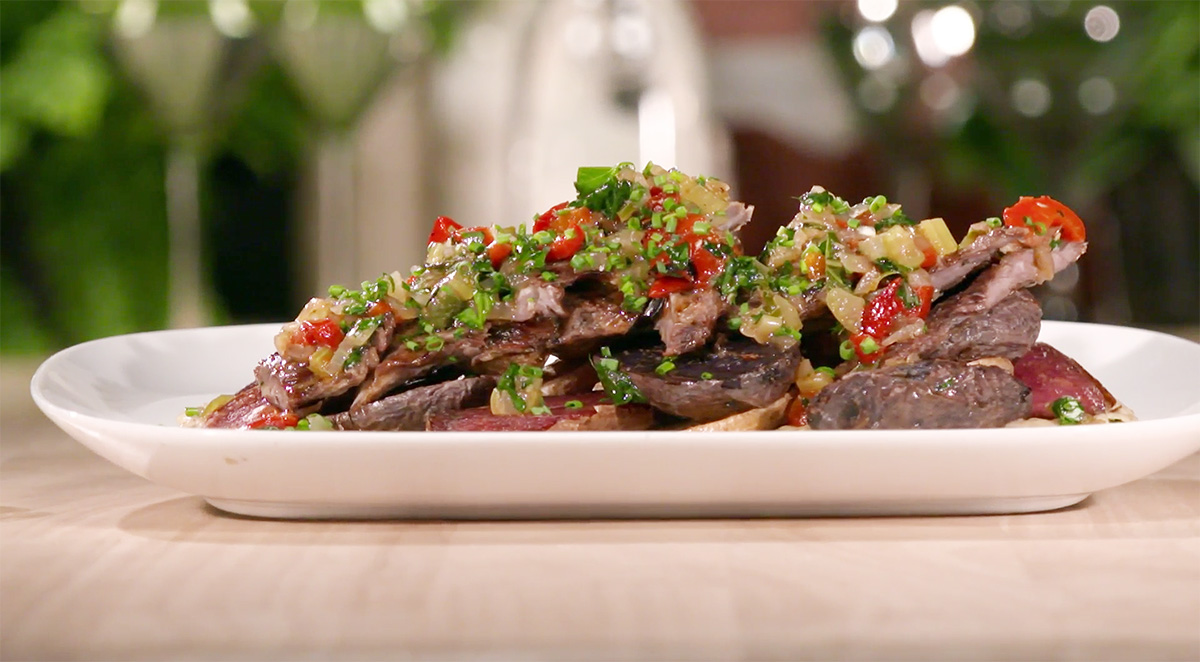 Marinated Skirt Steak with Eggplant Puree – As Seen on Restaurant: Impossible
From the episode, "Saving an American Dream"
SERVES 4
YOU'LL NEED
FOR THE MARINADE & MAIN DISH
3 lbs skirt steak, trimmed of fat
½ cup grapeseed oil
¼ cup Worcestershire sauce
2 shallots, chopped
2 garlic cloves, minced
1 tbsp cayenne pepper
1 tbsp fresh cilantro, chopped
1 tsp ground black pepper
16 fingerling potatoes, roasted and cut in half lengthwise
Kosher salt and black pepper, to taste
FOR THE EGGPLANT PUREE
2 eggplants
½ cup grapeseed oil
2 tsp kosher salt
1 tsp ground black pepper
2 tbsp smoked paprika
1 tbsp ground cumin
FOR THE ROASTED RED PEPPER RELISH
½ cup grapeseed oil
2 ribs celery, diced
½ cup white onion, diced
3 cups canned roasted red peppers, diced
1 bunch fresh parsley, chopped
Zest and juice of 1 lemon
MAKE IT
MARINADE
1) Place grapeseed oil, Worcestershire sauce, shallots, garlic, cayenne pepper, cilantro, and black pepper in a food processor and blend well.
2) Marinate the skirt steak for at least 4 hours and up to 12 hours in the marinade mixture in the fridge.
EGGPLANT PUREE
1) Pre-heat grill to medium-high heat.
2) Coat the whole eggplant with grapeseed oil. Place on hot grill. Allow eggplant to cook on all sides. The eggplant should cook for approximately 12 minutes, don't worry if it starts to char on the outside.
3) Place eggplant in a mixing bowl and cover with plastic wrap.
4) Allow eggplant to cool and then peel the skin off the outside.
5) Cut up the peeled, cooked eggplant and place into a blender with the remaining grapeseed oil and puree until smooth.
6) Place mixture in a mixing bowl and season with salt, pepper, smoked paprika, and cumin.
ROASTED RED PEPPER RELISH
1) In a medium sauté pan over medium-high heat, add the grapeseed oil, celery, onions, roasted red peppers. Stir and allow the vegetables to cook for about 4 minutes.
2) Add chopped parsley. Finish with salt, pepper, lemon zest and juice.
GRILLING & PLATING
1) Season the marinated skirt steak with salt and pepper, and place in a sauté pan or on a grill over medium-high heat.
2) Sear the marinated skirt steak for 2 to 3 minutes on each side until it reaches an internal temperature of 125 degrees F. Rest the steak for 3 minutes and then slice.
3) In a sauté pan add (the same pan if you cooked your steak on a stovetop) add the cooked fingerling potatoes and sauté for 1 minutes to warm them.
4) Begin plating by ladling some eggplant puree onto the bottom of the plate. Place warm fingerling potatoes on top. Then arrange sliced steak on top of potatoes, and finish with roasted red pepper relish.