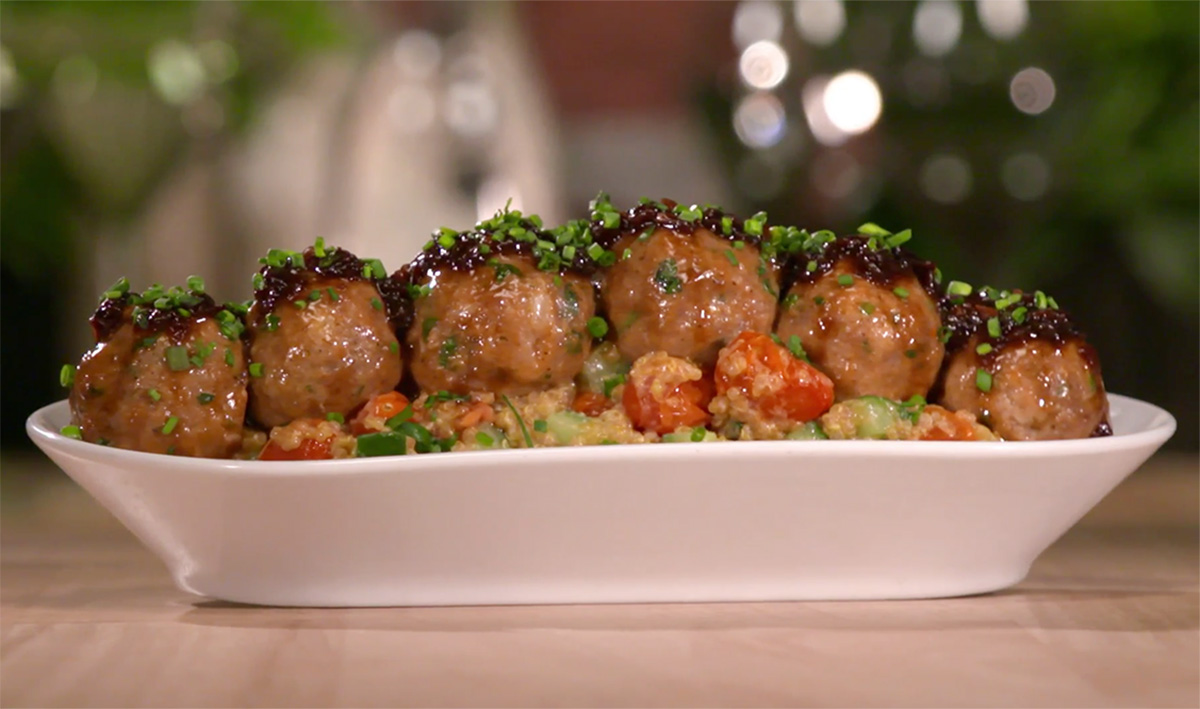 Chicken Kofta Meatballs with Cucumber & Quinoa Salad – As Seen on Restaurant: Impossible
From the episode, "Saving an American Dream"
SERVES 4
YOU'LL NEED
FOR THE MEATBALLS
4 eggs
2 lbs ground chicken
2 cups panko breadcrumbs
1 tsp ground cumin
2 tbsp chili powder
2 tbsp kosher salt
1 tbsp black pepper
½ cup white onion, diced
3 cloves garlic, minced
1 cup milk
FOR THE MEATBALL SAUCE
2 tbsp grapeseed oil
1 cup white onion, diced
3 cloves garlic, minced
1 tbsp Dijon mustard
2 qt beef demi-glace
½ bunch fresh rosemary, chopped
½ bunch fresh thyme, chopped
FOR THE TAHINI VINAIGRETTE
½ cup tahini paste
1 lemon, juiced
2 cloves garlic, minced
½ cup grapeseed oil
Kosher salt and ground black pepper, to taste
FOR THE CUCUMBER & QUINOA SALAD
1 seedless cucumber, diced
1 cup cooked quinoa
16 cherry tomatoes, lightly roasted
1 bunch fresh mint, rough chopped
1 bunch fresh cilantro, rough chopped
MAKE IT
MEATBALLS
1) Pre-heat oven to 400 degrees F.
2) In a large mixing bowl add the eggs. Using a whisk, beat the eggs for about 3 minutes, incorporating air into the eggs.
3) Then fold the ground chicken into the whisked eggs and incorporate well by hand.
4) In a separate mixing bowl, add the panko breadcrumbs, cumin, chili powder, salt, pepper, ½ cup diced onions, 3 cloves minced garlic, and milk. Mix well.
5) Fold the ground chicken-egg mixture into the breadcrumb mixture. Mix well and then portion the chicken meatball mixture into 3 oz balls onto a greased sheet pan.
6) Place in the preheated oven and cook for about 12 minutes until almost done. Set cooked meatballs aside.
MEATBALL SAUCE
1) In a large sauce pot over medium-high heat, add the grapeseed oil, 1 cup diced onion, and 3 cloves of minced garlic. Stir and allow the onions and garlic to sweat for 1 minute.
2) Add the Dijon mustard, beef demi-glace, rosemary, thyme, and bring to a simmer.
3) Carefully place the cooked chicken meatballs into mustard demi glaze sauce and allow to slowly simmer on medium heat for 15 minutes.
TAHINI VINAIGRETTE
1) In a large mixing bowl, add the tahini paste, lemon juice, and garlic.
2) Using a whisk, slowly incorporate the grapeseed oil. Season the vinaigrette with salt and pepper to taste.
CUCUMBER & QUINOA SALAD
1) Place cucumbers, quinoa, tomatoes, mint, and cilantro in a mixing bowl.
2) Dress with the tahini vinaigrette and season with salt and pepper to taste.
PLATING
1) Place the cucumber and quinoa salad onto a family style platter.
2) Serve the sauced meatballs over cucumber & quinoa salad.