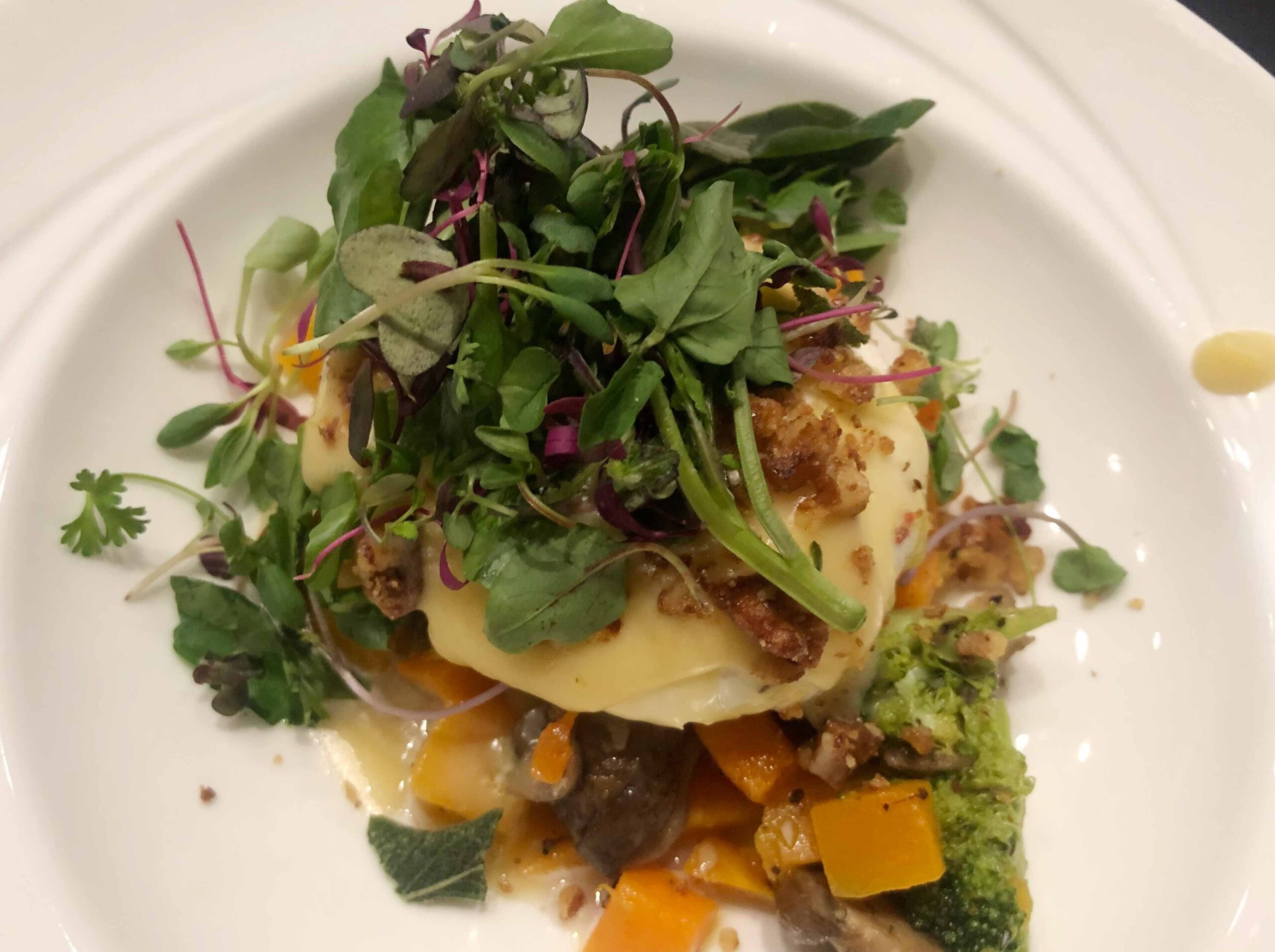 Marinated Burrata with Wild Mushrooms, Winter Squash, & Broccolini
SERVES 4
YOU'LL NEED
4 portions burrata mozzarella (4 oz each)
1 oz olive oil
2 oz rice wine vinegar
1 tsp chili flakes
8 basil leafs, chiffonade (extremely thin sliced)
1 garlic clove, minced
1 shallot, minced
½ tbsp fresh ginger minced
1 lbs wild mushrooms mixed, torn by hand
4 oz grapeseed oil
8 oz winter squash (butternut), diced
1 tbsp apple cider vinegar
8 ea broccolini tops, 2" long, steamed and shocked in rice water
8 oz baby mixed greens
1 oz baby mint or regular mint torn
1 oz baby basil or regular basil torn
8 sage leafs
4 oz unsalted butter
1 tsp lemon zest
1 oz lemon juice
1 tbsp parsley chopped
4 oz candied walnuts, broken
MAKE IT
1) Remove the burrata from the refrigerator and let sit until it reaches room temp; leave in the water they come in.
2) Preheat oven to 350 degrees.
3) In a bowl or mason jar, add the olive oil, rice vinegar, chili flakes, chiffonade basil, minced garlic, minced shallots, minced ginger, and salt and pepper to taste. Mix vigorously to combine.
4) Peel and dice the squash into half-inch cubes. Toss lightly in ½ oz of oil along with a light amount of salt and pepper, then roast in oven until just tender, about 5 minutes. Remove from the oven, toss them with the apple cider vinegar and set aside to come to room temperature.
5) In a pot of salted boiling water, steam or boil the broccolini until tender, remove them and shock them in ice water (have this ready). Once cooled, toss them with ½ oz of oil, salt and pepper, and set aside with the squash.
6) Heat a large skillet to high heat, add 3 oz of the grapeseed oil (if using olive oil watch the temp of the pan as olive oil catches fire at lower temp), add in the mushrooms and pan roast them for 3-5 minutes so they are tender and wilted. Remove from heat and let them cool to room temperature with the squash and broccolini.
7) Using the same skillet from the mushrooms, wipe it clean and keep on medium high heat. Have the butter, sage, lemon zest, lemon juice, and parsley ready next to the pan. Add the butter and sage to the pan. This will melt quickly and start to brown as well as fry the sage. Move the butter around gently so it browns evenly, once it is a nutty brown color shut off the heat then add the parsley and lemon zest, then add the lemon juice to stop it from darkening more. This will all take a couple minutes and can be done after the burrata is plated.
8) To plate the burrata, add the mixed greens into a bowl, add the mushrooms, squash, and the broccolini. Season lightly with salt and pepper. Mix the dressing again or shake hard in the mason jar and lightly dress the salad mix with a couple tablespoons. Toss and plate tightly in the center of a salad bowl, making sure to place even amounts of the ingredients on each dish.
9) Remove the burrata from the center and split open the top; do not cut in half. Place the burrata on the salad mix. In the center of the burrata add ½ tbsp of the dressing to the top. Make sure to get some of the shallots, garlic, ginger, and spices.
10) Once this is done make the brown butter; when the butter is done spoon around the salad and place 2 pieces of the sage on top of the burrata. Garnish with baby mint and baby basil.