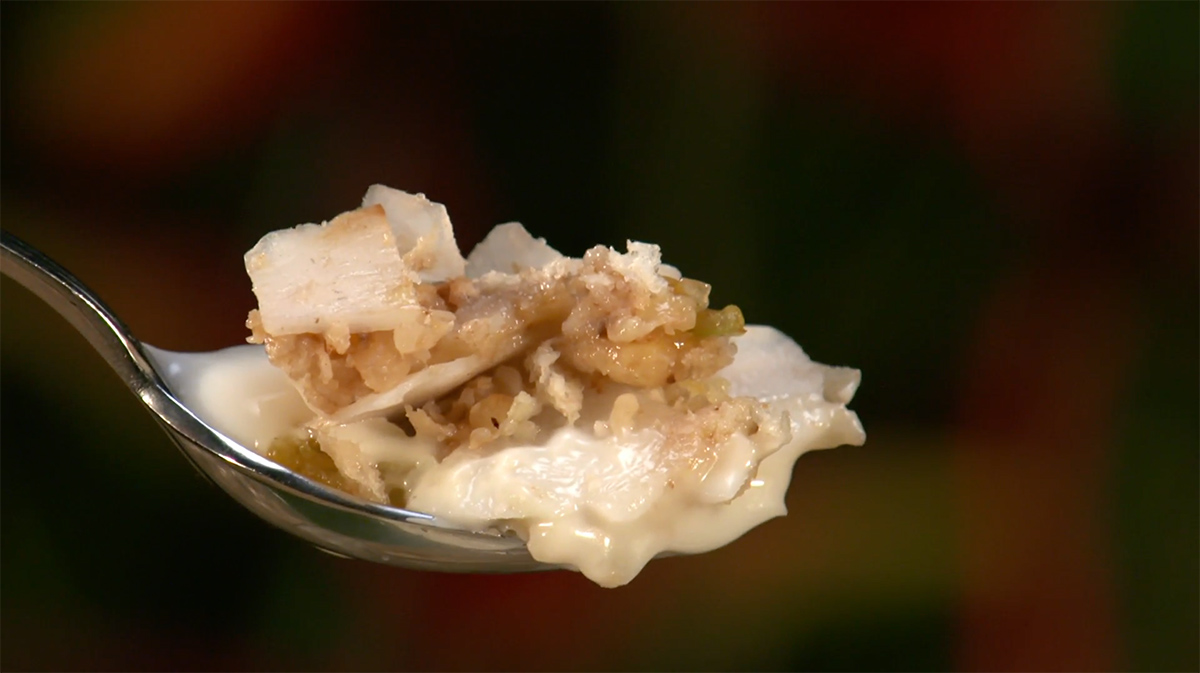 Hawaiian Haupia & Star Fruit Parfait – As Seen on Dinner: Impossible

From the episode, "Mission in Paradise"
SERVES 4
YOU'LL NEED
14 oz coconut milk
4 tbsp granulated sugar
¾ cup water
3 tbsp cornstarch, mixed with 3 tbsp cold water (creating a slurry)
2 each star fruit, diced
1 cup fresh pineapple, peeled and sliced
4 tbsp shredded coconut
4 tbsp granola
FOR THE PINEAPPLE PUREE
1 cup pineapple, peeled and diced
½ cup pineapple juice
MAKE IT
1) In a medium sauce pan over medium-high heat, add coconut milk, sugar, water, and bring to a simmer.
2) Using a whisk, stir in the cornstarch-water slurry into the hot coconut milk mixture and continue to simmer for 1 minute until slightly thickened, then remove from the heat.
3) In a small sauce pot add pineapple and pineapple juice bring to simmer.
4) Place mixture into a blender and puree until mixture is smooth the pineapple puree set aside.
5) In a 4 oz clear glass, add 5 tbsp of the coconut milk mixture, then add 3 tbsp of pineapple puree and 2 tbsp of diced star fruit.
6) Repeat this layering process one more time again to finish the parfaits. Top each glass with shredded coconut and granola.
7) Keep chilled until served.