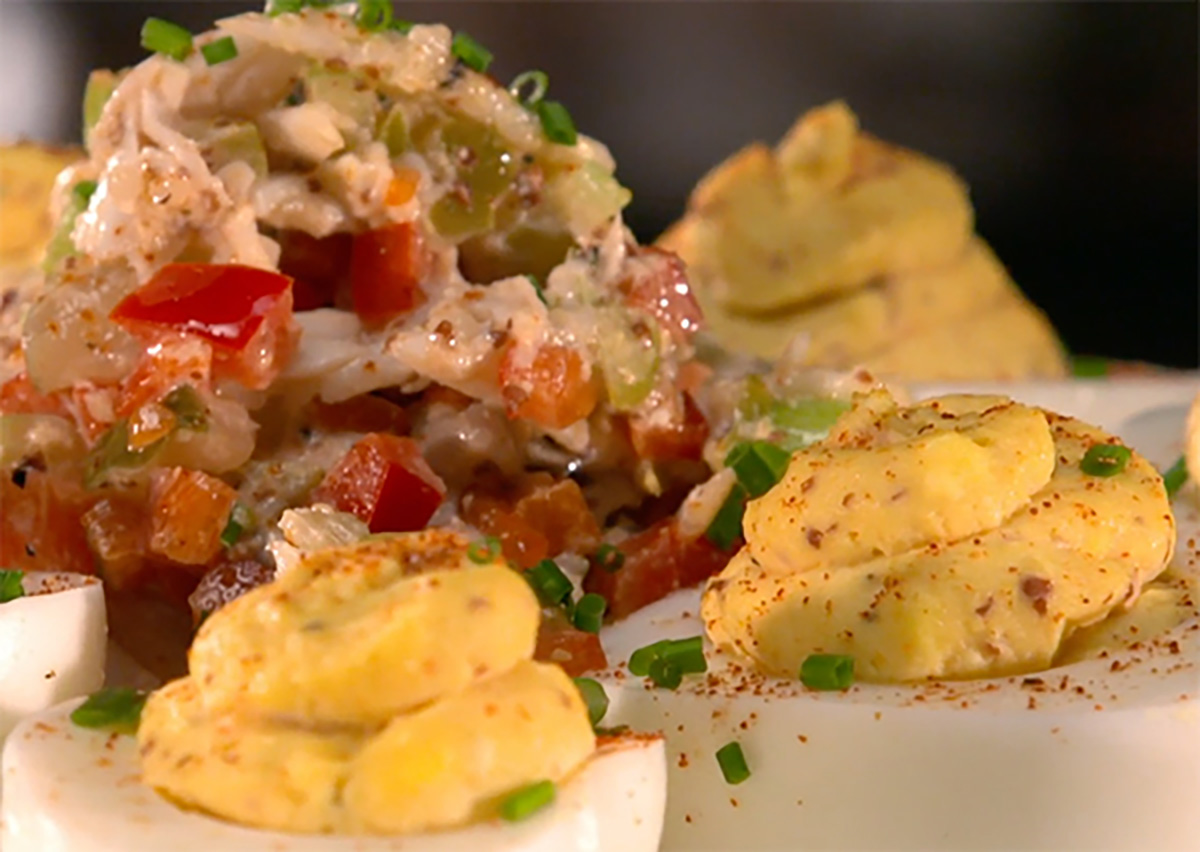 Cajun Deviled Eggs with Crab Salad – As Seen on Restaurant: Impossible
From the episode, "Listless in Louisiana"
MAKES 24 DEVILED EGGS
YOU'LL NEED
FOR THE EGGS
12 hard-boiled eggs, peeled and cut in half
1 tbsp Dijon mustard
1 cup mayonnaise
1 tbsp sriracha
1 tsp whole grain mustard
1 shallot, diced small
1 tsp Cajun seasoning
Kosher salt and pepper, to taste
1 tsp chopped fresh parsley
1 tsp chopped fresh chives
1 pinch smoked paprika
FOR THE CRAB SALAD
4 oz jumbo lump crab meat
¼ cup diced red peppers
1 shallot, thin sliced
1 tsp chopped chives
1 tsp chopped parsley
1 tsp whole grain mustard
1 tsp apple cider vinegar
Kosher salt and pepper, to taste
MAKE IT
1) Separate cooked egg yolks and cooked egg whites, keeping egg whites completely intact.
2) Using a fine mesh strainer, box grater, or micro plain, gently shred the egg yolks.
3) Place egg yolks, Dijon mustard, mayonnaise, sriracha, whole grain mustard, shallots, and Cajun seasoning in a mixing bowl. Mix with a spoon until smooth and season with salt and pepper. The egg yolk mixture should make a tight paste.
4) Place mixture in a piping bag. Fill each ½ egg white with about 1 tbsp of mixture.
5) Top eggs with smoked paprika, chopped chives, and parsley.
6) For the crab salad, in a large mixing bowl, add crab meat, red peppers, shallots, chives, parsley, whole grain mustard and apple cider vinegar and gently mix together.
7) Season with salt and pepper.
8) Serve deviled eggs and crab salad together on a platter.