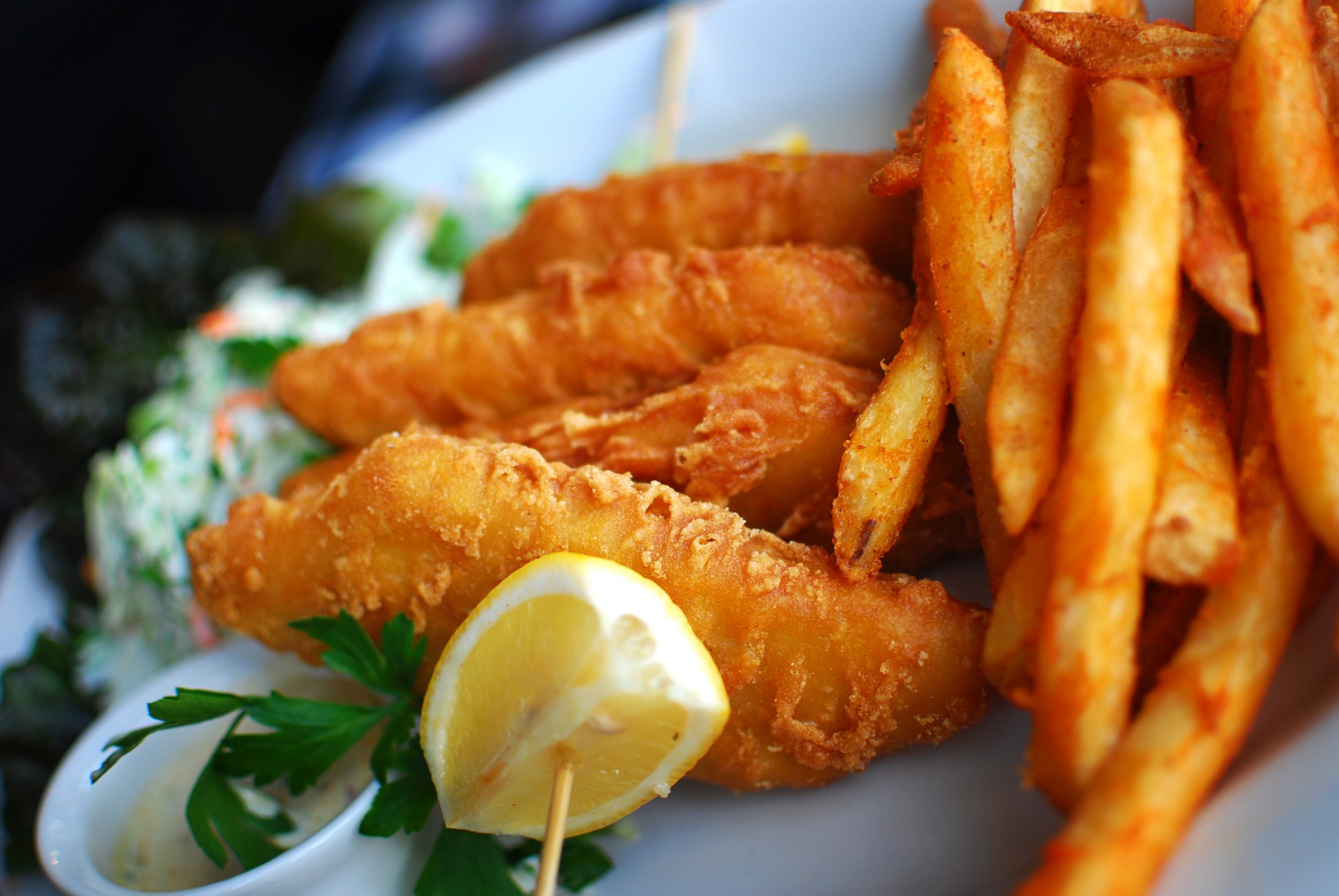 SERVES 4
YOU'LL NEED
BATTER & FISH
16 oz. pilsner style beer
2 cups all-purpose flour
1 tbsp baking powder
1 whole lemon
½ cup water
½ cup rice flour
4 eight-ounch portions of white fish similar to Cod
5 cups shoe string French fries
2 tbsp rendered bacon
SEASONED FLOUR
2 cups all-purpose flour
Lemon zest
Salt and black pepper
CURRY AIOLI
1 cup mayonnaise
1 tbsp yellow curry powder
½ tbsp turmeric
2 tbsp malt vinegar
2 tbsp honey
Salt and pepper
MAKE IT
1) In a large bowl add beer, water, and with whisk add baking powder lemon zest, rice flour, and all-purpose flour.
2) In a large mixing bowl add flour, lemon zest, salt and pepper to make seasoned flour. Dredge fish in flour.
3) Take fish from seasoned flour being sure to shake off an excess flour.
4) Place fish in beer batter coating entire fish in batter.
5) Place fish in a 350 degree fryer using a pare of tongs, allow to cook for approximately 5 to 7 minutes making sure to flip the fish half way through the cooking process.
6) Add French fries; allow to cook for approximately 4 minutes.
7) To make curry aioli, combine mayo, curry powder, turmeric, vinegar, honey, salt, and pepper, in a small bowl until smooth.
8) Serve with curry aioli and rendered bacon.
THE MACROS
CALORIES: 579
PROTEIN: 51 g
FAT: 15 g
CARBS: 60 g