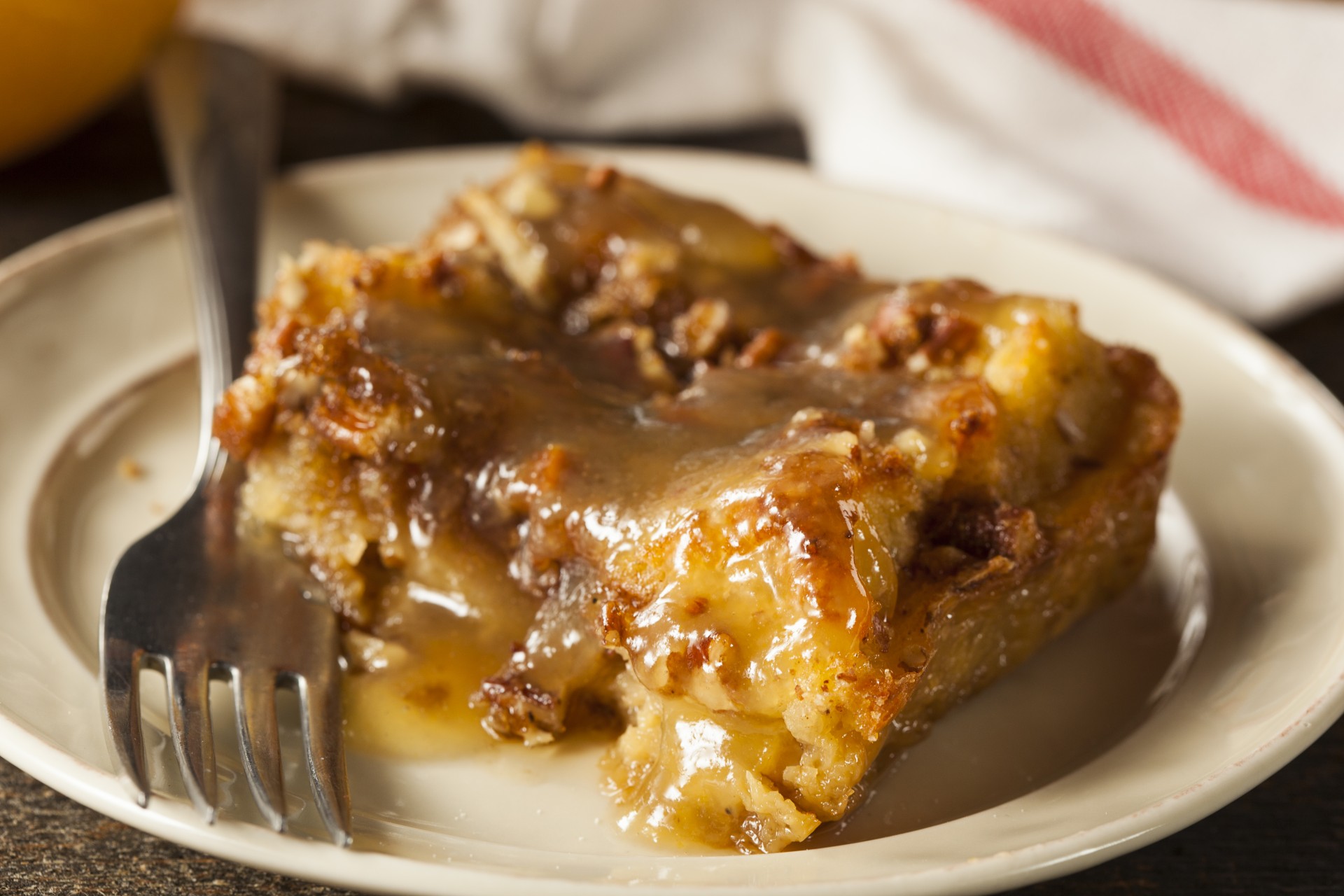 SERVES 12
YOU'LL NEED
BREAD PUDDING
2 cups milk
2 cups granulated sugar
2 cups heavy cream
4 whole eggs
2 vanilla beans
4 cups croissants, cut to 1" cubes
RHUBARB CHUTNEY
4 cups fresh rhubarb, cut in to 1-inch cubes
2 cups granulated sugar
1 vanilla bean
½ cup lemon juice
STRAWBERRY ANGLIASE
2 cups heavy cream
8 egg yolks
½ cup granulated sugar
1 vanilla bean
½ cup strawberry puree
MAKE IT
BREAD PUDDING
1) Preheat an oven to 350 degrees and grease a 13 x 9 inch pan
2) Mix granulated sugar, eggs, and heavy cream in a large mixing bowl.
3) Add cut croissant rolls to the mixture, allow to sit for 10 minutes.
4) Take rhubarb chutney and line the bottom of the grease pan, then add bread mixture. Cover with foil and place in the 350-degree oven.
5) Cook for 45 minutes.
RHUBARB CHUTNEY
1) Place rhubarb, sugar, and lemon juice in 3- quart sauce pan. Bring to a simmer
2) Continue to simmer for approximately 20 minutes. Rhubarb should hold its shape.
STRAWBERRY ANGLIASE
1) Add heavy cream to a 4-quart
sauce pan and bring to a boil.
2) In mixing bowl add egg yolks, sugar, and vanilla bean.
3) With a whisk combine hot cream into egg yolk, and sugar mixture. Be careful not to scramble eggs.
4) Add cream and egg mixture back to the sauce pot.
5) Bring mixture back to a simmer, stirring, continue to cook for approximately 10 minutes or until the mixture has reached sauce consistency. Finish sauce by adding strawberry puree and pass through a strainer.
6) Plate bread pudding and finish with strawberry anglaise
THE MACROS
CALORIES: 560
PROTEIN: 9 g
FAT: 28 g
CARBS: 64 g