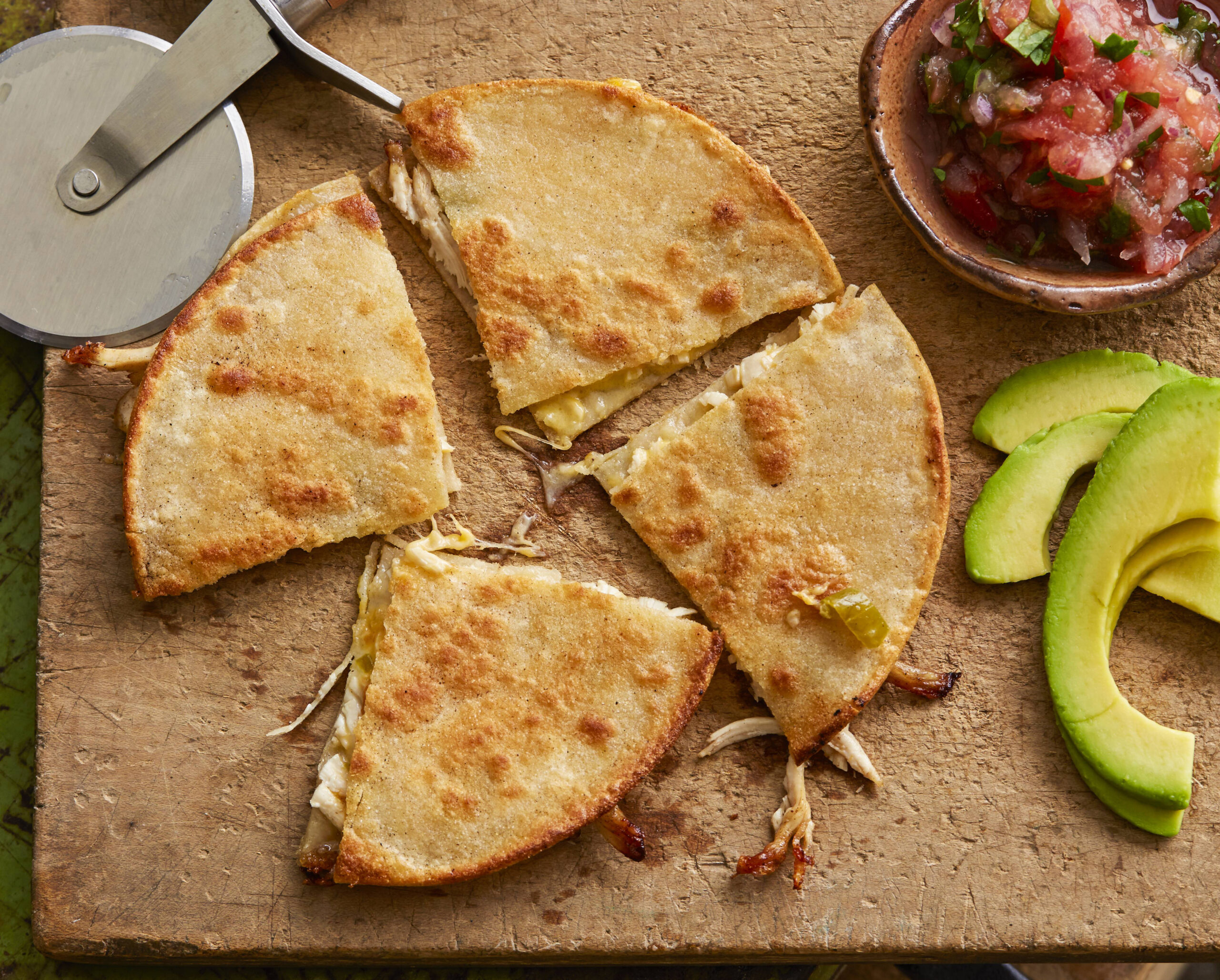 Fire Grilled Chicken Quesadilla
Quesadilla:
3 ounces boneless, skinless chicken breast
Kosher salt and freshly ground black pepper
1/3 onion, sliced
1/3 green bell pepper, sliced
1 tablespoon grapeseed oil
Two 6-inch flour tortillas
2 ounces shredded Monterey Jack
2 ounces shredded Cheddar
Salsa:
1/3 onion, diced
1/3 tomato, diced
1/2 lime, juiced
1/3 bunch fresh cilantro, chopped
Kosher salt and freshly ground black pepper
2 teaspoons butter
1 ounce sour cream
Directions
For the quesadilla: Prepare a grill for medium-high heat.
Sprinkle the chicken with salt and pepper. Grill until cooked through, 12 to 15 minutes, depending on size. Let cool and then shred the chicken into a bowl.
Heat the grapeseed oil in a saute pan over medium-high heat. Add the onions and peppers, and cook until caramelized, 8 minutes. Add to the shredded chicken and season with salt and pepper.
Lay out the tortillas on a work surface. To one, add the Monterey Jack, followed by the chicken mixture. Top with the Cheddar and cover with the second tortilla.
For the salsa: In a bowl, mix together the onions, tomatoes, lime juice and cilantro. Season with salt and pepper.
Heat up the butter in a skillet. Add the pre-made quesadilla and pan-fry until golden. Flip and cook on the reverse side until golden and the cheese is melted. Remove from the pan, cut into 4 wedges and garnish with salsa and sour cream.