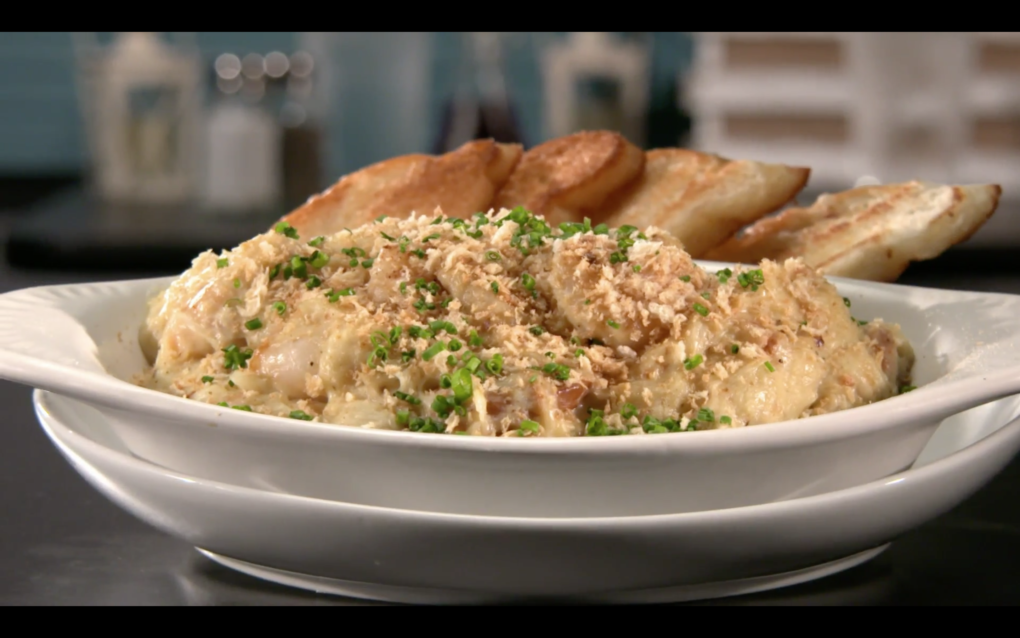 Crab & Andouille Au Gratin Dip – As Seen on Restaurant: Impossible
From the episode, "Cajun Seafood Crisis"
SERVES 4
YOU'LL NEED
For the Dip
8 oz jumbo lump crab meat
4 oz sliced andouille sausage
12 U16-20 shrimp, peeled and deveined
1 cup toasted bread crumbs
16 slices grilled sliced baguette
1 lemon
4 tbsp sliced scallions
For the Bechamel Sauce
1 cup flour
½ lb butter
3 cups milk
MAKE IT
Bechamel Sauce
1) In a medium sauce pot add butter and flour. Cook for 8 minutes over medium-low heat, whisking throughout.
2) In a separate pot bring milk to a boil.
3) Add the hot milk to the roux and allow to cook for another 8 minutes.
4) Remove mixture from heat and add crab meat.
Crab Dip
1) In a sauté pan over high heat add andouille sausage and shrimp.
2) Add bechamel mixture and season with salt and pepper.
3) Place in a serving dish and squeeze the juice of one lemon over the mixture. Top with toasted bread crumbs and scallions. Serve with grilled/toasted baguette slices.