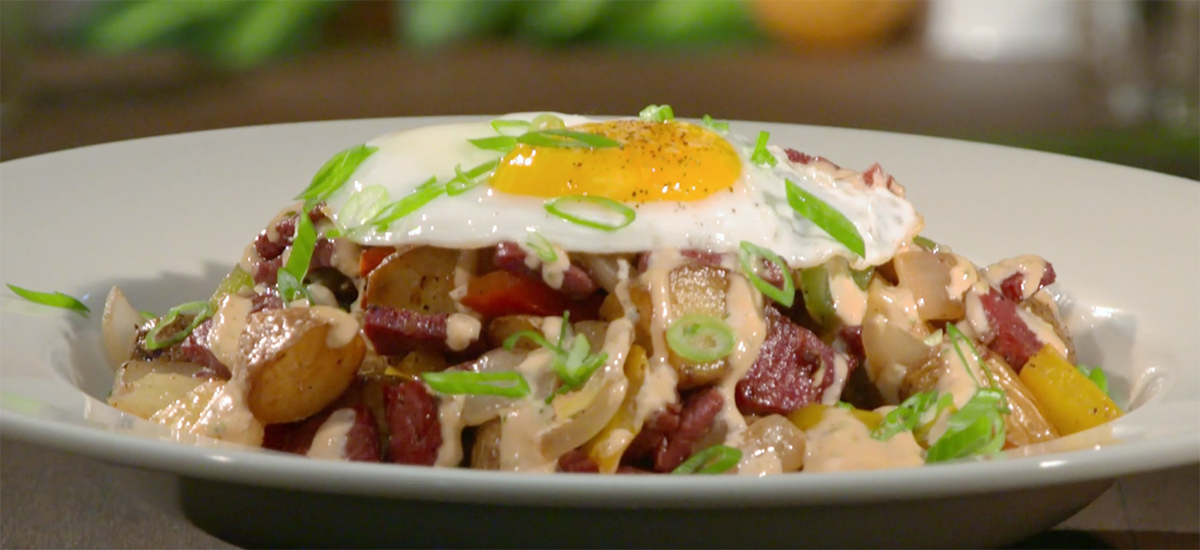 Corned Beef Hash – As Seen on Restaurant: Impossible
From the episode, "Sunnyside Down"
SERVES 4
YOU'LL NEED
FOR THE CORNED BEEF
2 lbs corned beef
2 tsp ground black pepper
2 tsp coriander, ground
2 bay leaves
4 cloves garlic
½ tbsp smoked paprika
½ tsp kosher salt
FOR THE THOUSAND ISLAND DRESSING
½ cup ketchup
½ cup mayonnaise
3 tbsp sweet pickle relish
1 tbsp sriracha hot sauce
Salt and pepper TT
FOR THE HASH
10 fingerling potatoes, quartered
2 red peppers, diced
1 yellow pepper, diced
1 large white onion, diced
1 cup Swiss cheese, diced
4 eggs
Salt and pepper
MAKE IT
CORNED BEEF
1) In a large pot add beef brisket and cover the brisket with water.
2) Add half the coriander, half the black pepper, and all the bay leaves and garlic cloves. Cook for about 4 to 5 hours at hard simmer.
3) Remove beef from the pot and place on a large baking sheet. Allow to cool down; you should be able to touch it with your hands.
4) In a large mixing bowl, combine coriander with black pepper, salt, and smoked paprika and rub generously on the meat.
5) Pre-heat oven to 300. Cook meat for about 1 hour.
6) Pull brisket from oven and cover with aluminum foil.
7) Place back in oven for approximately 1 more hour or until brisket is tender.
8) Allow brisket to rest for about 20 minutes.
9) Using a knife, cut into 2-inch cubes
THOUSAND ISLAND DRESSING
1) In a large mixing bowl add the ketchup, mayonnaise, sweet pickle relish, and sriracha and incorporate.
2) Season with salt and pepper and set aside.
HASH
1) Place fingerling potatoes into a pot of seasoned water and bring to a boil. Allow the potatoes to cook for about 12 minutes. The potatoes should be just cooked through.
2) Strain potatoes into a colander and allow the potatoes to cool.
3) In a large sauté pan over medium-high heat, add diced corned beef. Allow the corn beef to cook for about 3 minutes.
4) Add onions and peppers and cook for another 4 minutes.
5) Next add the potatoes and cook for another 3 minutes.
6) Remove the mixture from the heat and fold in diced Swiss cheese.
7) Season the hash with salt and pepper and set aside.
8) In a separate pan over medium heat with a small amount of oil, add eggs. Fry the eggs sunny side up and season the eggs with salt and pepper
PLATING
1) Place all the corned beef hash into a serving bowl.
2) Top hash with a sunny side egg.
3) Finish with Thousand Island dressing.