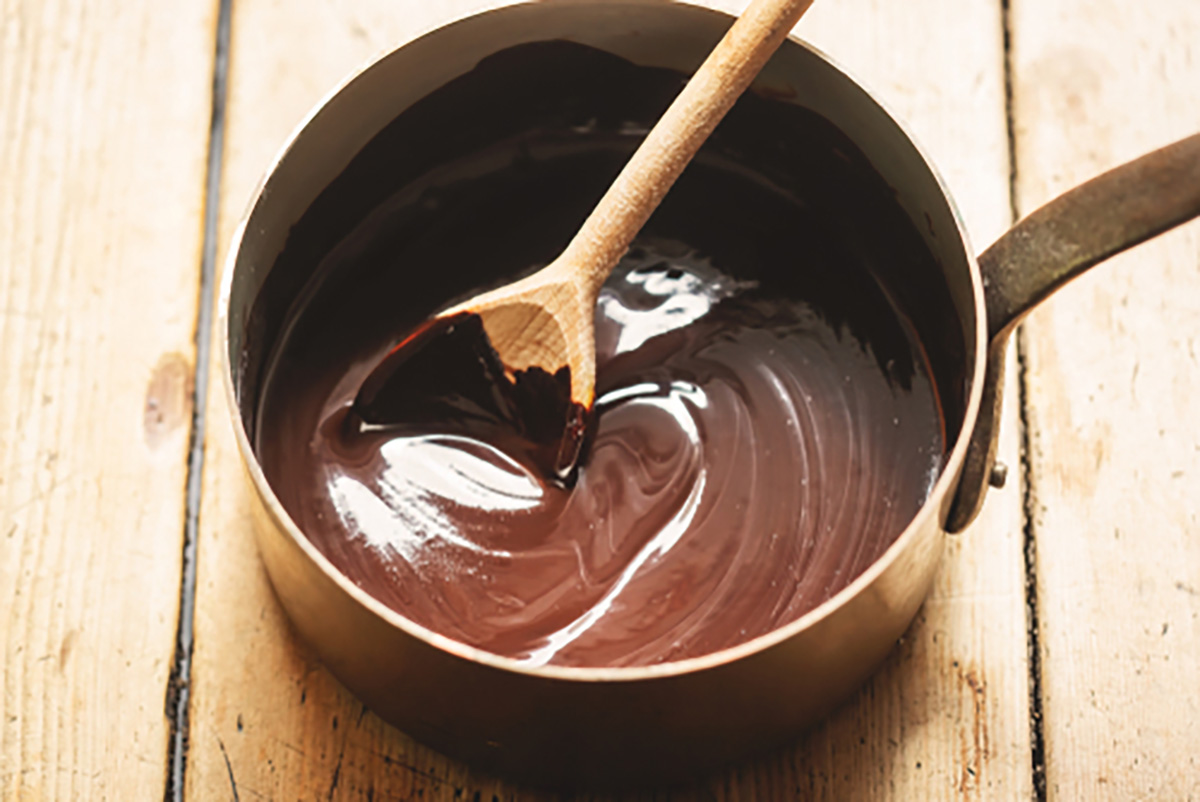 Chocolate "Ranger" Pudding – As Seen on Dinner: Impossible
From the episode, "Tropic Lightning"
SERVES 4
YOU'LL NEED
FOR THE PUDDING
2 cups whole milk
4 oz chocolate (70% cacao), chopped rough
4 tbsp butter
2 tbsp cocoa powder
½ cup granulated sugar
4 whole eggs
2 egg yolks
2 cups heavy cream, whipped to stiff peaks
FOR GARNISH & PLATING
1 cup diced peaches
½ cup peanut butter
2 tbsp water
½ cup heavy cream, whipped to stiff peaks
8 raspberries, for garnish
4 mint sprigs
MAKE IT
PUDDING
1) In large sauce pot, add milk and bring to a simmer.
2) Using a whisk, incorporate the chocolate, butter, cocoa powder, and granulated sugar.
3) In a separate bowl, add the whole eggs and egg yolks and whisk together. Slowly incorporate chocolate mixture, tempering them together. Allow the mixture to cool down. Once pudding is cooled, fold in 2 cups of whipped cream.
GARNISH & PLATING
1) In an 8 oz rock glass, add ¼ cup of diced peaches and fill the glass ¾ the of the way up with the cooled pudding. Repeat for the other 3 portions.
2) Next, in a small pan over medium heat, melt the peanut butter with the water and stir until smooth and warm. Divide the warm peanut butter sauce on top of each portion of pudding and place the pudding portions into the fridge to chill for 30 minutes.
3) To serve, place a spoon of whipped cream on top of the pudding and garnish each portion with 2 raspberries and a mint sprig.