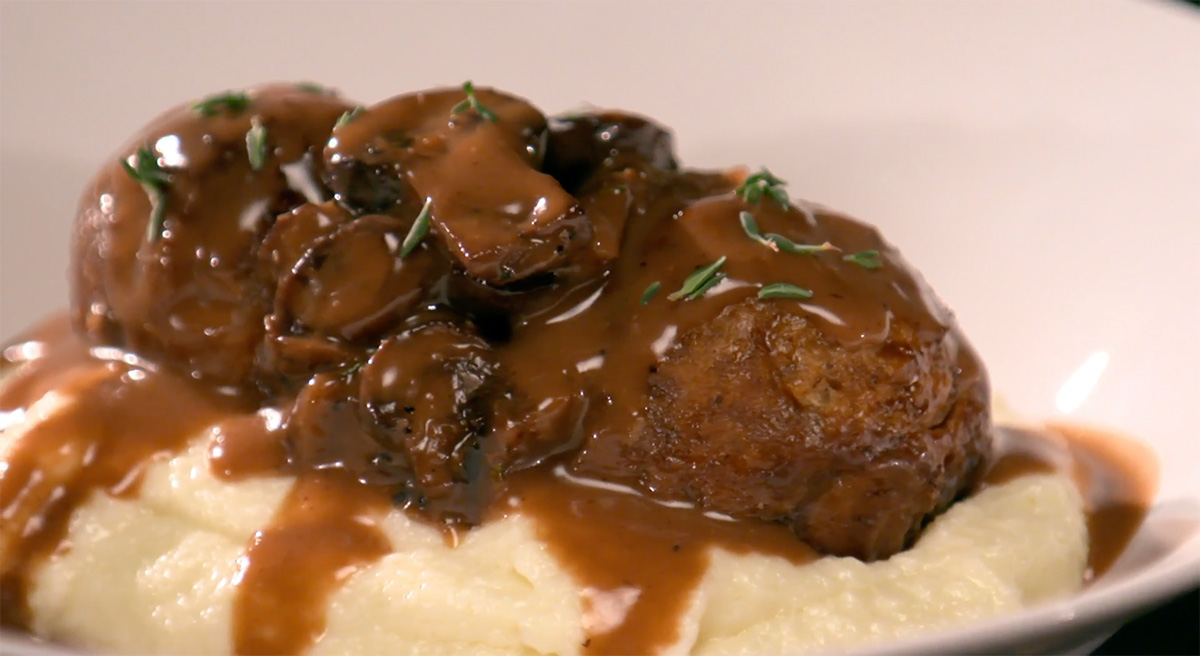 Chicken Meatballs with Creamy Polenta – As Seen on Dinner: Impossible
From the episode, "3 Weddings and a Robert"
SERVES 4
YOU'LL NEED
FOR THE MEATBALLS
2 cups dried bread crumbs
1 cup milk
4 eggs
2 lbs ground chicken
1 tsp ground cumin
2 tbsp chili powder
½ cup white onion, small diced
5 garlic cloves, minced
2 tbsp kosher salt
1 tbsp black pepper
FOR THE SAUCE & BRAISE
2 tbsp grapeseed oil
½ cup white onion, small diced
3 garlic cloves, minced
12 oz oyster mushrooms, sliced
4 oz shiitake mushrooms, sliced
1 tbsp fresh thyme, chopped
1 tbsp fresh rosemary, chopped
2 qt beef demi-glace
1 tbsp Dijon mustard
3 tbsp butter
Kosher salt, to taste
FOR THE CREAMY POLENTA
3 cups milk
1 cup chicken stock
1 cup stone ground polenta
1 cup shredded cheddar cheese
3 tbsp butter
Kosher salt and pepper
MAKE IT
MEATBALLS
1) Preheat oven to 400 degrees.
2) In a mixing bowl, add bread crumbs and milk. Mix together and set aside.
3) In a separate large mixing bowl, add eggs and whisk for about 2 to 3 minutes, incorporating air into the eggs. Next, add ground chicken, cumin, chili powder, onion, garlic, kosher salt, and pepper. Mix the ingredients together and then add the softened breadcrumb-milk mixture. Gently mix all the meatball ingredients together.
4) Form ground chicken mixture into 3 oz balls and place onto a sheet pan lined with parchment paper or aluminum foil. Place portioned chicken meatballs in the oven and cook for about 12 minutes until browned.
SAUCE & BRAISE
1) In a large sauce pot over medium-high heat, add the grapeseed oil.
2) Add the onions and garlic and sauté for 1 minute. Add both mushrooms, stir well and continue to sauté for 5 minutes until mushrooms are tender. Next, add the thyme, rosemary and demi-glace and bring to a simmer. Once sauce comes to a simmer, finish by whisking in the Dijon mustard and butter.
3) Turn down the sauce to medium-low heat and place cooked chicken meatballs into mushroom sauce and allow to slowly simmer for 15 minutes.
CREAMY POLENTA & PLATING
1) In large sauce pot on medium-high heat, add the milk and chicken stock and bring to a simmer.
2) Turn down the heat to medium and slowly incorporate polenta, using a whisk.
3) Continue to stir the polenta and simmer for about 12 to 14 minutes.
4) Finish the polenta by stirring in the cheddar cheese and butter. Season with kosher salt and pepper to taste.
5) To plate the dish, place the soft creamy polenta in the center of a plate. Place the meatballs on the polenta and top the meatballs with the mushroom demi-glace sauce.