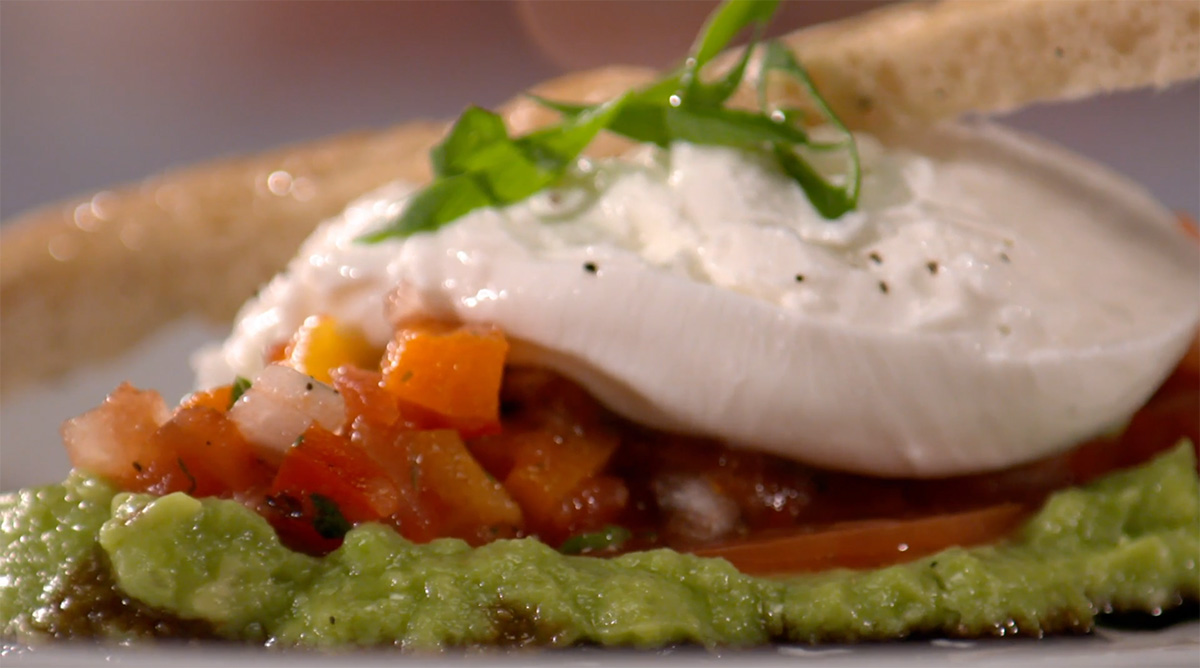 Burrata with Avocado Puree – As Seen on Dinner: Impossible
From the episode, "3 Weddings and a Robert"
SERVES 4
YOU'LL NEED
FOR THE AVOCADO PUREE
2 ripe avocados
1 tbsp grapeseed oil
¼ cup white onion, small diced
1 garlic clove, minced
Kosher salt and pepper, to taste
FOR THE TOMATO SALSA
2 tomatoes, small diced
¼ cup white onion, small diced
¼ cup orange pepper, small diced
¼ cup yellow pepper, small diced
1 jalapeno pepper, seeded and minced
3 garlic cloves, minced
Juice of 1 lemon
Juice of 2 limes
1 bunch fresh cilantro, chopped
Kosher salt and pepper, to taste
PLATING
2 tbsp lemon oil
4 tbsp balsamic vinegar
4 burrata mozzarella balls (2 oz each), cut in half
8 pieces flat bread (store bought)
1 bunch scallions, thin sliced
MAKE IT
AVOCADO PUREE
1) In a mixing bowl add the avocados, grapeseed oil, onion, and garlic. Using a fork, mash the avocados mixture to a chunky paste and season with kosher salt and pepper.
TOMATO SALSA
1) In a separate mixing bowl, add the diced tomatoes, onion, orange pepper, yellow pepper, jalapeno pepper, garlic, lemon juice, lime juice, and cilantro. Mix the salsa ingredients together and season to taste with kosher salt and pepper.
PLATING
1) Place a large spoonful of the avocado puree in the center of the plate and spread into a small circle. Top the avocado puree with a large spoonful of tomato salsa and then place 2 of the cut burrata mozzarella halves on top of the salsa.
2) Drizzle the lemon oil and balsamic vinegar on top and around the burrata and sprinkle with the sliced scallions. Garnish the dish with the flatbread and serve.