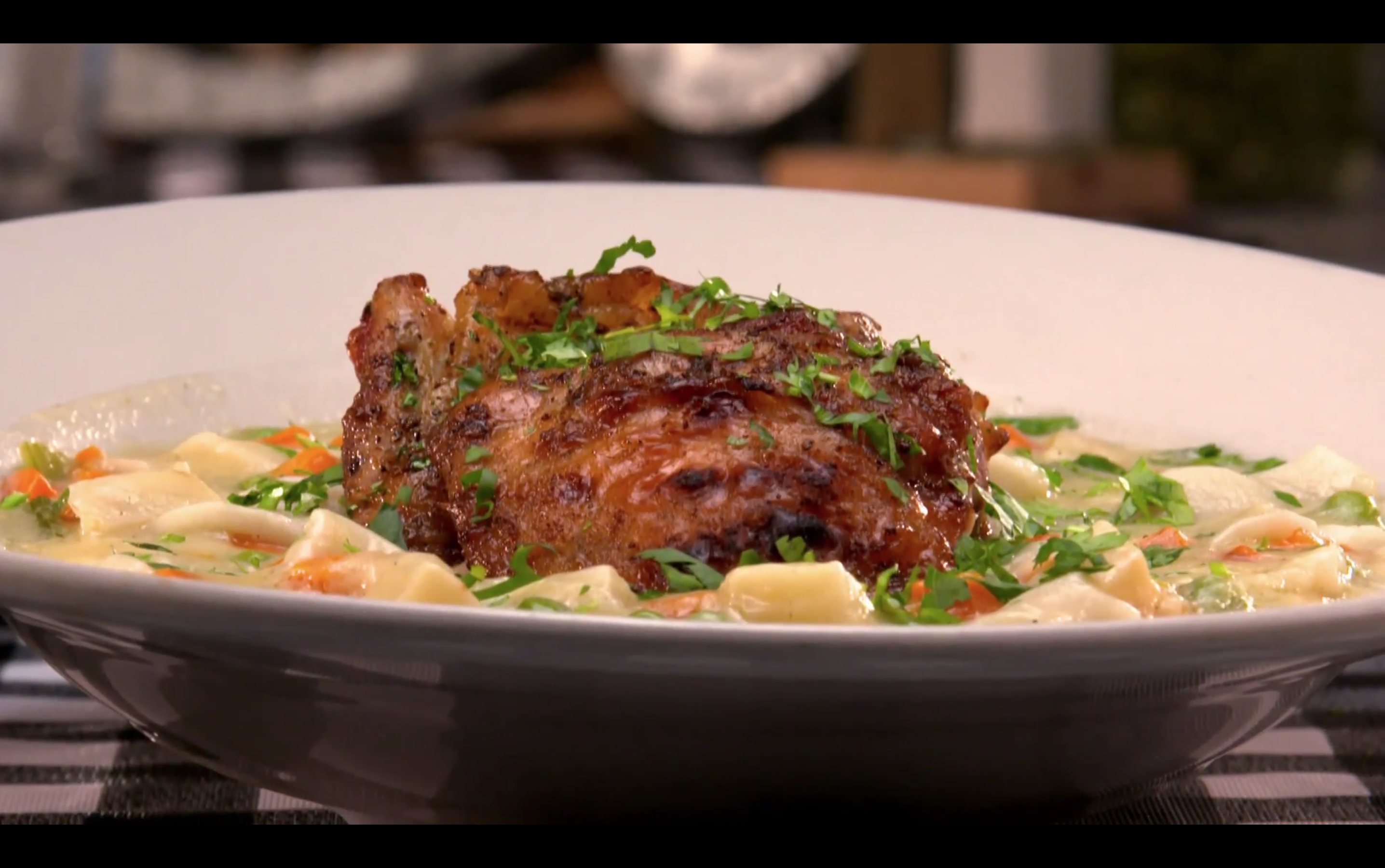 Chicken and Dumplings – As Seen on Restaurant: Impossible
From the episode "Dumplings in Delaware"
SERVES 5
YOU'LL NEED
4 lb whole chicken
5 chicken thighs, skin on
grapeseed oil
8 cups water
3 tbsp butter
¼ cup flour
3 large eggs
¼ cup butter
3 carrots, peeled and diced medium
2 ribs celery, diced medium
1 onion, diced medium
1 bunch thyme picked and chopped
MAKE IT
CHICKEN
1) In a large stock pot filled with lightly salted water, add chicken and slowly bring to a boil.
2) Once chicken has boiled, drop temperature to a simmer.
3) Allow the chicken to simmer for 40 minutes. The chicken should be tender and start to fall off the bone
4) Carefully pull the chicken from the pot. Allow the chicken to cool, about 25 minutes in the refrigerator.
5) Pull the meat from the bone in large chunks.
6) In a separate pot, add butter, carrots, onions, and celery. Cook for 4 minutes, then add all but a ½ cup of the chicken braising liquid (reserve ½ cup of the liquid for later).
7) Add back chunks and bring to a boil. Season with salt and pepper.
8) Season chicken thighs with salt and pepper. In a hot pan with grapeseed oil, cook chicken thighs about 5 minutes each side, until skin is crispy and meat is cooked through.
DUMPLINGS
1) In a small sauce pot add the ½ cup of hot chicken liquid and bring to a boil.
2) Using a wooden spoon, add flour and stir until mixture starts to incorporate.
3) Cook over low heat for about 5 minutes until dough is no longer wet.
4) Transfer dough to a stand mixer and mix using the paddle attachment for about 4 minutes.
5) Slowly incorporate the eggs one at a time. Once all of the eggs have been incorporated, the mixture is ready.
6) Pull mixture and roll out into large planks and cut into 1 inch dumplings (this should make 20 to 30 dumplings).
7) Place dumplings in chicken broth and cook over medium heat for about 10 minutes until dumplings are cooked through.
8) Portion into 5 dishes and top each one with a cooked chicken thigh.