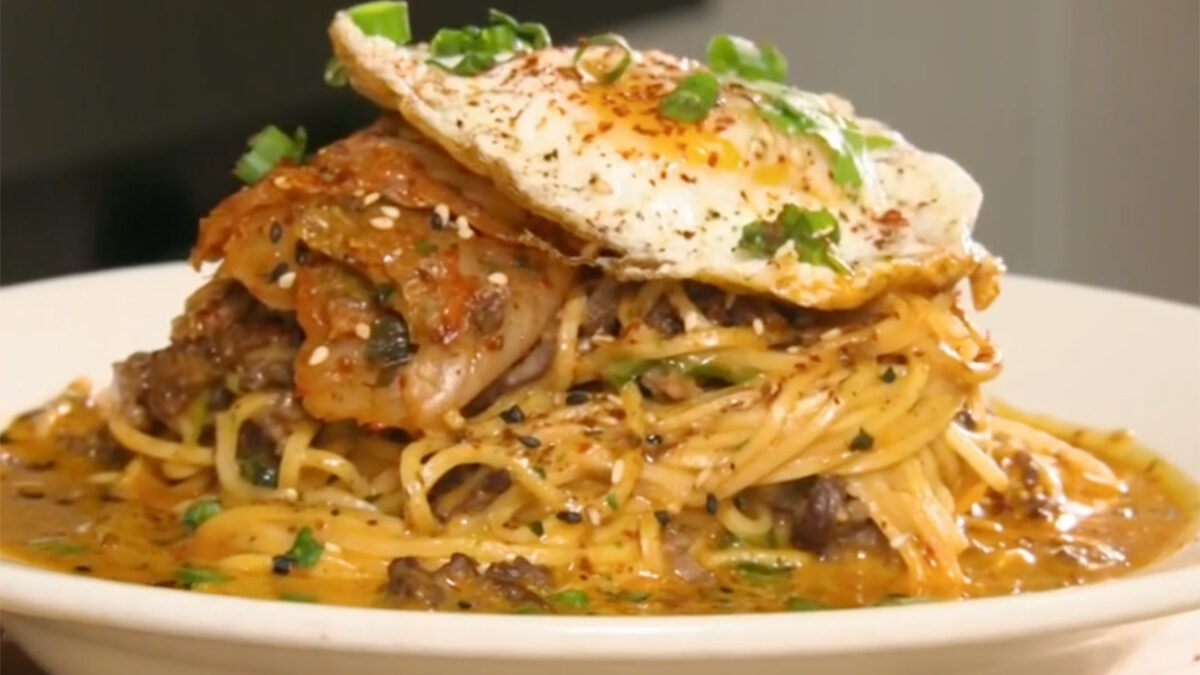 Cheeseburger Ramen – As Seen on Restaurant: Impossible
Serves 4
YOU'LL NEED
FOR THE CHEESE SAUCE
2 cups chicken stock
1 cup heavy cream
1 tbsp soy sauce
1 cup cheddar cheese
1 tbsp togarashi seasoning
Salt and pepper, to taste
FOR THE CHEESEBURGER RAMEN
2 tbsp grapeseed oil
1 onion, sliced
3 lbs ground beef (80-20)
1 tbsp togarashi seasoning
1 cup bok choy, chopped
12 oz bunches ramen
2 tbsp grapeseed oil
4 eggs
3 tbsp kimchi
1 bunch scallions, sliced
Salt and pepper, to taste
MAKE IT
CHEESE SAUCE
1) In a sauce pot add chicken stock, heavy cream, and soy sauce and bring to a boil.
2) Remove mixture from the heat and using a whisk, slowly add cheddar cheese.
3) Season cheese sauce with togarashi and salt and pepper.
CHEESEBURGER RAMEN
1) In a sauce pot add grapeseed oil and onions. Allow to cook over medium heat.
2) Add ground beef and cook for about 5 minutes.
3) Add bok choy and cook for an additional 3 minutes. Season with togarashi.
4) Incorporate cheese sauce into the ground beef and set aside.
PLATING
1) Place ramen noodles in a pot with boiling water. Cook for 1 minute.
2) Add cooked ramen noodles to the cheese sauce. Allow to cook for another minute.
3) In a sauté pan over medium-high heat, add grapeseed oil and eggs.
4) Drop heat to low. Allow eggs to cook for about 3 minutes or until egg is cooked through.
5) Place ramen and sauce in a bowl. Top ramen with kimchi, cooked egg, and scallions.