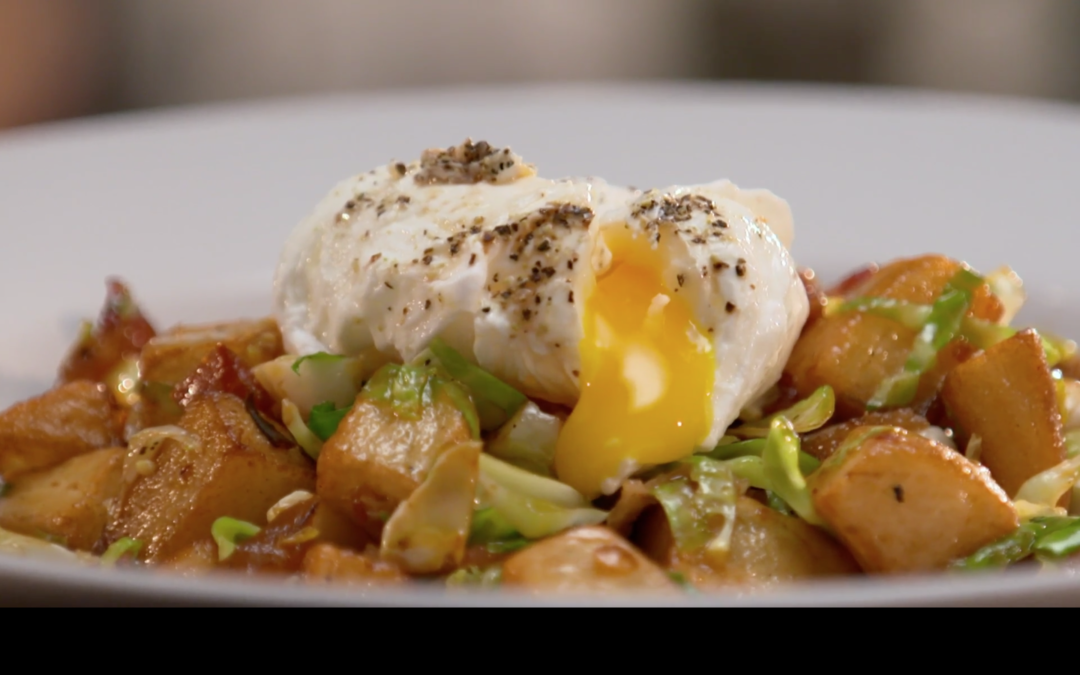 Brussels Sprout Hash with Poached Eggs
From the episode: Dull Diner Dilemma
SERVES 4
YOU'LL NEED
Home Fries
1 tbsp grapeseed oil
1 potato, cooked through (baked) peeled and medium diced
¼ yellow onion medium diced
½ red pepper, medium diced
½ yellow pepper, medium diced
4 tbsp diced bacon
1 lb Brussels sprouts, shredded
½ cup feta cheese
4 poached eggs (crack fresh eggs into boiling water and 3 tbsp distilled white vinegar, cook for 3-5 minutes and remove with slotted spoon)
MAKE IT
1) In a medium 10 inch sauté pan over high heat add grapeseed oil and potatoes. Allow to cook for 8 minutes, or until potatoes are golden brown.
2) Add onions and red and yellow peppers, and cook for another 10 minutes.
3) Remove mixture from pan and set aside. Over high heat, add bacon and allow to cook until bacon is crisp.
4) Add shredded Brussels sprouts and cook for another 4 minutes.
5) Add home fry mixture back to the sauté pan. Season with salt, pepper, and crumbled feta cheese.
6) Top with poached egg and serve.