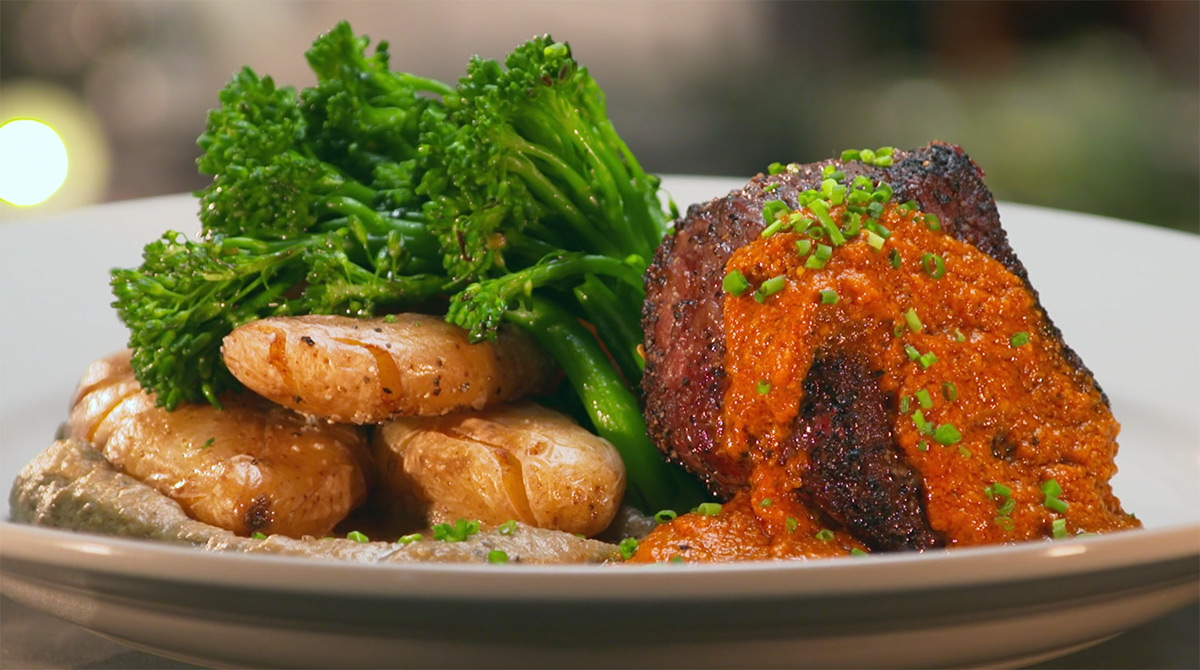 Bistro Steak – As Seen on Restaurant: Impossible
From the episode, "Stalled on the Runway"
SERVES 4
YOU'LL NEED
FOR THE ROMESCO SAUCE
2 cups roasted red peppers, quartered
2 tbsp grapeseed oil
4 cloves garlic
1 tbsp toasted almonds
Juice of ½ lemon
Salt and pepper
EGGPLANT PUREE
1 large eggplant
2 cloves garlic
Zest and juice of 1 lemon
1 cup grapeseed oil
Salt and pepper
FOR THE STEAK
4 sirloin steaks (or filet mignon) 6 oz each
12 oz fingerling potatoes
2 bunches broccoli rabe
Salt and pepper
MAKE IT
ROMESCO SAUCE
1) In a blender add roasted peppers, oil, almonds, and garlic. Puree until smooth
2) Finish with salt, pepper, and lemon juice.
EGGPLANT PUREE
1) Pre-heat oven to 375.
2) Using a fork, poke small holes in eggplant and place on a baking sheet.
3) Place the eggplant in the oven and cook for about 25 minutes.
4) Remove the eggplant from the oven and let cool.
5) Using your hands, remove the skin from the eggplant and discard it.
6) Place the cooked eggplant into a blender with garlic, grapeseed oil and lemon zest.
7) Puree the eggplant until smooth.
8) Season with salt and pepper. Set aside.
STEAK
1) Pre-heat oven to 350.
2) In a large sauté pan over medium-high heat, sear steaks on all sides.
3) Place steaks in oven until internal temperature reaches 135.
4) In a medium pot, add water and bring to a boil.
5) In a large mixing bowl add ice and water, making an ice bath.
6) Add 3 tbsp kosher salt to the boiling water. Then place broccoli rabe in the boiling water and cook for 3 minutes.
7) Place broccoli rabe in ice bath and allow to chill.
8) In a separate pot, add the fingerling potatoes and fill with cold water.
9) Add 3 tbsp of kosher salt to the water mixture and bring to boil.
10) Drop the potatoes to a simmer and cook for about 10 minutes. Strain the potatoes and allow to chill and set them aside.
PLATING
1) Pre-heat a table-top fryer or air fryer to 350 degrees.
2) Place the cooked fingerling potatoes in the fryer and cook for approximately 4 minutes or until they are crispy. Remove from fryer and season with salt and pepper.
3) Place eggplant puree on the bottom of the plate.
4) Top the eggplant puree with crispy potatoes.
5) Place broccoli rabe on top of the potatoes.
6) Place steak on top of the broccoli rabe.
7) Finish with romesco sauce.