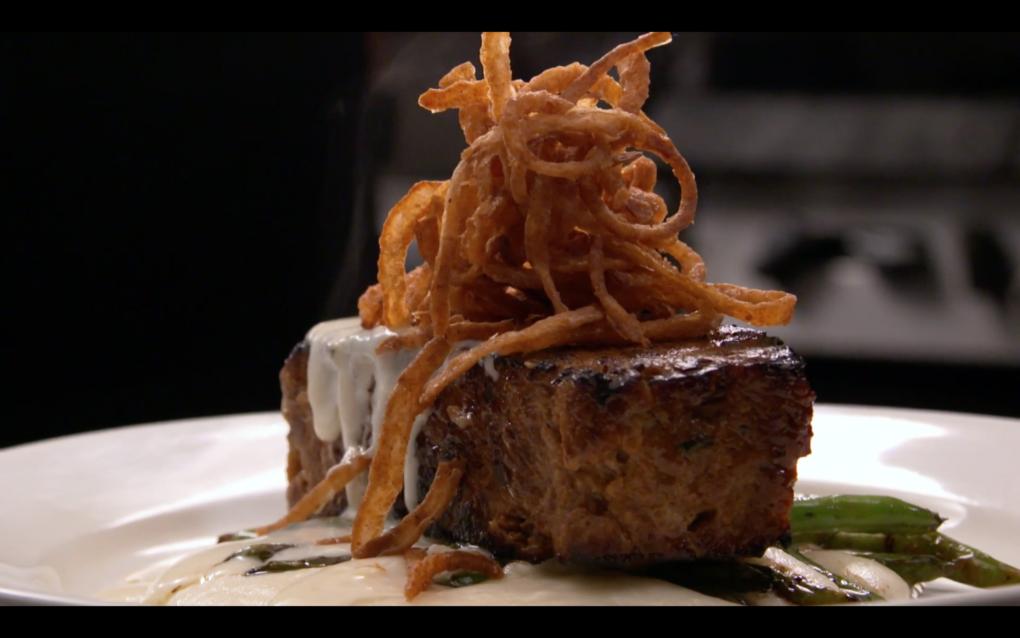 BBQ Southern Meat Loaf – As Seen on Restaurant: Impossible
From the episode, "Saving a Pastor's Passion"
(ALL SUB-RECIPES SERVE 6)
MEATLOAF
YOU'LL NEED
1 cup BBQ sauce
2 eggs
1 cup roasted red peppers
2 cloves garlic
18 oz ground beef (chuck)
18 oz ground pork butt
1 yellow onion, diced
½ tsp cayenne pepper
1 tsp chili powder
1 tsp Cajun seasoning
1½ tsp kosher salt
1 tsp ground black pepper
2 lbs green beans, blanched
1 tbsp butter
1 tbsp lemon juice
MAKE IT
1) Pre-heat oven to 325°.
2) In a food processor or blender add BBQ sauce, eggs, roasted red peppers, and garlic. Puree on high until smooth.
3) In a large mixing bowl, add ground beef, ground pork, onion, cayenne pepper, chili powder, Cajun seasoning, salt, and pepper. Mix well.
4) Add pureed BBQ sauce mixture, using your hands or a wooden spoon to mix all ingredients together.
5) Pack the mixture into a 10-inch loaf pan. Place meat loaf in the oven. Cook for about 45 minutes or until meatloaf has reached an internal temperature of 155°.
6) Place a medium sauté pan over medium-high heat. Add butter and allow it to melt. Next add green beans. Cook for about 4 minutes. Add lemon juice and season with salt and pepper.
MASHED POTATOES
YOU'LL NEED
5 Idaho baking potatoes, peeled and diced medium
1 stick butter
2 cups heavy cream
Salt and pepper
MAKE IT
1) Fill a large pot almost to the top with cold water, add potatoes, and season with 1 cup of kosher salt.
2) Bring potatoes to a boil and allow, to boil for 10 minutes. Drop to a simmer and cook for another 20 minutes.
3) In a small pot, add heavy cream and butter and bring to boil.
4) Strain potatoes and place in a large mixing bowl.
5) Using an electric mixer or potato masher, mix and incorporate heated heavy cream and butter.
6) Season with salt and pepper to finish.
CHEESE SAUCE
YOU'LL NEED
1 qt heavy cream
2 cups whole milk
2 lbs shredded white cheddar cheese
MAKE IT
1) In a large sauce pot, add heavy cream and milk and bring to a boil.
2) Using a whisk, slowly incorporate the grated cheddar cheese into the milk and heavy cream mixture.
3) Season with salt and pepper.
CRISPY ONIONS
YOU'LL NEED
1 large white onion
1 cup buttermilk
1 cup all-purpose flour
2 tsp kosher salt
1 tsp black pepper
1 tsp cayenne pepper
1½ qt canola oil
MAKE IT
1) Using a mandolin slicer, thinly slice onions and place in a mixing bowl.
2) Cover sliced onions with buttermilk and allow to soak for approximately 1 hour prior to serving.
3) In a separate mixing bowl, add flour, salt, pepper, and cayenne pepper.
4) In a heavy bottom sauce pot add canola oil. Using a thermometer bring oil to 350°.
5) Remove onions from buttermilk and toss in the flour mixture. Coat the onions in the flour and shake off any excess flour.
6) Drop the coated onions into the 350° oil and allow to cook until the onions are golden brown, just about 1 minute.
7) Season with salt and pepper.
PLATING
Place mashed potatoes on the plate and top with green beans. Place a slice of meat loaf on top of greens beans, coat in cheese sauce, and finish with crispy onions.