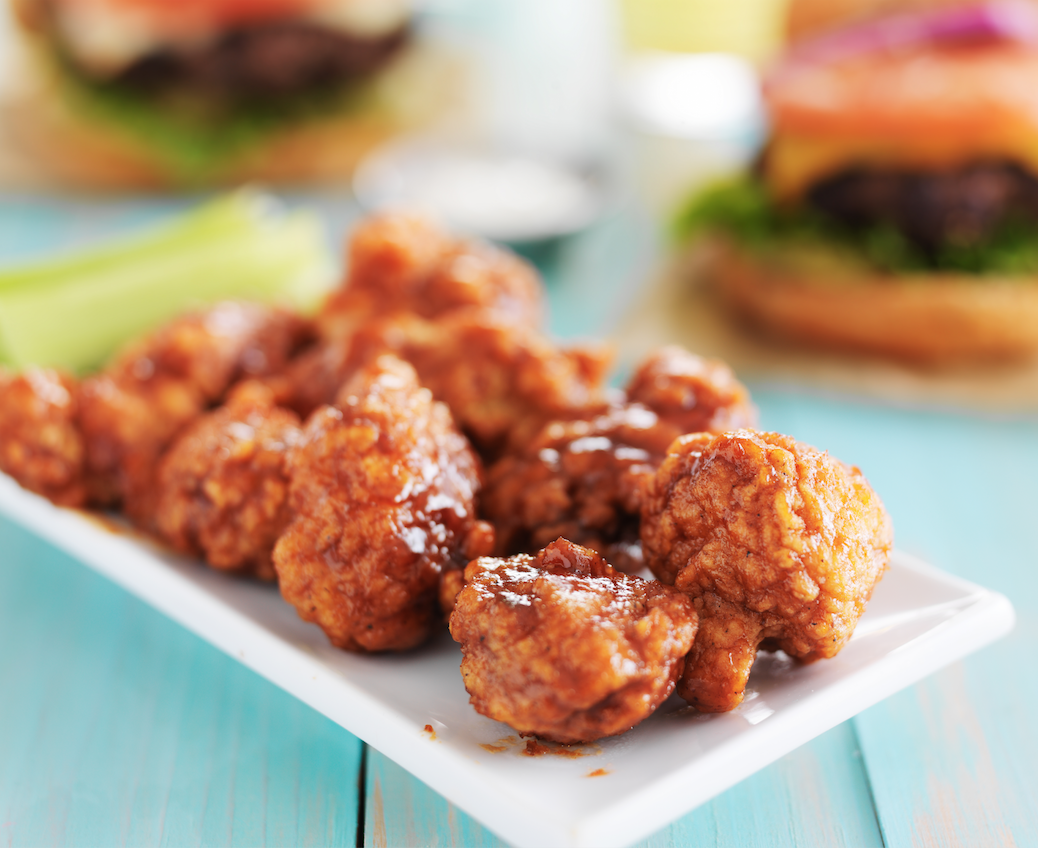 BBQ Glazed Chicken Nuggets
Because you deserve better than drive-thru.
SERVES 6
YOU'LL NEED
BBQ Glaze
1/4 cup apple cider vinegar
1 tsp garlic powder
1 tsp onion powder
2 tsp chili powder
1/4 cup Worcestershire sauce
1 cup ketchup
1/4 cup molasses
1/4 cup packed dark brown sugar
1/4 cup honey
CHICKEN NUGGETS
2 cups all-purpose flour
1/2 teaspoon salt
1/4 teaspoon pepper
2 (8-ounce) boneless chicken breasts, cut into large pieces
1/4 cup olive oil
MAKE IT
1) Prepare the barbecue glaze. Pour apple cider vinegar into a small saucepan and whisk in garlic powder, onion powder, and chili powder. Bring to a boil and add Worcestershire sauce, ketchup, molasses, dark brown sugar and honey. Lower heat to medium or medium low and allow to bubble and thicken.
2) Preheat oven to 425 degrees. In a plastic bag, shake together flour, salt and pepper and add chicken pieces in batches to coat.
3) Place on a baking sheet (lined with heavy duty foil for easy cleanup) and drizzle olive oil over. Bake for about 15 minutes, and then coat each piece with some of the glaze and bake for 5 to 10 more minutes. You can do a second coat of glaze for the last 5 minutes, or serve any additional glaze on the side.
THE MACROS
CALORIES: 523
PROTEIN: 27 g
FAT: 12 g
CARBS: 60 g