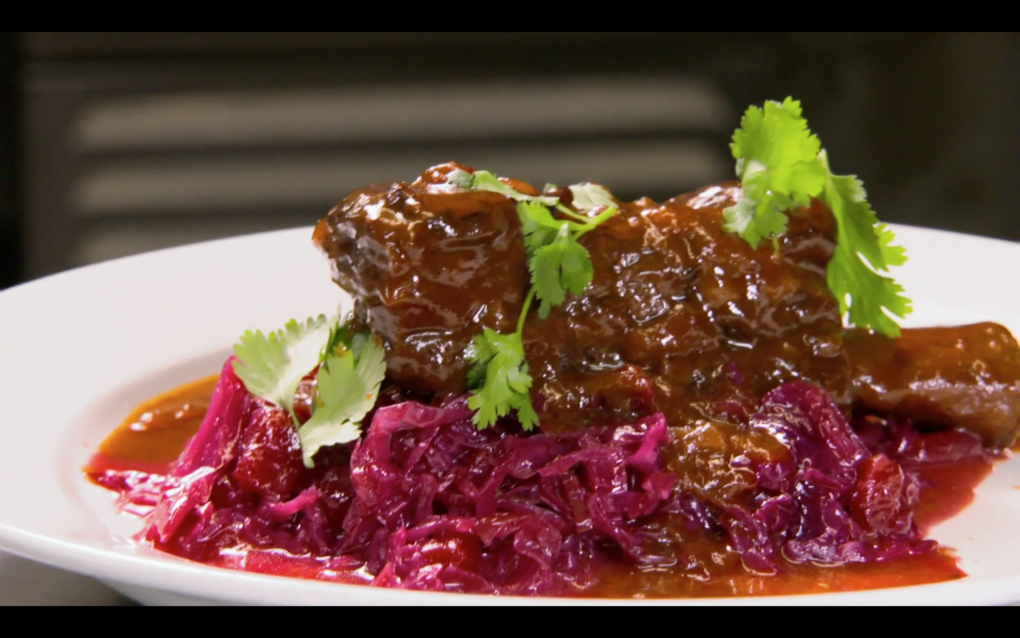 As Seen on Restaurant: Impossible – Short Ribs with Sweet and Sour Cabbage
From the episode, "Back in Business: Leadership Lessons in Florida"
Serves 4
YOU'LL NEED
FOR THE SHORT RIB
4 bone-in short ribs
2 tbsp salt
5 tbsp brown sugar
1 tsp smoked Paprika
1 tsp Cajun spice
2 carrots diced
1 onion diced
2 qts beef stock
1 qt pineapple juice
2 cups sweet BBQ sauce
1 head red cabbage
2 cups pineapple, diced
1 mango, peeled and diced
1 cup red wine vinegar
1 tbsp honey
1 tbsp sugar
FOR THE CAJUN POTATO SALAD
12 Red Bliss potatoes, cooked through, chilled, and quartered
2 cups mayonnaise
1 tbsp Cajun seasoning
1 cup crystal hot sauce
1 tbsp cumin
2 tbsp white wine vinegar
1 tbsp sugar
1 tbsp chives chopped
MAKE IT
SHORT RIB
1) In a large mixing bowl, add salt, brown sugar, smoked paprika, and Cajun spice. Mix together.
2) Evenly coat each short rib with 1.5 tbsp of rub 24 hours prior to cooking.
3) In a large roasting pan or pot over high heat, sear short rib on all sides. Remove short ribs from pan and sear carrots, onion, and half the pineapple over medium heat.
4) Add beef stock, pineapple juice, BBQ sauce and bring to a boil.
5) Place short ribs in the stock, cover and place in a 325° oven and cook for 3.5 hours or until ribs are tender.
6) In a separate pot, add cabbage, mango, pineapple, red wine vinegar, honey, and sugar. Bring to a boil and allow to cook for 5 minutes before dropping to a light simmer for 45 minutes.
7) Finish cabbage with 2 tbsp butter. Season with salt and pepper.
CAJUN POTATO SALAD
1) In a mixing bowl add mayonnaise, Cajun seasoning, cumin, Crystal hot sauce, white wine vinegar, and sugar. Season with salt and pepper.
2) Next add chilled potatoes to the mayonnaise mixture. Finish with chopped chives.
PLATING
1) Place sweet and sour cabbage on the center of a plate.
2) Place short ribs on top of cabbage. Strain braising liquid. Top short rib with sauce.
3) Serve Cajun potato salad on the side.