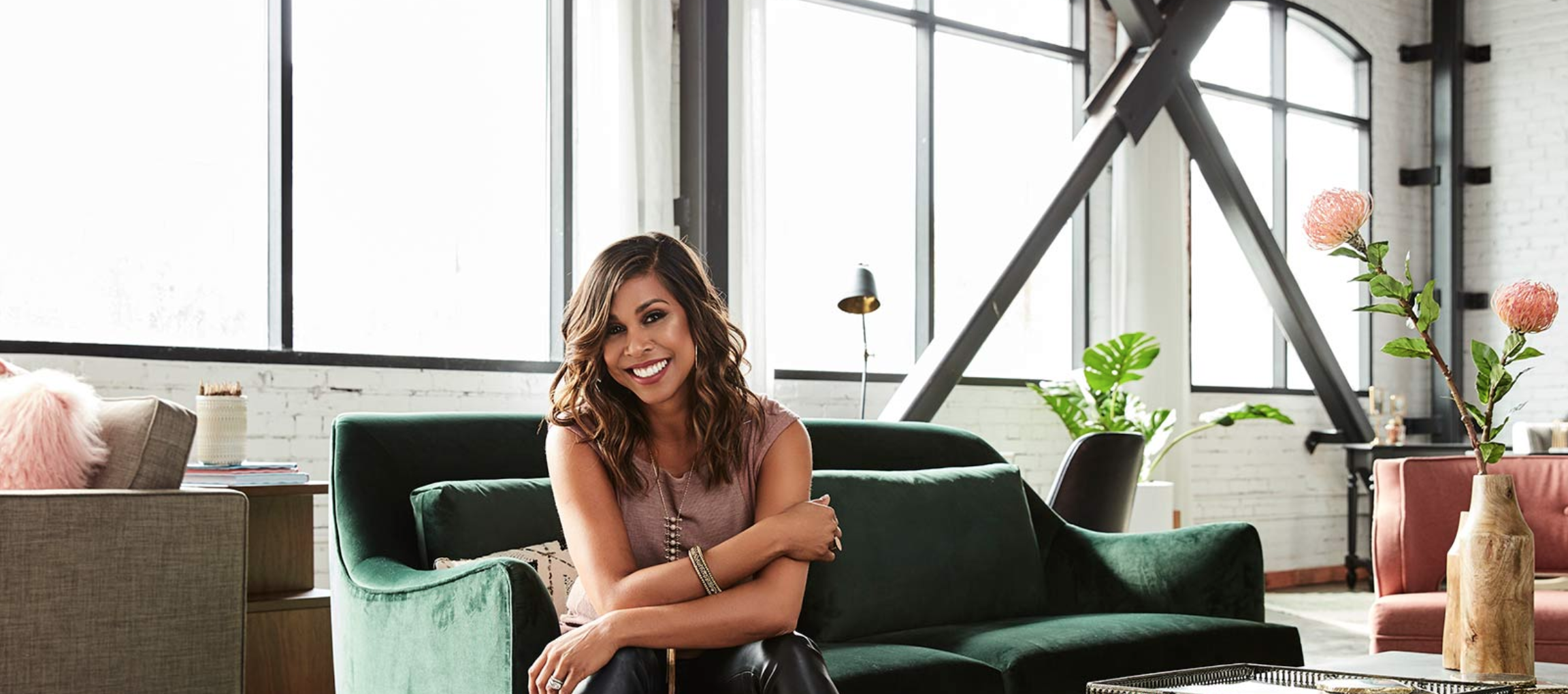 The Return of Restaurant: Impossible – Interview with Designer Taniya Nayak
Designer Taniya Nayak and contractor Tom Bury help Robert shoulder the burden of turning around failing restaurants every week on Restaurant: Impossible. They're so integral to the success of both the show and the revamped restaurants that it's hard to imagine R:I without them. Here in Part I we sit down to talk with Taniya about creativity on a tight budget. Click HERE to read Part II with Tom.
INTERVIEW BY MATT TUTHILL
Robert Irvine Magazine: A lot has changed from the first run of the show to the second. In terms of what you bring to the show, viewers will be quick to notice that you now have a computer model of what you're going to do and you present that before everyone gets to work. What was the genesis of that?
Taniya Nayak: To be honest with you, we've always done them even in previous seasons. They just never really showcased it. I have a design firm based in Boston and we've been doing those models for a long, so, now for the new season they were like, "You know what? People want to see this, it's a good idea to share it." So we share it.
RI: Some of the restaurants that you guys have taken on seem a lot more challenging. Robert has said that you guys are getting later and later and really having to push the opening times. Tom attributed it to you guys wanting to outdo yourselves every single week. Do you feel that same pressure?
TN: Absolutely. It's been nine years since we started the show so we all know what the expectations are. We know Robert's standards and expectations and we've now adopted them to be our own standards and expectations. We never want to leave a restaurant in a way that any of us would ever want to be left if someone else came in and redesigned our homes or our businesses. So, we always make sure that what we're doing is being done correctly and for longevity. So, if it's doing a floor, it's a commercial grade floor and it's going to be installed properly. If it's furniture, we're looking for furniture that's commercial grade that will withstand the test of time.
But in addition to that, we're also trying to create unique moments that tell a story, and that tie the owner to the space so that they feel really proud of it. They should feel like it's theirs, and sometimes that takes a little creativity and thinking outside the box. So yes, they take a little longer sometimes.
RI: From a design standpoint that's always been the most interesting thing about watching you work, because I would never be able to define what your particular style or tastes are; you're so great at taking what is there and what those people are about, and making it something that's meaningful to them. Not just something that's aesthetically pleasing to you and to other designers.
TN: Exactly, it's all about them. But it's funny, we internally have a joke between Robert, Tom, and I that there's always this sign wall. So you'll find on every single restaurant that we do, I will always have the name of the restaurant in a huge sign on the inside of the restaurant. Which if you think about it, when you frequent a restaurant you don't typically see the sign on the inside.
RI: That's true.
TN: I always put it on the inside because, for viewers watching, I want them to remember the restaurant. I don't want them to say, "Oh it was that restaurant that you did. I think it was in the Midwest or I think it was on the west coast." I want them to know at the end of that episode without a doubt who they are and where it's at.
RI: You and Tom are more like characters on the show now, where we get more of the banter between you guys and the gentle ribbing. There was a moment in one of the new episodes where you said, "Well this is the first time I've ever done tile like this," and Tom said, " You still haven't done tile. I'm doing it." Is the camera picking up stuff that has always been there? Or are you guys opening up more now?
TN: We've always had the banter, and I feel if you look back on shows over the duration of the entire run, maybe early on we weren't as familiar and goofing around with one another. But I feel like Tom and I, we are brother and sister at this point; we pick on each other, but we love each other. And so we just love to give each other a hard time it makes us all laugh. And then Robert, of course, he thinks it's hysterical and he loves to jump in. In fact, Robert's the instigator a lot of times, between me and Tom picking on each other.
RI: Robert's intensity is a huge part of the show. How do you deal with it when he is not happy how things are going?
TN: I've seen a big change in Robert over the years. In the beginning, he used to scream and shout a lot and it would be intimidating and a little scary. But I'm so grateful for it, and I've told Robert this many times. I feel like he's made me a better business person, a better leader, a better manager of these projects, and that's why I feel like to this day we get done on time. Not that we get done on time all the time, sometimes we don't, but I feel like it's running a lot smoother. We've become a well-oiled machine.
But to get back to the point, Robert has a different way about him now. It's a more silent command of the situation. It's more with his heart and less from his mouth.
RI: In one of the most recent episodes Robert looked at the camera and said, "Listen, we're all working really hard, and it's very late, and those people have been waiting outside for over two hours so you should get that camera out of my face." It was a very real moment. Very heartfelt. Not shouting at everyone to go faster.
TN: It's true. It's across the board, too, not just with us. I see it with the owners and how he approaches them. I would say he's got this magic key where he can unlock their deepest, most personal setbacks, what's holding them back. I don't know how he gets this out of people, but he gets it out of them. He really has a gift for that.
RI: At what point in your career did you figure out how to take cheap materials and MacGyver them into uses that they were never intended for? I'm sorry for doubting you still at this point, but every time you start painting some cheap plastic trinket, I'm saying, "How is that going to work?" and then it's, "Holy cow that worked." Where did you get that from?
TN: That is like the biggest compliment ever so thank you for saying that. Between HGTV and Food Network, I've been doing shows for the last 15 or 16 years of my life. Every one of these shows is typically budget-based, so you need to come up with these take-away DIY projects. It really starts to make you think outside the box.
And I get a lot of people who say to me, "Don't you wish you had more time and more money to do these restaurants?" And I tell them every single time, "No way." As for time, it's a luxury to be able to see a restaurant from start to completion in a 24- to 30-hour timeframe. It's very satisfying. As for the money, it makes you that much more creative when you don't have the extra cash flow.
RI: Art from adversity.
TN: Exactly.
RI: What were you doing before you got into TV?
TN: I went for my undergrad in business marketing at UMass Lowell, and then I worked for a few years doing a bunch of jobs that I hated and I just wasn't happy. I just wanted to go back and do something that I loved, and I always loved design. My dad's an architect so I always grew up around it. I went back to get my Master's in architecture at the Boston Architectural College, and when I was on the very tail end of the program, there was an audition for a show on ABC Family and it was the creators who made Queer Eye on Netflix. I auditioned for that show on a recommendation by the director at my school that all the students go and audition because he thought it would be a really fun learning experience. I went, and then I got it and that kind of changed the rest of my life.
RI: And when you're not filming R:I, what kind of work are you doing at your design firm?
TN: My firm is called Taniya Nayak Design and we do predominantly hospitality projects. We do a lot of restaurants, like Ruth's Chris Steak Houses across the country. We're averaging about five to seven per year of those. They're revamping all of them.
RI: Has the show changed your life? It had to have increased demand for your services.
TN: Yes, but let me just start by saying, from a personal standpoint, I love doing this show. I love it so much. I love the team, I love what we're able to do for people, helping people, and I love the fact that we get these just beautiful before-and-after transformations in such a short window of time. If you do what you love then great things come from that, and I can definitely say I love doing this job. But from a business standpoint, it has certainly helped me not have to justify myself to potential clients.
I'm just super grateful. I'm really grateful that I have those guys in my life, Tom and Robert and the rest of the team. We're such a family and it makes going to work fun. If you're not having a good time doing what you do then, don't do it.
Want to have Taniya design a project for you? Check her out on the web at TaniyaNayak.com and follow here on Twitter: @taniyanayak