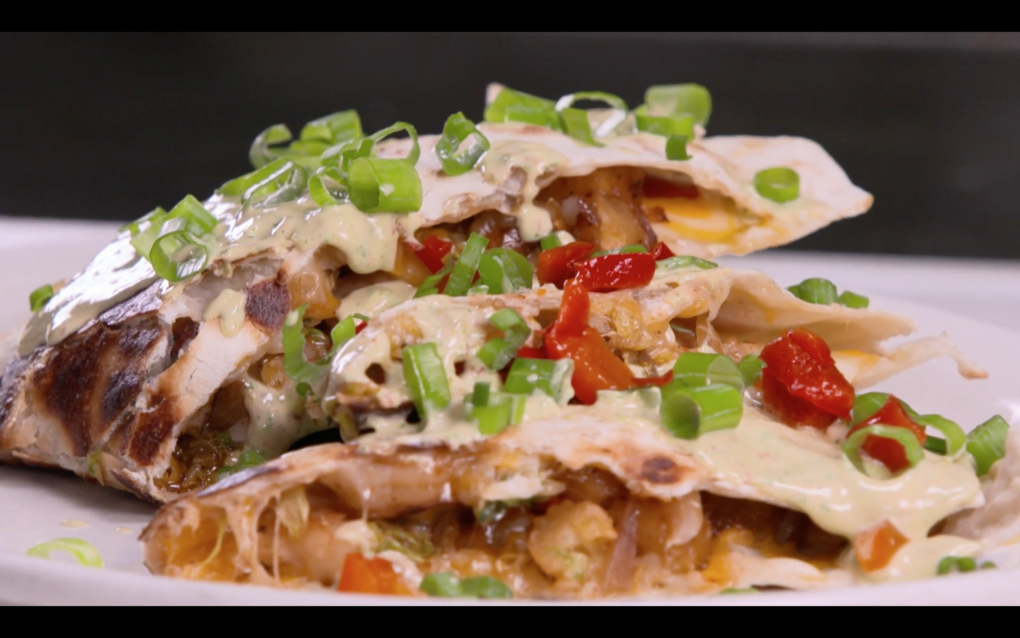 Shrimp Quesadilla – As Seen on Restaurant: Impossible
From the episode, "Back in Business: Back Nine"
YOU'LL NEED
FOR THE AVOCADO WHIP
1 avocado, diced and mashed
1 jalapeno, diced
1 clove garlic, minced
2 tbsp sour cream
1 tbsp lemon juice
Salt and pepper to taste
FOR THE QUESADILLA
16 oz 21-30 shrimp
3 cups diced pineapple
3 cups shredded cabbage
1 red bell pepper, diced
1 yellow onion, small diced
2 cloves garlic, minced
4 eight-inch flour tortillas
4 tbsp shredded pepper jack cheese
4 tbsp sliced scallions
MAKE IT
AVOCADO WHIP
1) Combine avocado in a mixing bowl with jalapeno, minced garlic, and sour cream.
2) Next add lime juice and mix using a whisk. Season with salt and pepper.
QUESADILLA
1) In a large sauté pan over medium-high heat add shrimp. Cook for about 2 minutes.
2) Add pineapple, cabbage, red peppers, and onion. Allow to cook for another 3 minutes.
3) Add garlic and cook for about 45 seconds, making sure not to let it burn.
4) In a separate sauté pan over medium-low heat, place flour tortilla shell.
5) Add shrimp and cabbage mixture directly to the center of the tortilla. Finish with 1 tbsp pepper jack cheese and fold it edge to edge.
6) Continue to cook for another 3 minutes on each side or until tortilla is a light brown and cheese is melted.
7) Cut into 4 pieces and top with avocado whip and sliced scallions.