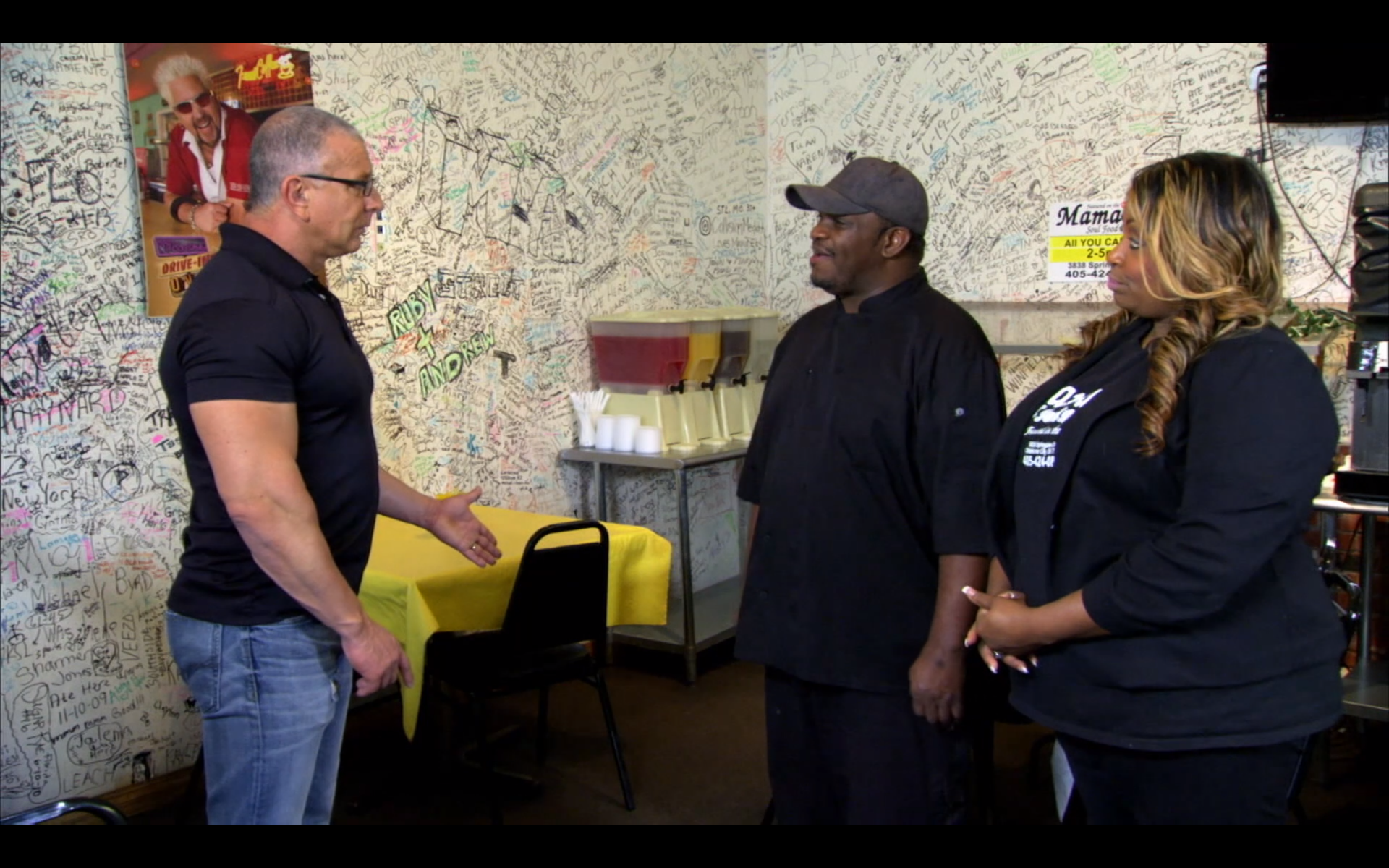 Restaurant Impossible Followup: Mama E's
In the annals of Food Network programming, Mama E's holds a special distinction: it is the only restaurant visited by both Guy Fieri on Diners, Drive-Ins, and Dives and Robert Irvine on Restaurant: Impossible. When Guy visited the Oklahoma soul food eatery in 2009, he fawned over owner and head chef Keith Patterson's cooking. With his mouth full and eyes rolling in delight, Guy gave a ringing endorsement of everything Keith cooked, especially the signature dish: fried chicken wings over a Belgian waffle doused in butter, powdered sugar, hot sauce, and maple syrup. Guy looked at Keith, who is also a pastor at the church across the street, and said a solemn, "Amen."
The experience of appearing on Triple-D had an immediate impact, with folks flocking from all parts of the country get a taste of what they'd seen on TV.
"Business was booming after that," says Keith's wife and co-owner, Stephanie.
So what happened? According the Keith, he was encouraged by the success and expanded his business—a little too big and a little too fast. Balancing the workload at an expanding restaurant with his duties as pastor across the street and as the executive chef at a country club proved to be too much.
When Robert arrived five years later in 2014 he found that the newly-expanded restaurant had fallen into disrepair. If the cracked tiles, sticky floors, and bug-ridden didn't kill customers' appetites, the salon chair in the corner of the restaurant—which Stephanie had added to pursue a side business—finished the job.
Robert is always to the point, but his arrival at Mama E's was especially blunt.
"Keith, Stephanie! Come in this pig sty you call a restaurant," he yelled.
Robert called the state of Mama E's a disgusting embarrassment, which sent Keith storming off the set and demanding to end the show.
"I don't care who you are, you won't disrespect me," Keith said at the time. "They can get their cameras and go on down the road because I won't do it."
Friends and co-workers coaxed Keith to get on with the show, but it set Tom Bury and the construction crew behind schedule. It also wasn't the last dramatic outburst. While Robert counseled Keith and Stephanie on their marriage, he asked them why they got married. When Keith replied "because I loved her"—in the past tense—it sent Stephanie storming off the set.
"This can be the one that I can't fix, period," Robert said.
Eventually, Robert got the show back on track and got the two to sit down and talk about their marriage. They revealed that over 18 years of marriage, 17 had been blissful, but the last year had been a disaster under financial strain. Robert also learned that they both possessed extraordinary singing talent, and sent the two off to a recording studio while the crew worked on renovations.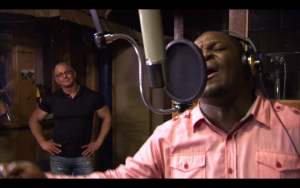 The scene that followed in the recording studio was an emotional tour de force, with Keith and Stephanie belting out love ballads and church hymns and shaking with tears of joy at the end, all while a beaming Robert looked on.
"You complement each other so much," Robert said. "The harmony when you sing is the harmony you need in life… If you can figure this out, the restaurant is the easy part."
Back at the restaurant, Robert taught Keith some basic portion control and inventory skills to increase profits, and food prep tricks to save time. Robert offered little in the way of tweaking the menu as Keith's food wasn't the problem. One tweak Robert offered—apple cider vinegar in the collard greens—was abandoned quickly after customers demanded the old "juice" back.
"They called it liquid crack," Keith says with a laugh.
In the month following the renovations and unveiling, revenue doubled and Keith was able to quit his second job at the country club. Five years later, the boom has calmed down as expected, but Mama E's consistently pulls 15% more business than before Robert showed up.
I can't believe that I was telling Robert to leave," Keith said. "There are not many people who care about people anymore, but this man poured out of himself. He checked me, told me where I was at, where I lacked, and the truth hurt, but thank God for Robert because no one has every really cared for me like this."
What's more, showcasing their singing ability on the show had an unexpected benefit. They started showing up to hear more at Keith's church.
"We have probably 20 more people who come to church every week," Keith says. "We always had people go from the church to the restaurant. We never had it go the other way."
Keith says that he and Stephanie are currently working on an album together and will update RI Magazine when it's available for purchase. In the meantime, he says he looks back at his time on Restaurant: Impossible as a resoundingly positive experience. But there is one thing he would change if he could go back.
"I wouldn't argue with him this time," Keith says. "I'm in here and watching the restaurant grow and all the credit goes to Restaurant: Impossible. I thank God for Robert."