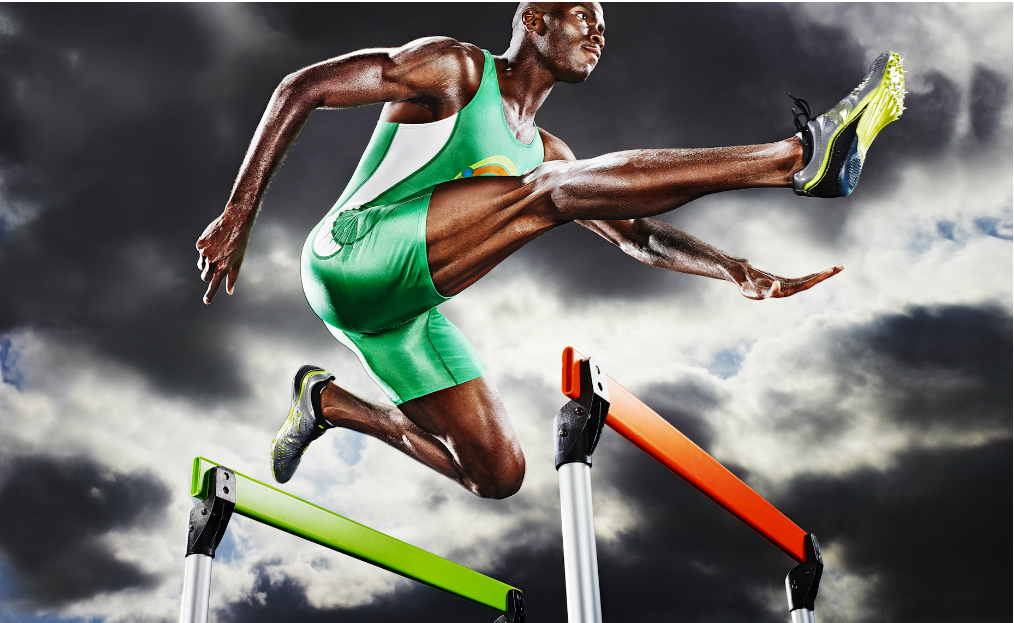 One-on-One with Gold Medalist Kerron Clement
The two-time U.S. Olympic gold medalist has some poignant words of wisdom on how to approach fitness and life.
Kerron Clement, who was born in Trinidad and moved to the States in 1998, says he "fell into track" and wouldn't have pursued it at all without a coach's encouragement. Now, with two Olympic golds in his trophy case—he was part of the U.S.'s gold medal-winning 4×400 relay team in 2008 and after battling through injury he won the 400-meter hurdles in Rio last summer—he wants to pay it forward and encourage others to be their best.
ON WINNING THE 400-METER HURDLES IN RIO IN 2016
"I knew that I was the best in the field. I just needed to execute my race plan the best way I knew how. When the gun went off, I took off and never looked back. I concentrated on the 10 hurdles in my lane. I knew the guy from Kenya was on my shoulder and I just had to dig a little deeper to cross the line first. All the hard work I put in to get there… I wasn't about to give that up."
"The feeling of actually winning gold… It's overwhelming because I was battling injuries for four or five years and it means a lot to me to inspire people to follow their dreams."
ON CELEBRATING
"I didn't really celebrate because I had a few competitions after the Olympics. When I was done with those and I got home, my friends and I celebrated and I enjoyed myself."
ON THE FUTURE
"I plan on running in Tokyo. This summer the world championships are in London and I'll be there. I have a bye for the U.S. trials so that's a stress reliever. I can just concentrate on peaking for August.
…I want to get into coaching. Right now I am a volunteer assistant coach at the University of Florida [where he is an alumni]. That's a passion of mine, to help kids reach their full potential."
ON NEW YEAR'S RESOLUTIONS
"Why do people even set New Year's Resolutions? That should be year-round. You should always set goals for yourself. My goals start in the offseason when I make my mind up that I want to be the best in the world, win all my races, win the Olympics. It doesn't have to be a New Year's Resolution."
WANT TO LOOK LIKE A SPRINTER? TRAIN LIKE ONE
"For anyone trying to lose weight or trying to get a lean body, I would definitely recommend a track workout. Try sprints of 40 and 60 meters. Sprints target every muscle in your body. In the gym you could try explosive movements like single-leg box jumps, deep squats—and do a lot of abs. That's important for us. Your core needs to be strong to transfer power."
SET UP YOUR WORKOUT
"Try four sets of six sprints of 40 yards. Rest two minutes between each sprint. If you take less rest, you open yourself up to injury. You need a good amount of recovery for it to be safe and effective."
HIS BIGGEST LIFE LESSON
"What I've learned is patience. That's the number one thing I've learned throughout my career—having injuries, having surgeries, being patient. Believe in yourself and in what you're doing. You cannot have a negative attitude. You have to stay positive and have the right people around you to motivate you. An injury, depending on what it is, doesn't have to be permanent. You can overcome it. Believe that you will get better."
DON'T CALL IT A DREAM
"Follow your dreams. A lot of people get so discouraged because someone said no to them and someone said they weren't the right fit for something. If you keep following your path, eventually you will have a breakthrough. Keep fighting. Adversity makes you stronger as a person and teaches you something. It makes you stronger mentally and physically. Maybe don't call them dreams. Call them goals."
ENCOURAGE OTHERS
"When I was younger I fell into track. I didn't know the big names in the sport. I didn't know Marion Jones and Carl Lewis. I had to learn the history of the sport. My coach in high school said I had potential to go to the Olympics and I said, 'What are you talking about?' At one point I got a sharp pain in my knee and I couldn't run at all and I went to my coach and said I had to quit. He came to my house and said, 'You can't quit.' If I had listened to myself and quit because of the pain, I would have no gold medal today. A lot of kids don't know their own potential until someone tells them."
Originally published in Robert Irvine Magazine.