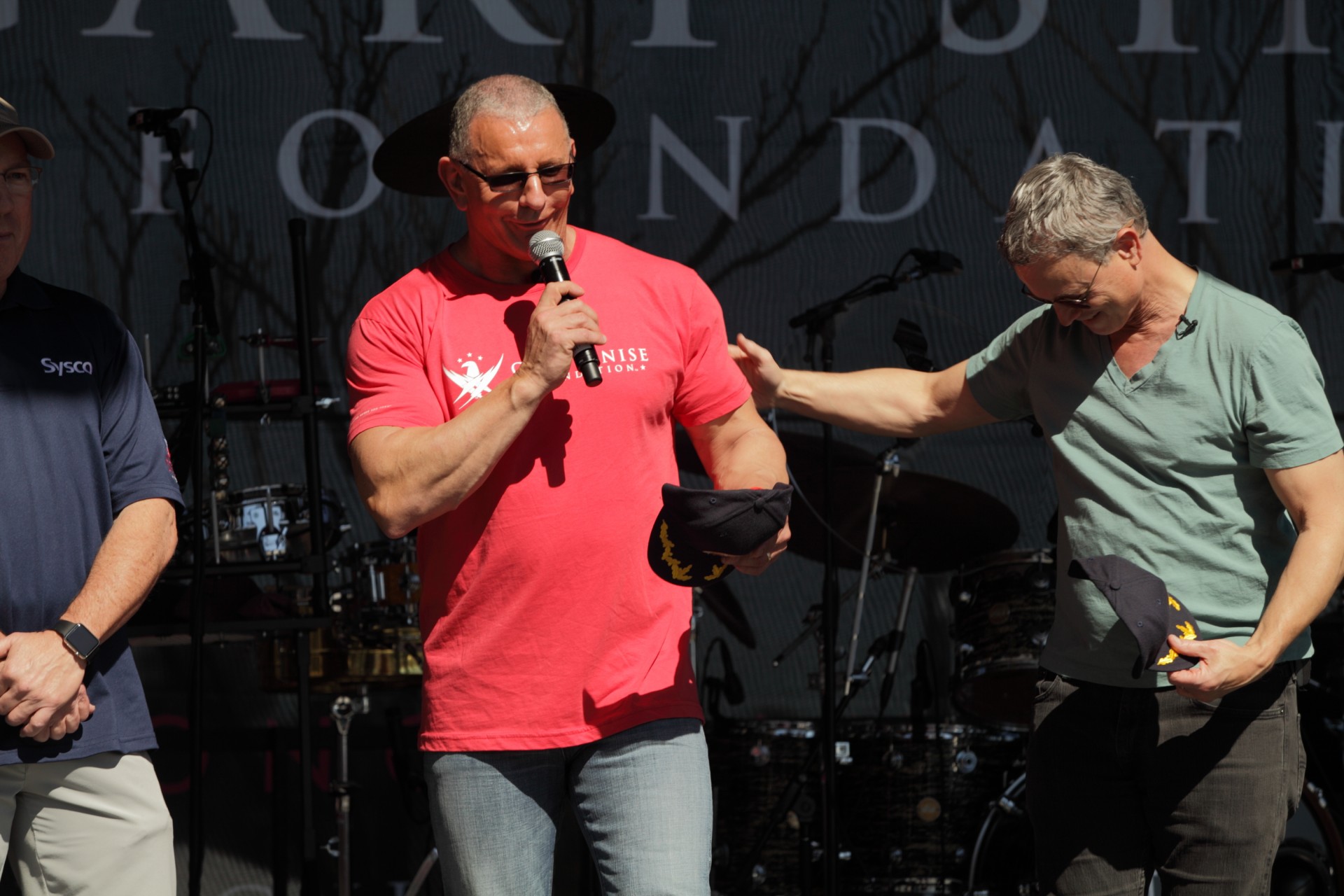 Robert recently teamed up with the Gary Sinise Foundation, whose mission is to honor and serve the men and women of our military. February's Invincible Spirit Festival at Naval Medical Center San Diego fed and entertained thousands of troops and their families, but that day of giving back was much more than a party. It was just the start of a story of how the Gary Sinise Foundation is changing the lives of wounded veterans everywhere.

WORDS BY MATT TUTHILL, PHOTOS BY JOSH JAMES
The sun-drenched lawn of Naval Medical Center San Diego is abuzz with activity as families file through the gates and begin to scatter across the grounds. The 11th Invincible Spirit Festival, a program of the Gary Sinise Foundation—the fourth here—promises to be a day to remember for all families on base. Kids are getting their faces painted, balloons in tow, and a classic car show in the adjacent parking lot is just getting underway.
Robert Irvine, with the help of his own chefs and some 90 volunteers from Sysco, has fired up a half dozen barbecue pits and many more ovens for a massive feast to come: Burgers, dogs, wings, chicken breast, and a plethora of sides and desserts—for about 3,000 troops, their families, and hospital staff. (Everything on the menu—tens of thousands of dollars' worth of food—was donated by Sysco, which is one of Robert's business partners.) The main stage at the center of the lawn is swarmed with roadies, prepping the sound equipment for Gary Sinise & Lt. Dan Band, who will perform that afternoon. A drone mounted with a camera hovers above the property, capturing the scene.
Before the two perform—Gary with his band, Robert by inciting a wing-eating contest (and then a pushup contest to balance things out)—they begin a tour of the hospital that will introduce them to many of the patients there—some recovering well from injuries or sickness, some terminally ill. It's the most important part of the visit, and the crowd waiting outside won't get to see it, which is appropriate because as the two men reach each room, the scenes become intensely emotional. Gary, whose Lt. Dan character from Forrest Gump became synonymous with the plight of wounded veterans, is chased by an echo as he moves through the halls, as hospital staff exclaim in hushed tones, "It's Lt. Dan!" He's also recognized for his work with veterans, which has become a second career after acting. Captain Jose Acosta, commanding officer of the base, says that Sinise's reputation as "the new Bob Hope" is well-earned.
One veteran, who has undergone multiple back surgeries and is currently recovering at NMCSD, breaks down in tears when Gary and Robert enter his room. "I'm just a regular guy and I love what you do," he sobs. Similar scenes play out when Gary and Robert visit a terminal cancer patient, and then one veteran who was thrown from a helicopter during a combat exercise. The latter actually brightens for a moment when he describes the incident, in which the helicopter tail landed on his legs after the fall. "I didn't die, so that was awesome," he says.
The hospital tour lasts a little over 90 minutes, but it leaves an impact—and offers a better glimpse into the lasting work of the Gary Sinise Foundation than the party outside, which will last just a day. Because the truth is there are a lot of celebrities who go on USO tours and visit with wounded veterans. Not to belittle those efforts, but the Gary Sinise Foundation, created in 2011, is on a mission to change the lives of wounded vets in a very real way, as one of the Marines in attendance at the festival can attest.
IT'S ABOUT MEN LIKE JASON
Jason Ross rolls across the lawn in his motorized wheelchair, flanked by his dogs—Gracie, a German Shepherd, and Kojak, a Shepherd-Husky mix. When Gary sees Jason, he stops everything to speak to him. At this point, they know each other well. Today's event—indeed, the entirety of the work that the Gary Sinise Foundation does—is all about men like Jason.
As fate would have it, Jason didn't join the Marines because of 9/11; rather, he joined on 9/11 itself. While standing in the processing center to join, the news came through. Rather than give him pause, Jason said, "I guess we're going to war."
Nearly 10 years later, on March 7, 2011, during his second deployment to Afghanistan, Jason was sent out to raid an area known for Taliban presence. By the time Jason and his patrol arrived in the town, the Taliban had "ghosted," though evidence of improvised explosive device (IED) construction littered the premises.
"When we were coming back, we were crossing through a field," Jason recalls, "and I was the fourth guy through. I guess I was the lucky one."
He uses the term facetiously, but it is, in fact, pure luck that Jason wasn't killed on the spot. An IED blew off his left leg below the knee and his right leg above the knee, collapsed his left lung, broke his pelvis in five places, covered both of his hands in burns, and broke his right hand in five places, his left in three. When he was airlifted to the forward operating medical base, he had a 2% chance of survival.
When doctors stabilized him, they bumped him up to 10%, then moved him to Walter Reed National Military Medical Center in Maryland where he stayed in critical condition for the next four months. When he came to from his medically-induced coma and realized the extent of his injuries, his matter-of-fact attitude would stagger even the most hardened Marine.
"When I woke up in Bethesda, my first memory was watching lights go over my head and realizing, 'Ok, you're in a hospital. That's a good sign,'" Jason recalls. "I knew I had been hit, but I didn't know how bad it was so I looked under the covers to see. I saw that my legs were gone, then realized I had both hands and all my fingers and I said, 'I'm good. I can move forward.'"
Jason credits the desire to be present for his two young daughters and the unwavering support of his parents, George and Linda Ross, with playing a major role in hardening his resolve to carry on. If any doctors were unsurprised by his determination, his sense of humor certainly caught them off guard.
"They had the head shrink come and talk to me," Jason says, "and he goes through the basic battery of questions for all head trauma injuries. He asks me to identify different objects, say my name, and so on."
When the shrink asked Jason what day it was, he was surprised Jason knew it was St. Patrick's Day. When the shrink pressed him further and asked what year it was, Jason turned to him stone-faced and said, "It's 1729."
"I really wish there was a camera there to record that," Jason says, laughing at his own story. "The look on his face was priceless."
The Commandant of the Marines personally pinned on Jason's purple heart. President Obama visited Jason on four separate occasions in the hospital, eventually referring to him as his "favorite staff sergeant." The initial outpouring of support and recognition from men in high places is typical for veterans in Jason's situation, but the business of surviving and getting on with life is done far away from any photo opportunities. In Jason's case, it has dragged on for years. To date, he has undergone an absolutely staggering 247 surgeries to deal with his IED injuries—with more planned. This is a big reason Gary Sinise created his charity, and when the Gary Sinise Foundation got wind of Jason's story, they didn't want him to just survive. They wanted him to thrive.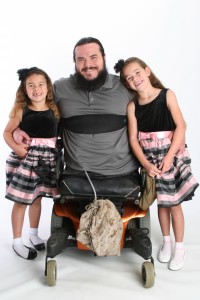 Jason qualified for the foundation's specially-adapted smart home building project through their R.I.S.E. program (Restoring Independence, Supporting Empowerment) and at the foundation's request, he supplied them with a plan for his ideal home. The foundation's drafters returned it to him in the form of blue prints, and after some back and forth, the plans were finalized. In August 2015, Jason moved into his new specially-adapted smart home, constructed by the Gary Sinise Foundation.
The crux of this home is accessibility. An ultra-wide floor plan and wide door frames make it easy for anyone in a wheelchair to navigate without having to make a tight turn or require assistance from someone else. Cameras positioned throughout the house allow Jason to keep tabs on his kids, now ages 7 and 5, without having to physically follow them around the house. Remote controls allow him to flip light switches and lock doors. Adjustable shelves can be moved down to his level, and counters are built low so Jason can easily get to the sink and fix his own meals.
Moreover, the house is big enough for not only Jason's daughters, but his parents to live in, too. This is key because even though the new home makes life much easier for Jason, he still requires assistance with some daily activities.
"It's amazing," Jason says of the new features of his home. "It's been a big relief. I can get around. I still need help, but not as much help as I did."
George, a Vietnam veteran who served in the Air Force, says he had initially preferred that Jason join the Air Force because it tends to be less hazardous than the other branches. However, George adds that he's never second-guessed his son.
"We are very happy and proud that he did it," George says. "He had a good run and we are not with regret at all."
Being a Vietnam veteran gives George a unique perspective on the situation. When George came home from war, there was nothing like the Gary Sinise Foundation to help wounded veterans transition to normal life. Veterans lucky enough to survive Vietnam were either totally forgotten or met with scorn and ridicule. Such was the highly-polarizing nature of that conflict, with the resulting challenges so poignantly illustrated by Lt. Dan's character. Today, the reversal of sentiment isn't lost on George.
"I'm glad the attitudes have changed," George says. "People, society… somewhere along the line it changed and I'm glad it changed very much for the positive."
NOT JUST A BARBECUE
"There is a bond between sailors," Captain Acosta, the NMCSD commanding officer says, noting that Robert served in the British Royal Navy. "Whether it's the British Navy or the U.S. Navy, absolutely there's a bond. There are a lot of sailors here and we all look forward to this… The chef and Gary Sinise are part of our family. Gary could have taken this festival anywhere, but every year he comes back here. That's because he knows us and he's connected to us."
When Robert is done hosting the wing-eating and pushup contests, he seats himself at a table between Lou Berger and Tom Crosby, captivated by the story of the two men. During WWII, Tom lived in the Philippines, where his mother worked at the U.S. consulate. When the Japanese occupied the islands, a then 8-year-old Tom was interned along with other Americans at the University of Santo Tomas for over three years. Lou, serving in the 1st Cavalry, liberated the camp, and found a friend for life.
"Lou and Tom do a lot of work with POWs here in town," says Tom's daughter Cari Hogan. "And Gary just sent them down to New Orleans to share their story at the WWII museum… The best thing: My father holds no ill will toward the Japanese. I wasn't raised knowing they were any different than anyone else. He's the most gracious man I've ever met in my life."
Lou, now 91 years old, and Tom, 83, have kept in touch through the years, and over a couple of cheeseburgers and Cokes, they share more of the story with Robert. Among other things, Robert learns that Lou was, and remains, an avid rock n' roll drummer.
Some minutes later, Robert escorts Lou to the side of the stage, where the Lt. Dan Band's performance is now in full swing. Robert runs up on stage to have a word with Gary in between songs. Gary nods and smiles, and a moment later, Robert brings Lou onstage and seats him behind the drum kit. Lou has no trouble keeping time during the next few songs, and can't help but gush with pride when Gary demands an ovation for his guest drummer.
Afterward, Lou sums up his experience succinctly. "This is the greatest day of my life," he beams.
"These are two heroes of mine right here," Robert adds. "We need to teach our children what these guys went through. We can thank them all we like, but it will never be enough."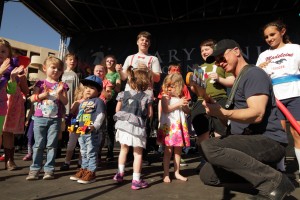 At the end of the day, before the Lt. Dan Band's final song, Gary said as much to the crowd in his parting speech.
"We've been at war for a long time, and it doesn't look like things are going to get any better any time soon," Gary began. "So we've got to do everything we can to make sure our defenders and their families know that we appreciate everything they do for us. That's why we come out and that's why my foundation's there, and that's why Robert goes around to help our military—just to make sure that you know that what you do each and every day to defend us all around the world is appreciated…
"We can never do enough to raise awareness about the importance of freedom. Freedom around the world is not something that everybody just has. It's something that has to be defended and protected. So a little day like this – where my team can come out and our volunteers can come out and we can just say a little thank you and have some fun, that means a lot to us because there's something we can do to serve you—those who serve us."
As Gary wrapped up the speech, his tone became more measured to counter the lump in his throat.
"Remember what the song says: There ain't no mountain high enough, there ain't no valley low enough, there ain't no river wide enough… to keep us from getting to you."
Get involved and learn how you can support our wounded vets. Learn more about the Gary Sinise Foundation at:
GarySiniseFoundation.org
Learn more about the Robert Irvine Foundation at:
RobertIrvineFoundation.org
Originally published in Robert Irvine Magazine