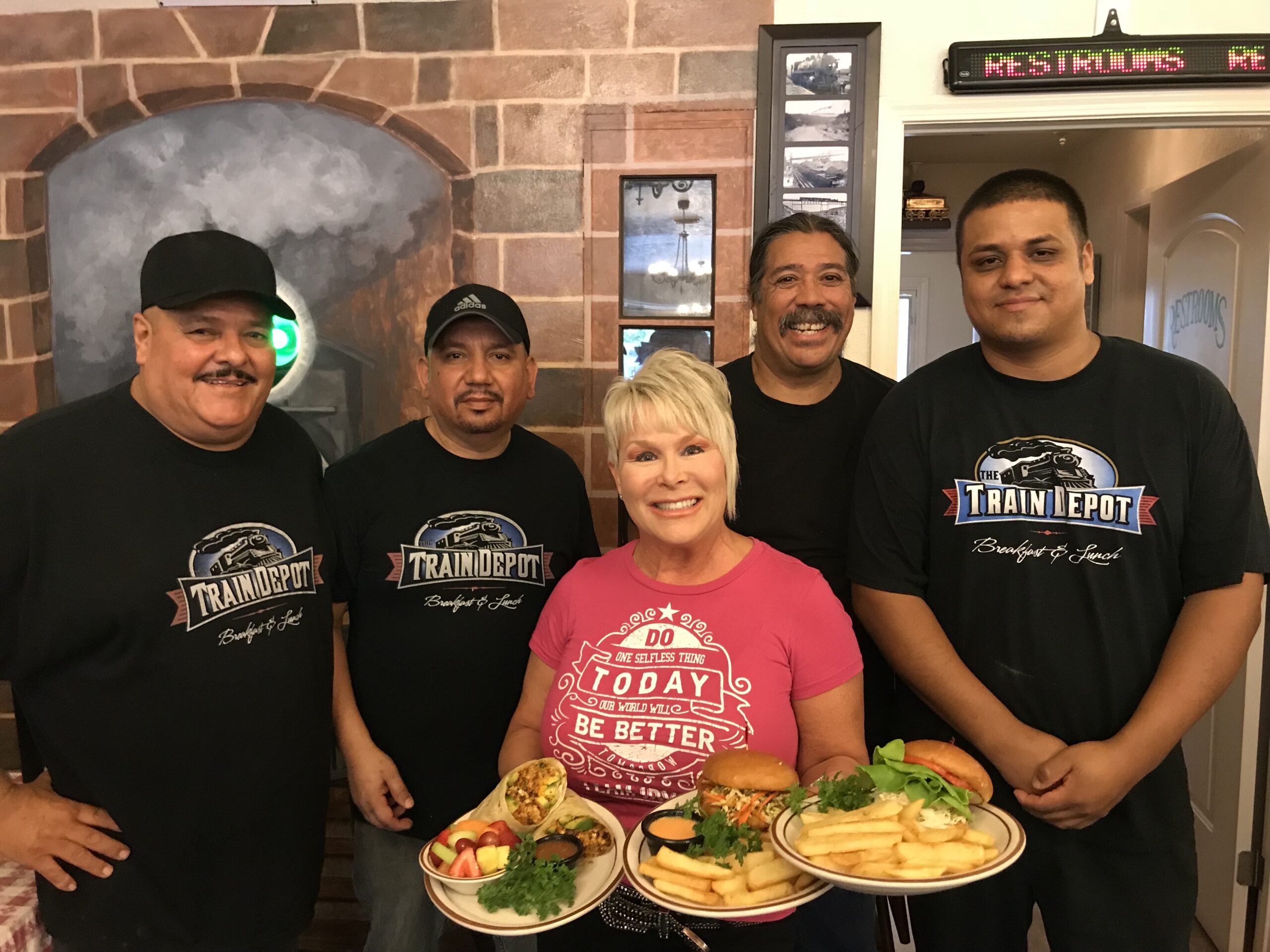 Fresno Eatery Steps Up For Vets In Need
How the Train Depot restaurant partnered with the Robert Irvine Foundation to make a difference.
(PICTURED ABOVE: Train Depot staff, from left to right: Juan Betancourt, Antonio Morales, owner Pat Escovedo, Paul Palacious, and Carlos Olquin. Pat poses with three of the four menu items Robert designed for their special Robert Irvine Foundation promotion. Train Depot has been a local fixture in Fresno, CA for more than 30 years.)
When Robert performed live at a recent Disney Food and Wine festival in California, Josh Escovedo and his fiancé Gianna Massei were in attendance. Escovedo, an attorney and executive of the Train Depot restaurant in Fresno, was mesmerized by the entertainment portion of the show, but it was Robert's closing pitch—an impassioned plea to the audience to support our servicemen and women by any means possible—that captured his heart.
"He was talking about the Robert Irvine Foundation and how important it was that we didn't take these brave men and women—and the freedom they provide—for granted," Escovedo recalls. "That's something that's really important to me and my family, too."
As it happened, Escovedo's family shared another of Robert's passions—they are also in the restaurant business; the Train Depot has been owned and operated by his parents Ruben and Patricia Escovedo for over a decade, while the restaurant itself has been a local fixture for more than 30 years
Escovedo approached Robert after the show and brainstormed ways to support the Robert Irvine Foundation. What resulted was a special promotion that ran for a full month at the Train Depot where the restaurant featured four menu items created by Robert with the full proceeds going to the foundation. The four items—a crispy chicken sandwich with sriracha aioli, a chorizo and avocado burrito (get the recipe HERE), a jumbo lump crab sandwich on a brioche bun, and an Asian kale salad—turned out to be big hits.
"We have a lot of return customers and people in general get burned out on items," Escovedo says, "but we continued to sell these items in high quantities. That's a great testament to how much people enjoyed them."
Customers could select the items off a special sub-menu and had the option to leave a donation in lieu of, or in addition to, ordering from that menu. Train Depot further contributed by footing the full cost of the menu items and sending 100 percent of all proceeds to the foundation. After 31 days, they had raised an impressive $12,000. As the Robert Irvine Foundation disperses 100% of all funds raised to veterans and military families in need, that's enough to make a significant positive impact.
"The privileges that we walk around with on a daily basis—we sadly take them for granted sometimes," Escovedo says. "It's so important to give back to the people who ensure we keep those privileges."
"What Josh and his family did was special," Robert says. "They made a significant donation of time and money, but they also got their community involved. It is a great public service to spread the word about veterans in need; it's an even greater service to raise funds while raising awareness. I'm forever grateful for what they did."
It wasn't the first or last time Train Depot contributed to a good cause; they recently ran a similar promotion to benefit victims of Hurricane Harvey. The next time you're in Fresno, be sure to stop by this local favorite. And if you have an idea for how you or your business could contribute to the Robert Irvine Foundation, write to us HERE.
Read the Robert Irvine Foundation's annual report HERE. To donate, just text "GIVE" to 813-536-5006