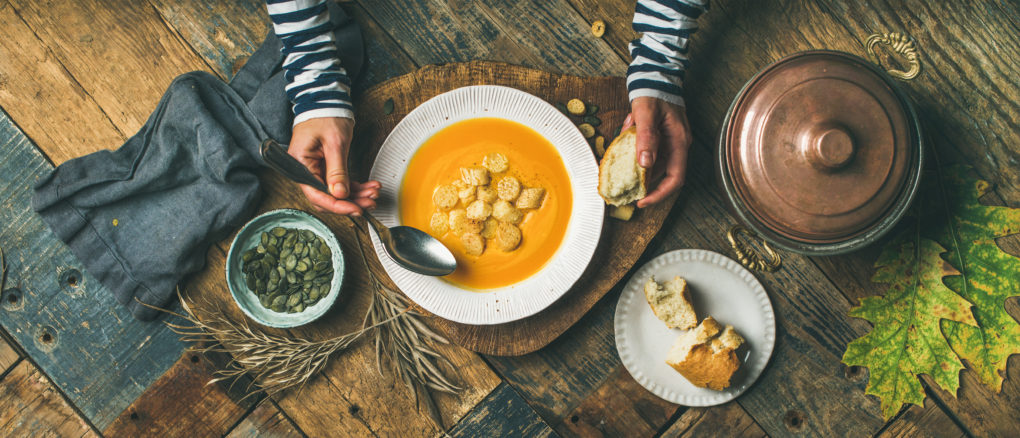 FALLING DOWN: Fight Comfort Food Cravings The Smart Way
Hearty comfort foods reign supreme this time of year, but with a few simple tips, you can keep your fitness goals on track.
"Every year this happens to me: the cold weather hits and it's like my taste buds change. I crave heavier food like crazy! It's not like I eat perfectly in the summer (Lord knows I go to enough barbecues) but in general I love the seasonal produce and I generally eat lighter with a lot more fruit and fresh veggies on plate.
But as soon as I can throw on a sweat shirt and the leaves begin to fall – a four-month problem begins. Pumpkin spiced latte season hits and brings with it Octoberfest, Halloween candy, and then the deadly holiday binge in November and December. I really don't want to pack on the pounds between now and January. But I still want to enjoy the season. Any advice?"
– "The Fall Guy"
ANSWER BY MIKE SIMONE,
Founder, Human Fit Project
Nothing beats a warm and hearty stew on a cold night or a big slice of pumpkin pie to polish off a holiday feast. Pumpkin spice lattes? To die for! There's not a person on Earth that doesn't relate to your concern. In fact, holiday weight gain is a very real thing that's backed up by research. The journal Physiological Behavior cites multiple studies (READ HERE) showing that adults gain an average of .5kg (or about 1.1 lbs.) from mid-November to mid-January. Not surprising, but there is a solution. "Efforts patterned to increase awareness to energy balance and body weight have been shown to be successful at reducing such gain," the piece says. Translation: Eat more mindfully.
Here's how to avoid weight gain while still living up the holiday season:
Start doing more strength-focused workouts and save those big meals for afterwards. Instead of looking at the holidays as an opportunity to gain unwanted weight, look at it as an opportunity to bulk up a bit with muscle by putting those calories to work.
Here's another idea: instead of sipping on that pumpkin spiced latte while sitting at your desk, use it as your fall pre-workout.
Always try and stick to the same eating schedule, regardless of the season. When you eat at the same times it's easier to be aware of what you're consuming and compare it to what you'd "normally" eat. Just because foods change a little bit, doesn't mean it's not possible to eat equivalents.
Lean towards the better quality hearty foods versus the comfort foods. There's a big difference between the mac and cheese and a hearty stew or soup. Save the former for the special days.
If you do end up going very heavy one day, go a little lighter the next day. This is the case for enjoying yourself on holidays such as Thanksgiving. Eat up, then the next day could be more picking and grazing. Eating clean and lean most days make the holiday indulgences even more enjoyable.
Take more control of your meals and portions by cooking at home. It's much easier to keep track of what you're eating when you make it yourself. For example, if you want mashed potatoes, you don't necessarily need the milk and cream, or can at least go with smaller amounts of it.
Here are some quick lightened-up recipe ideas that go well with the season and fulfill your needs without going to your waistline: Try scrambled eggs with a side of sweet potato and beet hash for breakfast. Instead of a burger or steak dinner, try a turkey and butternut squash stew. If you're feeling the need for pasta, try spaghetti squash with chicken and tomato sauce for a change of pace.
Mike Simone is the former executive digital director of Men's Fitness magazine. He's also the founder of HumanFitProject.com, a fitness and wellness brand, and DigitalFitnessAdvisor.com, an exclusive training and nutrition programming service.