One of the first restaurants to get the Restaurant: Impossible treatment went from the brink of failure to booming success. We caught up with the owners of the Dodge City Steakhouse in Harrisburg, PA to see how things are going five years after their makeover and find out what the outlook is for the future.
BY MATT TUTHILL
Doug and Debbie Krick bought a local barroom in Harrisburg, PA in 1980 and promptly turned it into a thriving eatery, Dodge City USA Restaurant. Specializing in classic American cuisine, Dodge City built a loyal following of local families who came back time and again for menu staples that included chicken and waffles, turkey and mashed potatoes, and ham steak with a pineapple glaze. For 24 years, steady business rolled through the doors. Then in 2005, the Harrisburg area saw an explosion in the restaurant scene. An astounding 92 restaurants opened up within a 10-mile radius, with 50 of those right in the city of Harrisburg.
The new competition dealt a tremendous blow to Dodge City. For the first time in nearly a quarter century of doing business, they lost money. The losses in 2005 compounded in 2006 and continued every year through 2010. No matter what the Kricks did in terms of advertising and offering specials and promotions, the hit to his business seemed to be permanent. Doug and Debbie wiped out their retirement fund to keep it open, and fell $600,000 in debt. By the middle 2010, Doug made a decision: The restaurant would have to close, and he'd do it in May 2011. Of course, that didn't happen.
By pure accident in the fall of 2010, Doug came across one of the very first episodes of Restaurant: Impossible. Deciding he had little to lose, he applied for the show and producers agreed his restaurant would make a perfect fit for Robert and his team. Plans were made to film at Dodge City in March of 2011.
On most episodes of Restaurant: Impossible, Robert clashes with owners who are too proud to admit they're doing things wrong. Unlike many failing restaurant owners, Doug had good reason to resist change; he had been successful for such a long time and could point to external factors beyond his control as the culprit for the restaurant's downward spiral. Nevertheless, every attempt to pull the restaurant out of the spiral failed, as well.
"When you're in this business, every time a restaurant opens, it takes a little bite out of your business, but when you have that many, it just took a much bigger bite," Doug says. "We had to make a lot of adjustments, and we had to do everything we could from reducing our salaries—and sometimes not getting paid—to try to stop the loss of revenue. No matter how much we advertised during that time, the one thing that we were never successful at doing was generating new business. We were still able to hold on to our base of regular customers, but we just couldn't generate new customers to come to our restaurant."
To get new customers meant radical change was necessary. But just because Doug had applied for Restaurant: Impossible didn't necessarily mean that he was ready for all of Robert's changes.
First of all, the size of the R:I crew was intimidating.
"They showed up and we were just shocked at the size and the scope of the show," Doug says. "You had Chef Robert, his sous chefs, the decorator and her crew, Tom the contractor and his crew, the production people, sound people. It just blew our minds."
When all those people started talking about his restaurant and the things that needed to change, it was hard not to take it personally.
"It was extremely emotional for me having been here for 30 years and having all these people in the restaurant and listening to the criticisms and the reasons we were failing and the comments about the décor and the food were really difficult to take," Doug says. "At times, I really had reservations as to whether or not I wanted to continue, but Chef Robert was extremely understanding. He and I had several private conversations about the episode, and that was kind of a turning point for me because I began to understand that he was really doing everything, and the show was doing everything, to help us, to benefit us."
CHANGES TO THE DÉCOR
Robert's first impression of Dodge City was not a flattering one. Upon arriving, he immediately said the outdated road sign had to go. When he entered the dining room, he quickly dismissed the Wild West-themed statues as "tacky," called the wallpaper the "world's ugliest" and announced that all the stuffed hunting trophies on the walls had to come down.
"Who would want to eat here?" he asked.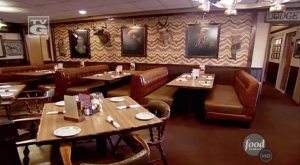 Robert's team brightened the dining room, built a beautiful wooden room divider, laid down new flooring, and pared down the number of nicknacks to a respectable few bullhorns and horse shoes to create a sleek art collection. Doug had amassed the collection himself, and it wasn't easy to watch most of it end up in a dumpster.
"It was really, really hard, but the more Robert and I talked, the more he made it clear that it was all part his mission," Doug says. "Unlike some of the other shows that I think are there for just TV ratings, he does this because he cares. I genuinely believe that, and any of the other episodes where the people didn't understand why he was doing this and just questioned everything and went back to the way things were before, really that was their loss."
Moreover, the renovations have held up.
"We loved what they did so much," Doug says. "The restaurant is quite large, so with their budget they were able to renovate the main dining room and the middle dining room. They couldn't do the bar or the banquet room that we have. So after they left we bought the materials they had used—the wood for the walls and the flooring they picked—and we redid the other two rooms as well. All told it only cost us $5,000."
During the initial application process, Doug says he was asked if there were any part of the restaurant that Robert and his team were not allowed to touch. He declined, giving the team carte blanche to do whatever they wanted. Even so, he was still made for a nervous reveal.
"I didn't know what we were going to be," Doug says. "Would we be a buffet? A diner? A fast-food inexpensive steakhouse? And they turned us into an upscale steakhouse. It is absolutely unbelievable what they did, especially in the time they had. The difference was night and day and we could not have been more pleased."
One of the biggest changes Robert made: Ditching the somewhat unwieldy name of Dodge City USA Restaurant and rebranding it as Dodge City Steakhouse.
CHANGES TO THE MENU
Classical American fare like a roast turkey dinner might have helped Dodge City hang onto their old customers, but such familiar dishes could never lure new customers in such a competitive landscape. Perhaps just as troubling, the menu choices in Dodge City were entirely overwhelming. When a guest was seated, the server presented them with five menus; lunch, all-day, banquet, drinks, and specials. Robert demanded simplification, saying that overabundance of choice only leads to customer confusion, slow service, and an inability to turn over tables multiple times in a night.
Robert immediately deleted items that had no place in a western-themed restaurant like Dodge City, including spaghetti with marinara. He also scrapped a host of other items he deemed unappetizing after sitting down for a service.
In the kitchen, Robert taught the chefs new recipes using ingredients not previously seen in Dodge City. He started by showing them how to make a balsamic-marinated hanger steak served sliced with a red wine demi-glace and a sautéd spinach and blue cheese orzo, as well as a hearty trail soup, and shredded bison tacos. This sparked the imaginations of Dodge City's chefs.
"Since the makeover, we've added some items to the menu," Doug says. "We have added some of our old customer favorites to the menu by request, but for the most part, we've kept all of his recipes. We took a lot of his ideas and procedures for preparing food, and we've applied them to a lot of the new recipes that we have. We had never used orzo before, but the hanger steak and orzo dish was such a hit, we developed a lemon-Parmesan and basil orzo that we serve with our salmon dish."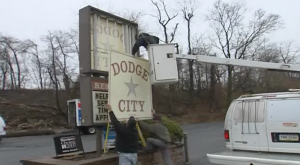 REVENUE
Of course, all the change is for naught if it didn't help Dodge City pull in a lot of new money. And, despite all the positive changes, the new business rolled in very slowly. Deleting many of the old menu items and offering new, more expensive dishes chased off the regular clientele. What's more, the renovations were only known locally; the episode filmed in March of 2011 but didn't air until July. That led to some scary moments in the intervening months, but once the episode aired, business exploded.
So has Dodge City been able to maintain the boom?
"During our peak, before we crashed in 2005, when business was going well, our best year was $840,000 in gross revenue. In the lean years, we were down to $640,000 as our lowest volume. After the show, we went up, and by the end of 2013, we had close to a million dollars in sales and we've stayed very close to that ever since."
The overall experience was so positive and lasting, Doug says it's hard to express how grateful he is.
"We feel extremely close to Robert," Doug says. "When we get the opportunity to see him it's like a family member. I get tears of joy when I see him. People ask us what he's like and I say, 'He's one of the most likable, friendly, sincere, caring people that I've met.' My wife and my son and I are indebted to him for saving our restaurant and providing us with the opportunity to have this successful restaurant. We owe him and the crew everything."
WHAT THE CAMERAS DIDN'T SHOW
You see Doug Jr. in only a few scenes of this episode of Restaurant: Impossible. That's because at the time, he was in the trucking industry and only helped out part-time in the kitchens. Today, he is the Executive Chef of Dodge City Steakhouse, and has garnered several awards for his cooking. Doug Sr. explains Robert had a role there, as well.
"He had worked in the restaurant since he was a child but never with the interest and the passion and the enthusiasm that he has now," Doug says. "But Chef Robert saw something in him and encouraged him to pursue it. After that, it turned on a light bulb in his head, and he said to himself, 'If Chef Robert thinks I have the potential to do this, then maybe I do.'"
Doug Jr. continues to innovate with the menu and add exciting new dishes to keep customers coming back to see what he'll come up with next. Some new items of note include a crab-topped haddock, chargrilled swordfish topped with a white nectarine salsa and a jumbo lump crab-stuffed filet mignon. At the bar, patrons can enjoy a bourbon cocktail where the bartender uses a piece of Applewood and a blowtorch to infuse smoke right into the booze.
If your mouth is watering just thinking about it, take a culinary road trip to the Dodge City Steakhouse.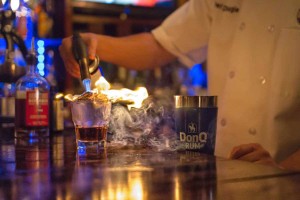 Originally published in Robert Irvine Magazine.