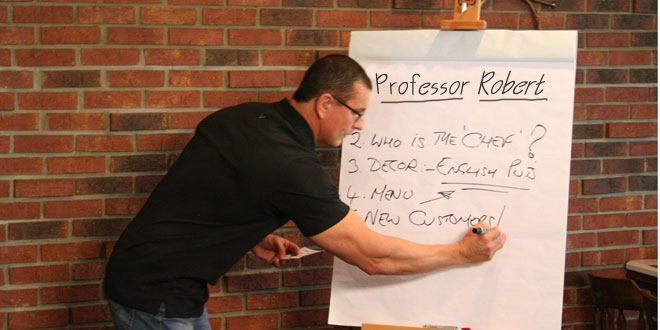 Restaurant: Impossible fan Austin asks about the chances of restaurant success with little prior experience.
Austin asks:
Love your show, restaurant impossible. I've seen people on it trying to go into the restaurant business and fail epically because they know nothing about it. There is a local restaurant with an owner about to retire and my parents were thinking about buying the restaurant once she does. We know nothing about the restaurant business so in an attempt to never be on your show, I was hoping you could refer us to someone or somewhere to get reliable info.
Answer:
So many of the restaurants that arrive at needing the help of Restaurant: Impossible have gotten there because of well-meaning people who have great culinary skills, but do not have the "real world" restaurant experience that is required to see a business in this industry succeed. If your passions tell you that you should open a restaurant, it would be strongly advised that you not do so unless you have the assistance of someone with considerable experience running one.  Try finding a local chef/restaurateur in your area who you admire, and ask their advice on whom to choose locally.  While a restaurant consultant may be able to get you open and running, owners with no experience whatsoever should seriously consider having someone in a managerial position that can guide you. If not, you can find yourself in a serious "sink or swim" scenario that more-often-than-not leads to sinking.
This, of course, brings in the issue of cost. You mentioned yourself and your parents contributing to this restaurant. If you have to bring in an outside professional then you have just added the cost of that person to the business' expenses. Restaurant managers get paid very well depending on the local economy.  Most restaurants' chances of initial financial success come from having the fewest people in high-paid managerial or profit sharing positions. That's why restaurants with a chef who is also the owner do well (not as many people tapping the start-up's monetary resources). You have to ask what each person involved is contributing. Sometimes that means holding a mirror up to yourself and asking, "what can I, an untrained and inexperienced restaurant owner, do to save money for the business?" You just may find yourself learning the business from the ground up with a bus tub or dish rag in your hand. Not a bad start.
I'm certain that you, and your family, are adept and perfectly capable of running a business, but a restaurant is a completely different beast requiring a set of skills and knowledge that only comes from having a bit of fryer grease under your nails.
Good luck in your endeavors. Let us know how everything works out!