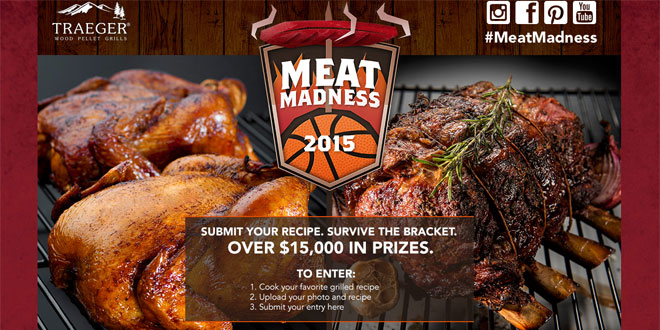 Traeger Grills "Meat Madness"
The "Meat Madness" competition http://www.traegergrills.com/meat-madness was brought to my attention by a fan who knows of my love of BBQ and smoking, so I was very happy when the folks at  Traeger Grills invited me to participate – even going as far as lending me one of their amazing smoker/grills with which to create my dish. The grill arrived and, to my surprise and delight, was fully assembled in under 30 minutes. I chose the LIL Tex Pro, however there isn't anything "LIL" about it. This machine could easily handle a few slabs of ribs, or even a couple of briskets.

My Dish
I've smoked just about every type of animal you could imagine, but it had been a long time since I had smoked lamb. Feeling as though most all of the other competitors would go for traditional southern BBQ,  I decided to try a Spiced Smoked Lamb Shank with Mango Mint Yogurt and Almond Basmati Rice (recipe below). Mediterranean flavors lend well to smoking so I felt this dish would be a hit!
The Wood
The folks at Traeger were nice enough to send me a wide selection of their All Natural Wood Pellets to use (Oak, Hickory, Mesquite, Maple, Pecan, and Cherry). I chose pecan due to its natural nutty flavor and because my lamb rub already had a good amount of brown sugar involved. I didn't want to add too much sweetness like you would get from a maple or cherry wood.
The Rub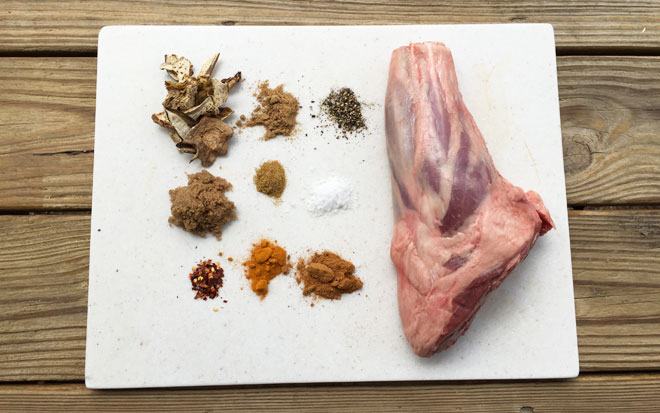 The shank rub consists of Porcini powder (not readily available so I dried porcini mushrooms and made my own), brown sugar, red chili flake, coriander, cumin, turmeric, smoked paprika, sea salt, and fresh ground black pepper. Rub and let sit for a minimum of 1 hour (or even overnight if you have time).
The Smoking
If you've ever struggled with the smoking process, then you understand the hassles involved. Temperature control, coals, wood types, soaking, and timing are all headaches that can get in the way of you and some delicious smoked meat. Traeger has scientifically engineered the process into four simple steps.
Add the all natural wood pellets into the pellet hopper
Prime the smoker
Set the temp
Smoke!
I waited 10 minutes for the smoker to prime and then added my lamb shank! I smoked my 1.25 lb lamb shank on 180 degrees for 5 hours, using their temperature probe and digital reader to check for the perfect internal temperate for a lamb shank – 185 degrees.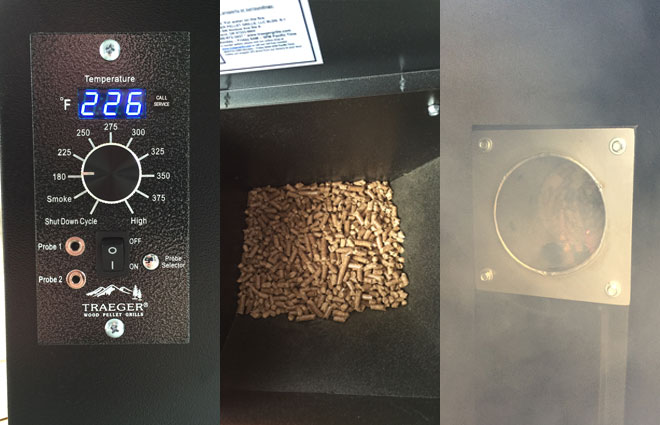 The Sauce and Sides
The mango yogurt sauce is simple! Peel and cut the mango from the seed. Blend with lemon juice. Fold the mango puree, minced mint, and lemon zest into the yogurt and chill until ready to serve. Done!!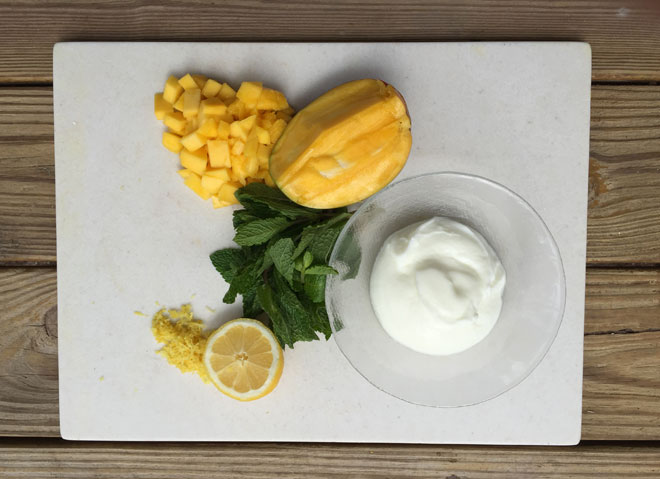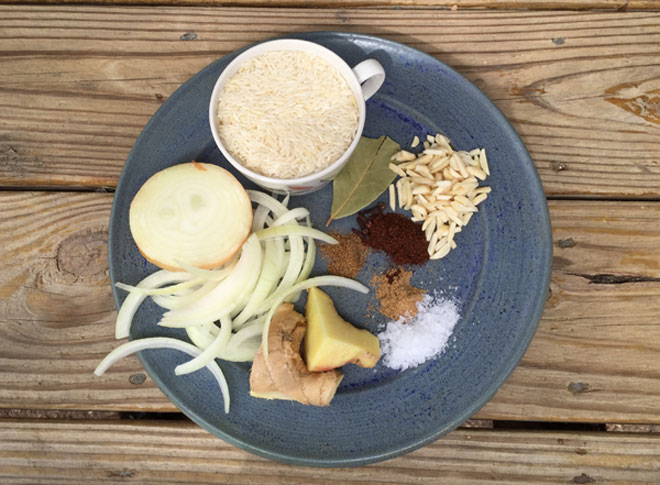 The almond basmati was just as easy! Rinse the rice and set aside. Saute thinly sliced onions in heavy bottom pan on medium-high until browned (about 10 minutes). Add grated/minced fresh ginger, rice, and all other ingredients (except the almonds). Bring to a boil then reduce and cook on medium until rice is done. For the almonds, I figured since I had the smoker going already I should smoke them for a bit. I gave them about 20-30 minutes on the "smoke" setting.
The Final Dish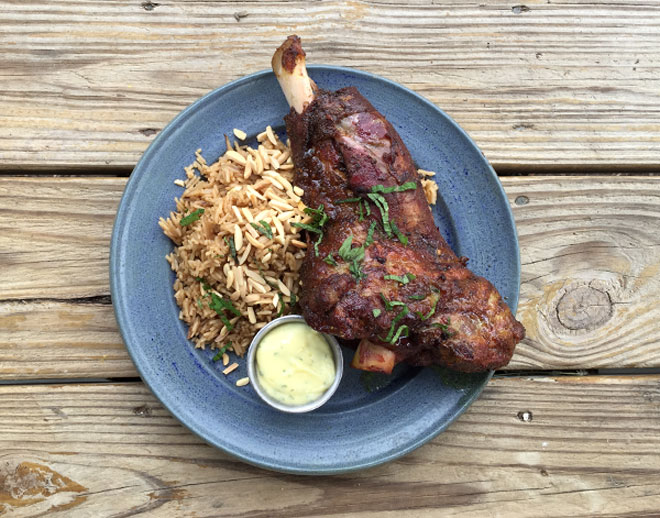 I wish there were more pictures to show you of how it turned out, but quite frankly, once I took the first bite I didn't stop for anymore photos. The smoke permeated the lamb perfectly. The smokiness of the almonds worked for carrying that flavor over to the rice without being too much. The sweetness of the mango balanced with the tartness of the greek yogurt blended perfectly with the Mediterranean spice rub on the lamb. Overall, this was an amazing dish and I thank Traeger Grills for making is so much better because of their fantastic smoker/grill.
You can put YOUR recipe up against mine by submitting a photo and recipe to the "Meat Madness" competition NOW! http://www.traegergrills.com/meat-madness. There will be a "bracket-style" competition with $15,000 worth of prizes awarded.
Here's the recipe!!
Ingredients
2 each – 1 to 1.5lb Lamb Shanks
Grapeseed oil for coating lamb
RUB
1 tsp Porcini powder
1 tbsp Brown sugar
1 tsp Red chili flake
1 tsp Corriander
1 tsp Cumin
1 tsp Tumeric
1 tsp Smoked paprika
2 tsp Kosher salt
1 tsp Black pepper ground
SAUCE
1 each Mango
1 bunch Mint
1 each Lemon zest and juice
1 cup plain Greek yogurt
RICE
2 cups Basmati Rice (dry measure)
4 cups Water (wet measure)
1 each Onion, sliced thin
Grapeseed oil
1 ounce  Ginger minced
1 teaspoon Coriander
1 teaspoon Garam Masala
4 each  Clove
4 each Curry leaf (optional)
1 each Bay leaf
1 teaspoon  Red Chili powder
1 tablespoon Kosher salt
Dry Roasted Almonds Chopped (Smoking Optional)
 METHOD FOR THE LAMB
Blend all spices together, brush the shanks with oil, season with salt and pepper and then rub the spice mix into the shanks, let sit for minimum 1 hour (maximum of 24 hours).
Prepare the smoker with pecan. Set Traeger Grill temperature dial to "smoke" for 10 minutes, add lamb shank, and then turn the dial to 180 degrees. Cook for 4-5 hours, or until and internal temp of the meat to 185 -190 degrees.
METHOD FOR THE YOGURT
Peel and remove mango from the seed, place in blender with lemon juice and blend until smooth . Add the yogurt, mint and zest and fold to incorporate, place in refrigerator until ready .
METHOD FOR THE RICE
Wash the rice well to remove starch.
In a heavy gauge pan add oil and onions, sauté for 10 minutes  or until brown, add ginger and then add the washed rice drained well, add the water, bring to a boil, add all the other ingredients (except the almonds) mix, cover, and cook for 20 minutes, or until done. Smoke almond if desired, 20-30 minutes on the "smoke" setting. Remove cloves and bay leaf before serving rice.
Serve the rice with the lamb shanks on top, garnish with fresh mint and the chopped almonds, with mango yogurt served in a small dipping bowl.