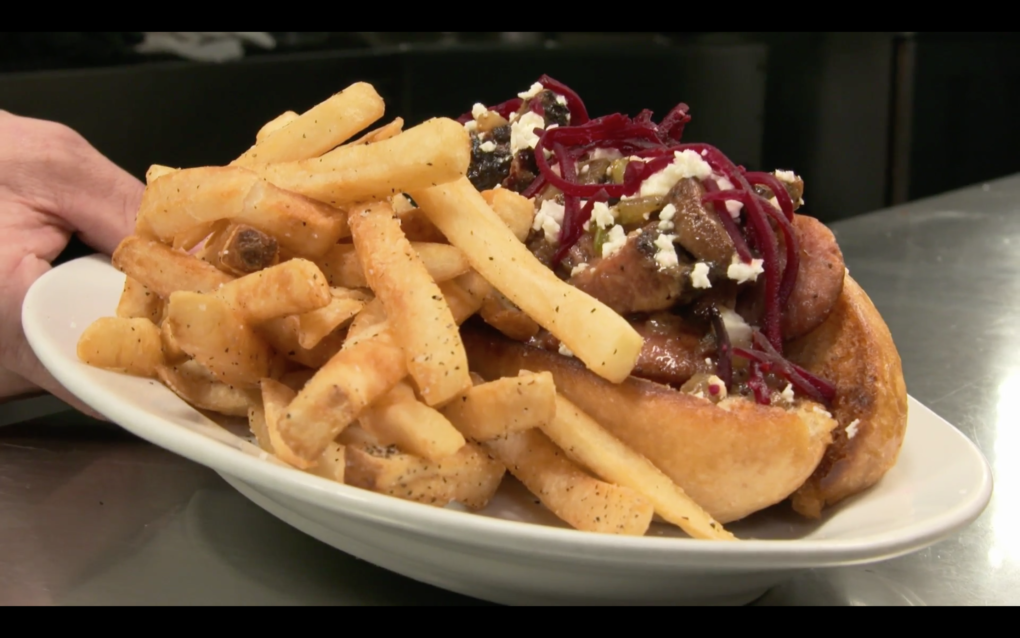 Smoked Hot Link and Burnt Ends – As Seen on Restaurant: Impossible
From the episode, "Back in Business: Branching Out in Missouri"
NOTE: This recipe requires brisket burnt ends. See Robert's recipe for smoked brisket HERE.
SERVES 4
YOU'LL NEED
FOR THE BURNT ENDS SAUCE
1 tbsp grape seed oil
1 onion, diced
1 clove garlic, minced
3 ribs celery, diced
1 cup button mushrooms, sliced
16 oz burnt ends
1 cup sweet style BBQ sauce
2 tbsp Dijon mustard
1 tbsp whole grain mustard
FOR THE HOT LINKS
1 tbsp grapeseed oil
4 hot link sausages
4 brioche buns
1 tsp butter
4 oz pickled beets
2 oz crumbled feta cheese
MAKE IT
BURNT ENDS SAUCE
1) In a large sauce pot over medium heat, add grapeseed oil. Then add onion, garlic, celery, and mushrooms.
2) Allow to cook for 8 minutes. Onions, mushrooms, and celery should be light brown in color.
3) Next add burnt ends, bbq sauce, Dijon mustard, and whole grain mustard.
4) Finish with salt and pepper.
HOT LINKS
1) In a large sauté pan over medium-high heat, add grapeseed oil. Sear sausage on all sides.
2) Lightly toast the bun, open face down in melted butter. Slice the sausage in half, lengthwise, and place on bun. Top with burnt end sauce, pickled beets, and feta cheese.