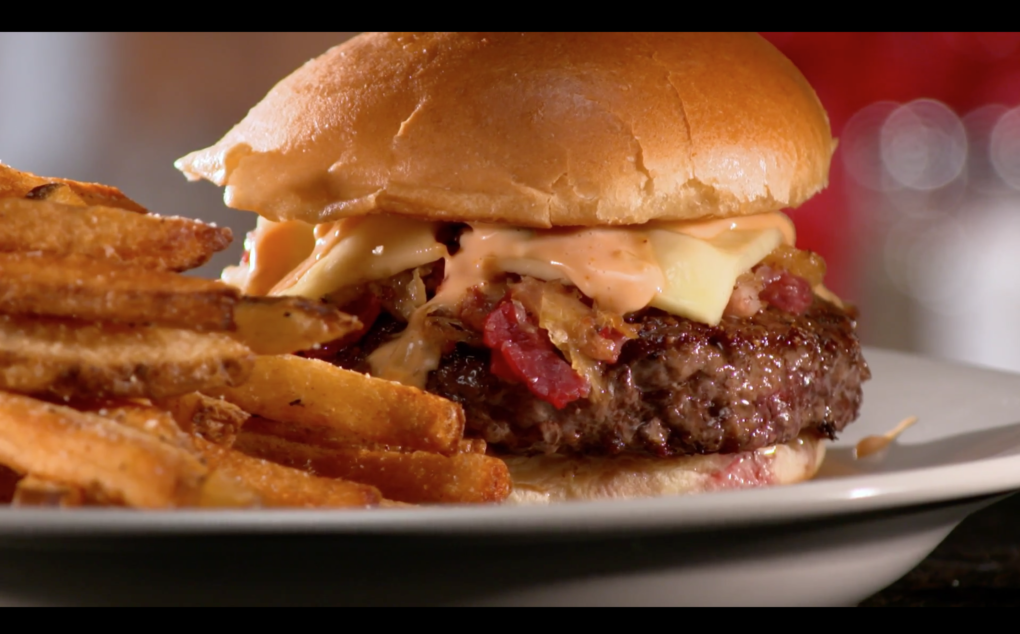 Reuben Burger – As Seen on Restaurant: Impossible
From the episode, "Ginger Monkey is Going Under"
SERVES 4
YOU'LL NEED
FOR THE BURGERS
4 burger patties, (six oz each, 80-20 beef)
Salt and pepper
4 brioche buns
1 tbsp grapeseed oil
1 tbsp butter
1 cup sauerkraut
1 cup pastrami, diced
4 slices Swiss cheese
FOR THE THOUSAND ISLAND DRESSING
1 cup ketchup
½ cup mayonnaise
1 tbsp sriracha
1 tbsp relish
Salt and pepper
MAKE IT
THOUSAND ISLAND DRESSING
1) In a large mixing bowl, add ketchup mayonnaise, sriaracha, and relish.
2) Combine all ingredients and season with salt and pepper.
BURGER
1) Season burger with salt and pepper.
2) Sear burgers in a pan over high heat on both sides.
3) In a separate pan over high heat, add sauerkraut and pastrami until hot all the way through.
4) Top burger with sauerkraut-pastrami mixture and sliced Swiss cheese and place in a 350° oven until cheese is melted.
5) Place burger bun in a medium sauté pan over medium heat with butter. Toast until golden brown.
6) Place burger on toasted bun and top with Thousand Island dressing.