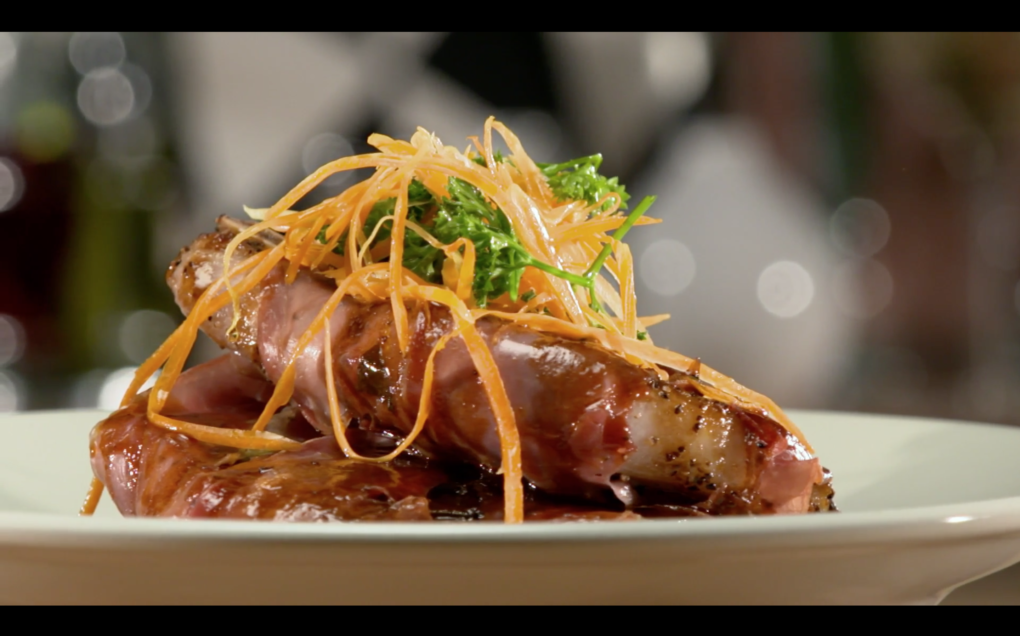 Pork Chop Saltimbocca—As Seen on Restaurant: Impossible
From the episode, "New Roles, New Results"
SERVES 5
YOU'LL NEED
FOR THE PORK CHOPS
5 bone-in pork chops
20 slices prosciutto, thinly sliced
FOR THE HOPPIN' JOHN
8 oz. bacon, diced medium dice
1 white onion, diced medium
3 ribs celery, diced medium
2 green bell peppers, diced medium
3 cloves garlic, thinly sliced
1 tsp cayenne pepper
1 cup chicken broth
3 cups black eyed peas
3 scallions
FOR THE RED EYE GRAVY
4 oz shot espresso
2 oz thyme
2 cups beef or pork stock
4 cloves garlic, sliced
2 shallots, minced
1 stick butter
FOR THE COLLARD GREENS
2 cups collard greens, chopped
2 oz bacon, diced medium
1 onion, diced small
¼ cup apple cider vinegar
¼ cup chicken stock
1 tbsp granulated sugar
MAKE IT
PORK CHOPS
1) In a hot sauté pan sear pork chops on each side.
2) Wrap pork chop with prosciutto; finish in a 350° oven for 8 minutes.
COLLARD GREENS
1) In a large rondo style pot add bacon. Allow to render for 5 minutes. Allow to get crispy.
2) Add white onions. Cook for 4 minutes until translucent. Cook through. Add greens and cook until wilted.
3) Next add chicken stock, vinegar, and sugar.
4) Cook for 20 minutes. Season with salt and pepper.
HOPPIN' JOHN
1) In a rondo style pot over medium-high heat, add bacon and allow to render.
2) Add onions, peppers, celery, and garlic. Cook for 6 minutes.
3) Add black eyed peas and chicken stock. Bring to a boil. Allow mixture to simmer over medium heat for 20 minutes.
4) Season with cayenne pepper, salt, and pepper.
RED EYE GRAVY
1) In a large sauce pot add shallots, garlic, and thyme.
2) Allow to cook over low to medium heat.
3) Next add beef stock and bring mixture to a boil.
4) Allow to cook for 40 minutes.
5) Strain off garlic, thyme, and shallots.
6) Using a whisk finish sauce with butter and espresso.
7) Season with salt and pepper.
PLATING
1) On each plate, lay down a large spoonful of Hoppin' John.
2) Top with cooked pork chop and a ladle or two full of red eye gravy.
3) Place collard greens on side and serve.